Friday morning after lots of packing and planning, we loaded up our gear and headed to White Lake, NC for the 70.3 event on Saturday morning.  I had been looking forward to this event for a couple months, since this was my first race of the year.  This event has become so popular over the past 10 years that they set up 4 triathlons over 2 weekends.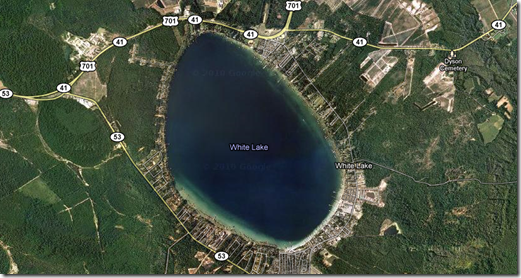 So, one hour and 40 min later we arrived in White Lake, NC to check out the venue.  The reason this location has become so popular of the years is because of the water at White Lake.  This is probably the single best place to swim in NC.  The water is crystal clear.  Underwater, you can see the sandy bottom (9ft deep) and probably 50 feet in front of you.  The water is fed from underground springs, so not your typical murky runoff farm pond type stuff.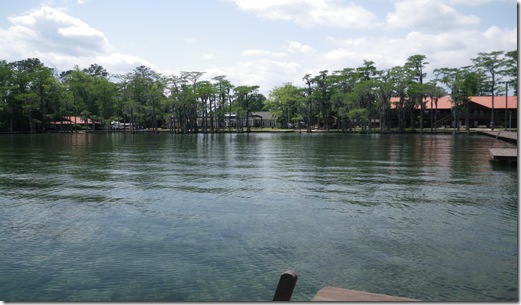 Around 2pm, we walked right up to check-in, and were done about 2 min later.  By 3:15pm, we were preparing dinner and setting up our gear at our room for the next day.  By 8pm, we were sacked out so we could get up fully rested at 4am. 
After waking up at 4am and rolling down to the starting area at 5:15, we arrived to see some really dense fog.  At this point we were nearly 2 hours from the start time, so the fog never really even crossed my mind. But as the minutes ticked by, and the start time neared, the fog just would not burn off.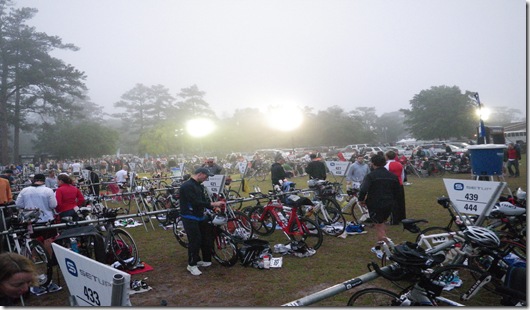 About :15 min until the 7a.m. start, I had my wetsuit on and jumped in the water to warm up.   The water actually felt great.  I could actually see really well underwater, but I could not even see the first buoy above water.  So the race was delayed 15 min, then 30 min.  Every so often you could see the first buoy and then it would disappear.
Having volunteered at races like these in the past, I knew that at some point they either have to cancel the swim or cancel the race altogether.  So at :15 min until 8am, it was decided that we would now be doing a duathlon.  So everyone runs back to the transition to strip the wetsuits back off.  At 8:00 o'clock, we were all getting corralled to do the new 69.1 race without the swim.  Then, in about a 5 minute period the fog pretty much vanished.  At this point, the water safety folks had left, and everyone had already removed their wetsuits, and was now wearing bike gear.  At this point, having the swim would have delayed the race by another 30 minutes (1.5 hrs total) to get everyone set up again, so the call was made to just proceed with the duathlon.  This would ensure that the police and EMS would not be required past their agreed upon times. 
Not having the swim at a 70.3 is a huge disappointment.  But that's just the way it goes some times.
Bike:
So, just like that we started the bike from the beginning of the transition area.  This entire part of the state is flat as a pancake.  There are no hills to speak of.  A hill might consist of a 50 ft elevation change….and I mean "just might".  What can I say, the route is very rural, with little to no traffic.  The first 12 miles has some patchy roadwork, the next 20 miles, is about the best surface you will ever find, and finally the last 24 miles has some rough patchwork sections, that are hit or miss.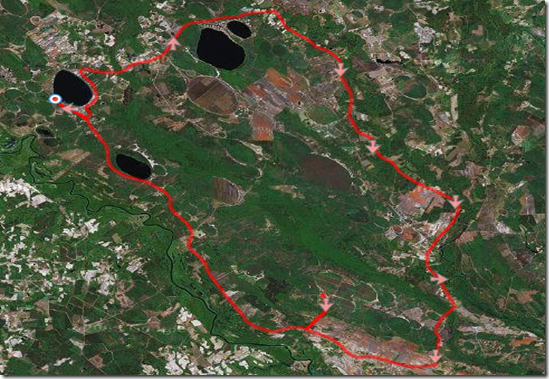 My goal for the bike was to keep my HR at about 138-140bpm, so that I would have plenty left for the run.  You can see below how the rough surface affected my speed and HR in the 1st third and last third of the bike.  Since I was racing only by HR, I had no idea how fast I was going, just trying to maintain.  I ended up going 2:50:45, so about 19.7mph, which is pretty good for me.  This was about 13 min faster than a similar race last year.

Run:
After hopping off my bike, 1min 56sec later I had my running shoes on and was plugging away at the Half-Mary.  Ever since last year, I've taken a different look at how I am going to run longer distance like 13.1 or 26.2, especially during a triathlon.  The idea is to basically do a physical and mental reset after each mile.  By this I mean, after each mile, just walk for 15-30 seconds(but no more!), and then run again at your target pace.  I tried this last year at IMFL, and again this weekend. 

So my goal was to run each mile at about 149 bpm.  At each Aid station, I would take I sip of EFS Shot, 1 sip of water, while walking for 20 seconds.  Then I would just pick back up and resume my pace at about 149bpm.  At mile 8 I was still feeling good, so I figured I had nothing to lose by picking up the pace a bit and seeing how many people I could pass.  I took each of the next 5 miles faster than the previous.  Each consecutive mile was harder, but still within my limits.  In the end I ran a 1:59:09, which was about 29 min faster than my meltdown at TryCharleston last year.

All in all, this was a good race for me, despite not being able to swim.  I was able keep track of my nutrition better, without pushing past the red line too much.  Looking forward to resting for a couple days before resuming the push towards IMAZ.  Only 194 days to go!