With our recent White Lake 70.3 race in the books, we've had some time for some "unstructured workouts where Coach pretty much says keep the workouts minimal or just cross-train type activities.  Well our next 5 day period of May 20-24 can only be described as "the main reason I went to college".  Sometimes you have those days at work where you long to be outside just working with your hands, in the elements, creating something. 
Manual Labor: It doesn't seem hard until you have to roll your sleeves up and do the work.  My wife and I have been trying to plan a long weekend for quite some time to paint the metal roof on the old family farm.  The house was originally built in 1746(can you believe that), so it requires lots of care over the years.  Now it is just our time to take care of the place for a while, so we do what we can.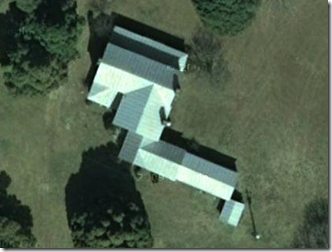 If you ever find yourself the recipient of a metal roofing type project (having no previous experience), then hopefully this will help you out.
Gear needed:
Gloves
Rope (lots of it)
Pressure Washer
Ladder Stabilizer/Extensions
Roof Hook
Power Drill Paint Mixer Bit
Roof Paint (We used Non-Fibered Aluminum Roof Coating)
Wire Brush for scraping
Friday:
Once we got down to the house on Friday afternoon, our goal was to wire brush off any rusty spots and power wash the entire roof by dark.  There were definitely some areas of the roof that were in pretty poor shape.
If you don't like heights, now is the time to get comfortable with it. Not having done this before, we weren't really sure what the best approach was with handling a pressure washer on a rooftop.  We ended up tying off one end of the rope to a tree or truck on one side of the roof while I kind of rappelled and power washed the opposing side.  So if I slipped on the wet roof or got tangled in the hose or rope, I wouldn't slide to far down the roof.  We finished the scraping and pressure washing shortly after dark.
Saturday/Sunday:
Both days were pretty much spent painting the roof from sun up to sun down.  The paint comes in these 5 gallon containers that you'll need to mix with a mixer bit.  The paint stick is not going to work in this thick stuff.  The aluminum in the paint is all settled to the bottom when you open the can, so it's a murky dark brown color.  Once you get it all mixed up, its more of a pewter, or bronze color.
We didn't have a good system down the first day painting so progress was a bit slower.  Initially, I thought the same technique that was used while rappelling and power washing could be used for painting, but the roof was just too steep.  I was constantly dripping paint from the roller, while easing my way down the slope to the edge of the roof.  As I would need more paint I would backtrack through the paint drops slipping and getting caught up in all excess rope.  I tried securing myself to a metal pole on the roof….I tried securing the paint bucket closer to the area where I was working.  It just didn't matter, and my gut was telling me "hey you're an idiot".  So we decide to pretty much use only ladders from there on out.  At this point things started to move much more smoothly and we started to see some real progress.
Monday:
About 2 hours into more painting on Monday, Mother Nature unleashed a heck of a thunderstorm on us, which sucks because paint is supposed dry for 24 hours before any rain.  This ended up not being too bad.  We had a bit of rework because the rain mixed with some of the wet paint we had just applied, turning parts of the roof a bronze rust color.  All you can do is wait it out and let everything dry out.  This put us behind by several hours, so we went down to see if we could find any interesting critters by the water.
Tuesday:
After the weather cleared up, I think the seasons officially changed from spring to summer.  We were both in full hydration mode on Tuesday each, having probably 6-7 bottles of Gatorade plus Endurolytes.  The reflection off the metal roof was so intense with the new paint going on, it's like being on a skillet.  I had as much sun block as my skin could hold to keep from burning.  Finally around 2pm on Tuesday we finished with the 2nd coat of paint. 
Everything turned out much better than expected.  We completed everything in a reasonable amount of time.  Nothing broke, nobody got injured, and we're both fully acclimated to the heat.  Now we can resume training for Ironman Arizona. 
179 days and counting!