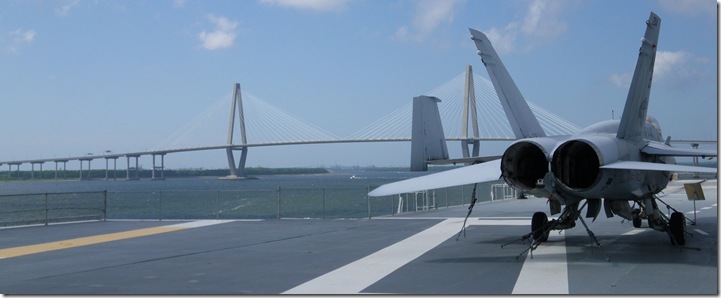 Judging from the age of my T-Shirt drawer, my most recent triathlon was 6 years ago.  Today marks the halfway point(for me) to Ironman Florida.  When I was looking for races that would be a good halfway point to IMFL, it came down to 2 choices that were relatively close.  White Lake 70.3 or the 1st Annual TryCharleston 70.3.  As soon as I heard about the race, the decision was made.  I mean what's not to like about Charleston?  This is a great place to have a race, and there's all kinds of stuff to do afterwards.
The race was run by "Set Up Events".  Though this was the 1st annual race I knew these guys would put on a great race.  I have volunteered with them in the past at at the Duke 140.6, and I can tell you that these guys cover every detail.  They are staffed by by folks with years of setup and race experience.  They start planning an event like this a year in advance thinking about every possible detail you could imagine.  All this planning/event forecasting is disseminated to the volunteers prior to the race so that everyone knows their role on race day.  The volunteers for this race were awesome.  Volunteers are the reason people like me can even finish a race like this on my own.  Let's face it, if it weren't for Aid Stations, traffic coordinators, EMS/Police, body markers, etc, an event like this just wouldn't be possible.  So a big thanks to http://www.trycharleston.org/ and all of the volunteers for putting together an excellent event.
Let's get to it !!!
Pre-Race: My Pre-Race starts 14 hours out, with a complex carb meal, and protein. Whole Foods was 5 miles away and had me covered.
Wake-up is at 3:30AM for a bottle of Perpetuem and a plain bagel, so that I have time to get things "sorted" out prior to the race.  Next, prepare all the drinks/food for the bike/run, and head out to the race site to arrive at 5:15AM
On arrival, we picked up our timing chips, and handled body marking.  We then dropped our gear off at the transition area, and then took our bikes out for a quick spin, just to make sure gear shifting, etc. were working properly. Then we headed back to set up our transition area for the race.
30 min prior to the 7AM start, we put on the wetsuits and hit the lake to get acclimated to the water.  Since it was quite hot/humid already, the water felt great.
Race Goals:
Swim 1.2 miles in 40min(This was just a guess for an open water swim)
Bike 56 miles in 3:00:00  (~18.66mph)
Run 13.1 in 2:00:00 (~09:09 pace)
*   So, I was hoping to finish in the neighborhood of 05:40:00
SWIM:
I crushed it, and felt great exiting the water.  I think many of the participants swam off course as there were different buoys for the 70.2 as there were for the Sprint.  You can see in the pic below that there were yellow buoys for the 70.3 and red buoys for the sprint.  When I turned the corner on the top left of the pic I looked up and saw half the participants swimming towards the red buoy and the other half swimming straight for yellow buoy by the start finish.  This was my first time swimming with my Garmin so I was curious to see how straight I could swim.  I tucked the Garmin in my swim cap making myself look like a cone head, though finishing with a near perfect triangle.  I was pleased with the swim and exited at 30:34.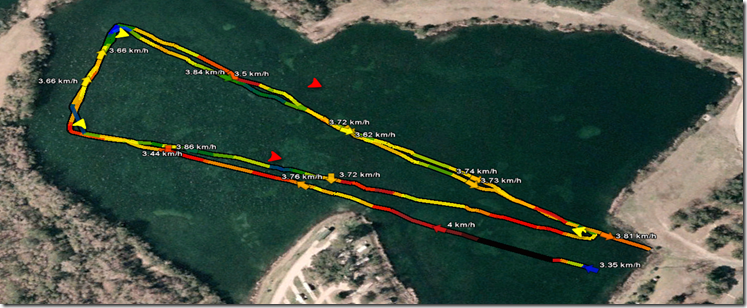 Bike:
I had ground rules in place to keep my HR at 138bpm for the first 20 miles and 142bpm for the remaining 36 miles.  This worked well as the course was supposed to be flat and very fast.  And fast it was! Riders were screaming past me on the bike during the 1st half of the ride.  We had a tailwind and great asphalt to ride on. The roads were very rural, so no traffic at all.  This was a total Aero bar course if you could stand the duration. 
All good things must come to an end.  At some point in this out and back semi-clover shaped loop you know you're going to have to turn around and face the music of a headwind.  At the halfway point the course turns due south, the direction from whence the wind was blowing.  As advertised the course has newly paved roads for all but a 7-8 mile section.  This 8 mile section took 'bike gear' casualties like I've not seen before.  Parts of this section looked like a bike part yard sale on the side of the road.  I saw numerous water bottles, CO2 cartridges, bike tubes, GU containers, and all sorts of other unidentifiable parts.  These were NOT things that participants had littered, but rather had come off the bike from all the jarring.  This took it toll.
Then you head to more awesome smooth flat surface roads winding through the marshes that were just Beautiful!  Shortly after this the course turns due South straight back into the wind for the duration of the ride (7-8 miles).  At this point the wind had really picked up(I'm guessing 20mph winds), though I didn't really care too much.  I was just trying to keep my HR down in the 142 bpm range.  This whole time I had no idea of my speed, I was only concerned with keeping my HR in my zone.  So at 3:03:00 I rolled back into T2.  I was pretty happy with this as I was able to maintain my HR at about the time I expected…..Onward.

Run:
My plan for the run was to keep my HR at 155bpm for the first 6 miles, and then push it up to 159 for the next 3 miles.  If all were going well, I would have the green light to finish as strong as I could.  The course was totally flat and took place in what looked to be a new community.  Much of the course was on a jogging/golf cart path.  This was a series of out and back roads with several roundabouts included, so this gave lots of opportunity to see the competition in front and behind you. 
The craziest thing happened with all of the wind blowing.  All of this wind blew in very high humidity and the first HOT day of the year.  I'm guessing the heat had jumped up close to 90 degrees by the time I was on the run course.  You can see where this is going….
Back to my plan.  My plan was to take a bottle of Perpetuem with me for the run as I had been using this on all of my long runs for the past month.  The problem is I simply forgot it when I was leaving T2(Crap)….No worries, I thought…I've never brought hydration with me anyways on the run during a race because there are usually aid stations everywhere.  So I stuck to my plan, and it worked flawlessly for the first 6-8 miles.  I held 155bpm for the first 6 miles which put me at 8:45- 9:15 pace, which I was happy with for my first HIM in a long time.  At mile 6 I picked it up a notch and held at about 159bpm , which seemed to be about the same pace because the fatigue was actually increasing my HR as well.  OH NO!!  That's exactly what I thought around mile 9.  The wheels literally just fell off like I have NEVER felt before.  The worst part was that I didn't know exactly what was happening and wasn't sure how to fix it.  So I had to go to problem solving mode.  I had been drinking water/Heed/or both about every 10-12 min.  I had 1 Endurolyte capsule at about 45min into the run. My legs actually felt ok.  I thought I had plenty of fluid as well.  What I was experiencing was some kind of 'gut shutdown', though I wasn't sure why.  My guess was the heat/humidity was making it harder to digest calories from the sweet Heed drink solution.  So I just chose to go with the flush method…I starting drinking as much water as I could get down, and also pouring more water over my head to cool me off.  The gut shutdown was so bad that I just kept feeling that I had to belch terribly bad every time I ran.  At this point I was pretty much in a run5min/walk5min situation.  I was actually hoping I could cough it all up and then move on.  This never happened, but Natures call did….with no portajohn in site.  So off I went into the woods very briefly.  This still didn't help the gut problem.  Finally, after what seemed like an eternity, and drinking copious amounts of water, everything just passed.  This happened as my HR eventually got low enough to resume digestion.  So with about 1.25 miles to go I felt great again.  I finished strong the last mile as you can see in the graph, but by this point the damage had been done.  I was hoping to come in at around 5:40:00 total time, and was pretty much in the ball park until the last 1/3 of the run.  My run ended up being 02:27:55.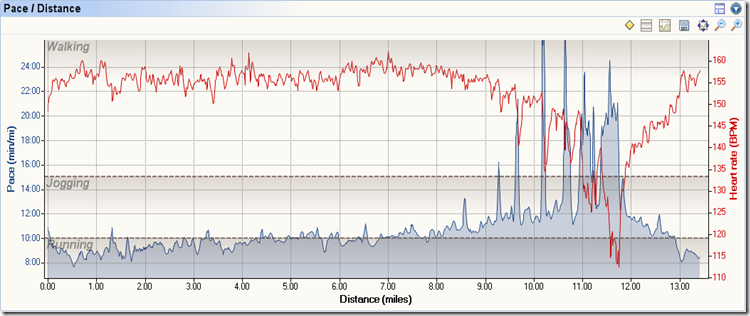 All in all, this was a good experience for me though I came in 27 min slower than I expected.  I've done many races in the past, but have never experienced the upper body gut shutdown before.  So this was a good learning experience that I need more heat training to be able to adapt in the future.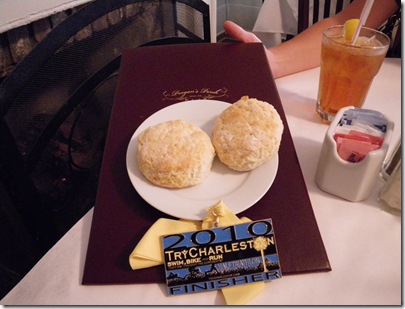 Post Race:
We ended up staying for 2 more days to take in some of the sights.  If you're in the area or want to check out the race next year, here is a couple places that we went that may be of interest.
Patriot's Point Where you can see the "USS Yorktown" and "USS Clamagore"
The Battery: This is the historic colonial era district.  Really cool place to stretch your legs and relax.
Poogan's Porch Restaurant: Poogan was their dog.  Great local cuisine.
Hominy Grill : More great local food.