Since signing up in November, I am now starting my 4th month of training.  January was a pretty tough month from a consistency standpoint.  Due to things outside of my control, priorities dictated that I had a couple of 3 day periods of missed workouts.  So I just did the best that I could with the time that I had.
Swim = Blue
Bike = Brown
Run = Red

I had to make the following trip 3-4 times just to get a lot of odd/ends completed.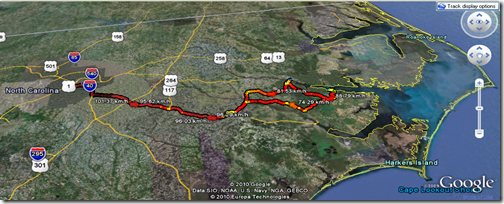 January in NC is typically not too cold, but this year has been an exception.  The Lakes don't normally freeze, so it's pretty cool to see when they do. Running when it is 20 degrees outside can really test you mentally.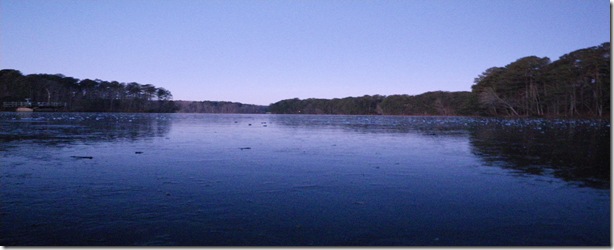 Then Mother Nature just starts playing mind games with you and throws in a snow/ice storm. The snow is actually not too bad to run on, but you should see it when the ice just glazes over everything.  At this point, most of my workouts have taken place inside the garage or at the gym.
Below is my odd workout for the month.  My workout was supposed to consist of a 1 hour bike at EA pace(125-138bpm).  Sounds easy enough.  I was on the trainer, indoors, just cruising. During the first 30 min my HR just kept spiking out of my EA zone. What gives? I reduced my cadence, my overall power output, yet my HR still kept creeping up. About the time I reach a frustration point(30min), my wife, who is on the trainer next to me, stops her workout and turns off her HR monitor.  And just like that, my HR disappears and comes back with normal output.  Somehow my trainer was picking up her HR monitor for the better part of 30 min.  And that is the reason it is a good idea to have a coded HR monitor.  Anyway, just though the graph was interesting.

My favorite workout over the past month was the following:
1:10 at EA(125-138) with
:2 min stand at 60rpm
:3 min seated at 90rpm
repeat 5 times
:5 min stand 75rpm
:5 min recover
repeat 2 times
This workout is SO much better than just spinning for 1:10minutes.  The time fly's by since you're keeping up with all of the intervals, etc…I suck at hills, so hopefully my results will improve throughout the year.

Other than the cold weather, it seems like it has rained every day for the past month.  Even though it is only early February, I am looking forward to warmer sunnier days because I know a great place for some open water swim workouts!!