February was a great month in terms of building consistency.  Other than missing the 1st workout of the month I was able to follow my training plan exactly.
Swim = Blue
Bike = Brown
Run = Red
Orange = Lift
Green = REST

My Monthly workouts for Feb in review are below: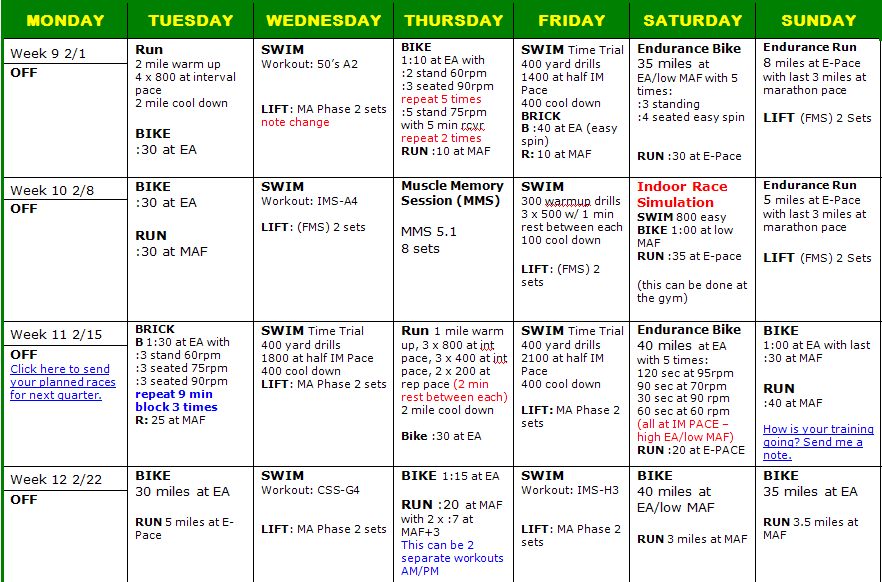 As you know, it's all about the bike…And biking is what we've been doing a lot of lately.  Specifically the last 2 weeks of Feb were a marked increase in Bike volume.  This past week was ~ 130 mile on the bike, whereas the last week of January was only ~ 60 miles.
Feb 20th Workout:
40 Miles at EA/low MAF(140 bpm) with 5 x:
120 sec at 95 rpm
90 sec at 70 rpm
30 sec at 90 rpm
60 sec at 60 rpm

Feb 27 Workout:
40 miles at EA/low MAF(140bpm)

Oddly, the hardest of the 2 workouts was yesterdays workout.  It's somewhat of a mental challenge to just spin on the trainer for 40 miles with nothing to look forward to and no goal other than just completion.  Since this was the case I threw in a 2 min hill at each 45 min interval just to get out of the aero bars and get my butt off the seat for a bit.  This seemed to help quite a bit.  The first workout on Feb20 was probably tougher physically, but mentally it was more fun b/c of the challenge and breaking up the monotony.
So, since IMFL is a really flat course, I know I will have to come up with something similar.
Total Mileage as you see below has really jumped over the past month, but this is mostly just an increase in bike mileage.  Oddly, if you look back to Sept, Oct, and Nov, it almost looks like I was doing nothing in comparison.  However, this is when I was training specifically for the Marine Corps Marathon.   A 26 mile long run is not easier than a 30 mile bike workout:)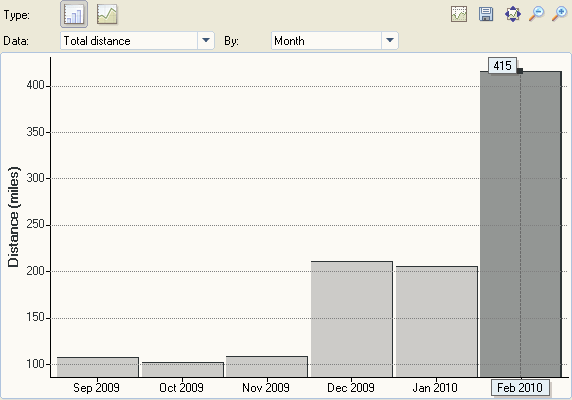 A better gauge is this Training Load graph below.  The long runs jump right out into the 'Epic' category, along with the fatigue level.  I'm not sure why it is called Epic.  The bluish area is supposed to represent your overall fitness level, so this seems to be a more accurate representation of my current state. Oddly, this little graph has been quite the unexpected motivator.  I keep finding myself looking to make sure that my bluish area(fitness level) continues to grow.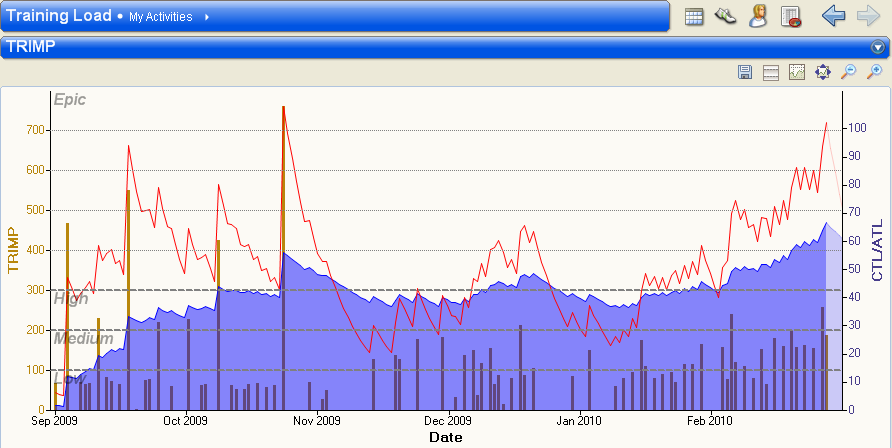 The downside of not getting enough recovery is that your fatigue level starts to skyrocket as you can see above.
Blue = Fitness
Red = Fatigue
Brown = TRMP (Workout)
I use Sport Tracks to track all of the important workout details.  It's a great App and it's free!  I'll do a better write up on this at some point. I've had a pretty solid 6 weeks of building, but over the last 1-2 days my fatigue is starting to set in.  Good thing that tomorrow is a rest day.
Anyway Spring is around the corner, and DST IS ONLY 2 WEEKS AWAY!!!

Ok, so maybe 1 more batch of Winter is in store, but not holding my breath…