After three days at Yellowstone, we headed south for about an hour into Grand Teton National Park.  This country was simply stunning.  I can't really describe the things we saw in a way that would do any justice.
I nearly drove off the road on numerous occasions because I just could not stop looking at the mountains in the distance. The view was spectacular.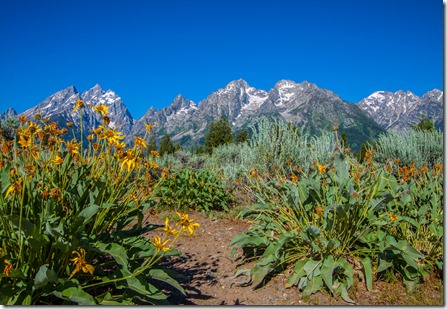 Once I got my head around the incredible views of the mountains, I started to look closer and notice all of the wildflowers in bloom right under my feet. This was not planted for show in someone's garden, but rather just a wide open prairie.  Everywhere you looked seemed to be straight out of a postcard.  The mountains were perfectly placed in the background with the colorful valley below with all of the flowers in bloom.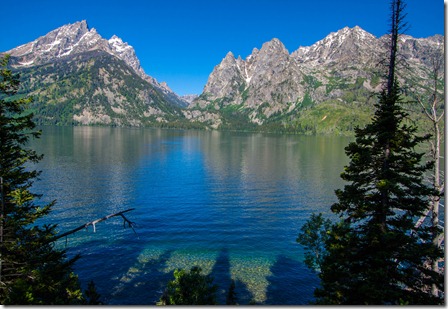 Hiking one of the trails near Jenny Lake.  Perhaps the clearest water I have ever seen.  When I saw this, I just wanted to jump in and swim all afternoon.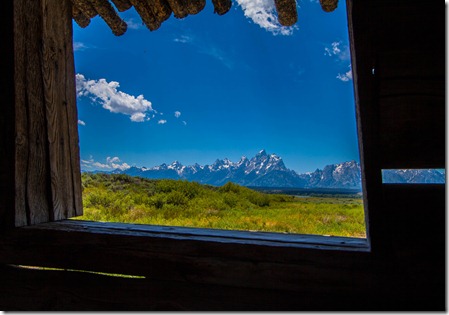 This was taken from the old empty Cunningham Cabin.  Makes you wonder why one would ever leave a cabin empty with a view like this.
And lastly, a couple pictures from the Mormon Row Historic District at the base of the Tetons.
All in all, we drove about 2000 miles(and flew another 5k) in our little rental car and hiked/walked whenever we felt like it was a good area.  I am really happy I was able to see the Northwest part of the United States, though I still want to check out Washington, Oregon, and check out more of the Pacific Coast.  We still need to figure out a way to explore Utah at some point as well. 
I hope everyone enjoyed the pictures/video. We sure did.
Thanks for Reading!