The following is my race plan as best as I can determine at the moment.
Saturday:
Check in bike, bags, etc.
Dinner – 3p.m.-4p.m
Feet up and relaxing by 5p.m
Bed – 8p.m.
Race Day:
Wake: 4a.m.
Breakfast – Bagel w/ peanut butter, Cup of coffee.
Sip electrolyte drink mix until race start.
1 Gel and a couple of Endurolytes before the swim.

On the bike:
3 Things only(Water, EFS Liquid Shots, & Endurolytes)
    – 1 Water bottle(22oz) per hour.
    – 1 flask(5oz) of EFS Liquid Shots gives 100g of Carb per hour (400 Cals)
              – Each flask provides 400mg of Sodium, 600mg Chloride, 290mg Potassium, 1000mg of Amino's.
    – 3 Endurolyte capsules per hour provides 120mg Sodium, 180mg Chloride, 75mg of Potassium & Magnesium(just in case).
I'll consume 6 flasks on the bike(3 with me, and pick up 3 more at the bike special needs spot). I go through just slightly less than 1 flask per hour(so around 75g of Carb, or 300-350 Cals). I'll likely only go through 5 entire flasks of EFS, and then grab a Perform drink, banana, and/or orange at one of the aid stations on the course.  So, I'll likely go through 1750-2000 calories on the bike.
On the Run:
I'll have 1 flask(5oz) of EFS Liquid Shots to start and 1 flask(5oz) at the halfway point at the special needs.  Instead of sticking with EFS the entire time, I'll rotate (EFS & water), (Coke & pretzels), and Chicken broth, every 10-20 min.  I don't really count calories on the run as I just have to go by feel at this point and go with what I think my body can handle.  Probably in the 200-300Cal range per hour.

Race Plan:
Swim:
For the swim I put my faith in Pythagoras Theorem. I like to start out fast and as far away from anyone as possible. I only look at 1 thing and that is the farthest buoy down course. I suck at drafting so I typically don't even bother with it. Seems to take me out of my rhythm if I focus too much on it.  After a quick start I'll settle into a nice steady swim.  I would like to try and go under 1 hour if I feel good, but not at the expense of the rest of the race. 
Bike:
On the bike, the plan is to keep my heart rate at the high end of Zone 2(130-134bpm). I'll also focus on keeping my cadence as close to 90rpm's as possible.  I have plenty of gears to handle the climbs, so I'll flatten the course by using all of the gearing, if needed.  If I run out of gears then my heart rate will climb, which is ok. None of the hills are too long, there are just a lot of them….and it's 2 loops.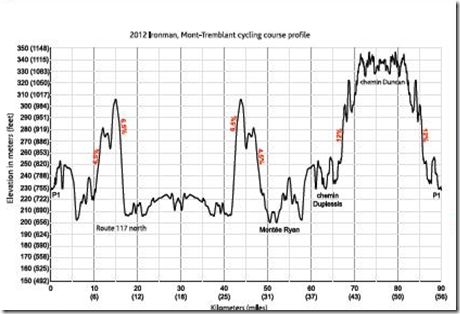 Run:
On the run, the plan is to keep my heart rate at the high end of Zone 2(140-145).  Just like on the bike, I'll try to maintain a cadence of 88-90rpm's while keeping my HR in check.  Around 6-9 miles in, I like to walk the Aid Stations for at least 15 seconds, but no more than 30secs.  Then it's just a 1-2 mile goal to the next Aid Station. I feel good about the run.  It can't be any harder than the backside of Umstead Park in July.
Race Time Goals:
This is the part that is like landing on the moon while blindfolded. It's hard to even guess on a 140.6 mile course that I've never been to before.  But, I believe in making goals public, so here goes.
Swim: 59 mins – 1:05(Anything under 59, and I'm likely going out too fast)
     T1 – 5 min(Not sure how far away this is)
Bike: 6 hours, or anything +/- 15 minutes would be great. This is a big grey area.
     T2 – 5 min(Not sure how far away this is)
Run – 4 hours is my goal. 
Just finishing before midnight(17 hours) is always the main goal, but I would by lying if I didn't say that what I really want to do is break 11 hours.  So, 10:59 it is!