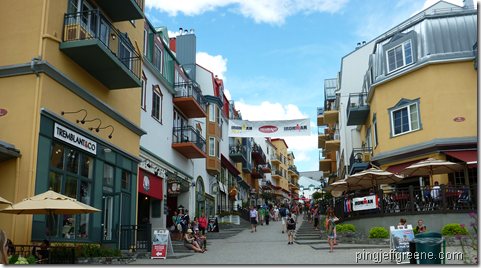 Ironman race day is always an amazing experience.  People from all over the world converge on a single location for 140.6 miles of racing.  All walks of life, dozens of languages, men, women, young, and old.  It's not about all the hours of training that everyone has in common.  It's the respect that no matter what road is taken, they all end at the same finish line.  You must have the unwavering support of your family and friends or surely there would not be the thousands of people cheering you on for nearly 17 hours.  You must have incredibly dedicated volunteers to pull off an event of this duration; else why bother?.  You must have the blessing of the local community, as the event would never even leave the ground.  Think of the thousands of man hours it takes to plan a 140.6 mile race course of 3 disciplines.  You have all of this coming together for a 7a.m. start on a single day.  Your family and friends are nervous and wishing you the best of luck.  The volunteers are nervous because once the race starts, it will not stop for many many hours.  The local community is nervous because they want to show the rest of world who's got the best Ironman event.  Ironman(WTC) is nervous, because their reputation is on the line for putting on world-class events.  The athletes are nervous at the thought of what is to come.
As a participant, I could never thank everyone involved enough for this gift call triathlon.  What I can do is show my appreciation by taking nothing for granted, and racing as hard as I possibly can.
LET'S GET IT ON!!!
Swim: Stay Calm
When  I put together my Race Plan a few days before the race, I basically alluded to the fact that I wanted to start on the far outside of the field; basically as far away to the left of the race field as possible. I would rather swim a tad longer, than swim with 2200+ athletes on top of me. As Ann and I arrived at the swim start, it was apparent to me that this was going to be a problem.  There was a large flotilla of probably 25+ boats anchored right where I wanted to be.  Not good.  Change of plans.
It's generally a good rule of thumb in an Ironman to do the exact opposite of everyone else.  So Ann and I got on the front row and squared right up to the 1st buoy on the far right(Basically inside pole position 1 on a clockwise loop course).  I gave her a quick hug and a kiss I love you.  I didn't even hear the canon go off.  I just heard/saw/felt a Canadian fighter aircraft streaking across the sky to signal the start.  As my ribcage was still rattling from the fly-by, the race was on.  I sprinted out and slightly to the right into the water until just over knee deep and kept swimming like my life depended on it.  The swim seemed like an eternity, but it worked!  I swam the entire way in clear water.  Breathing every 3rd stroke was surreal. Every time I would breath to the left, I would see 2200 athletes.  Three strokes later, I would breathe to the right and see nobody but the water safety kayakers.  Since it was a single lap course, by the time I made it to the 1st turn buoy(~28min), there was little congestion. Ninety degree turn and 2 min later, I'm at turn buoy #2.  Then 28 minutes back to the swim finish.  It seemed like forever, but it was over in an instant.  I can't believe that just happened.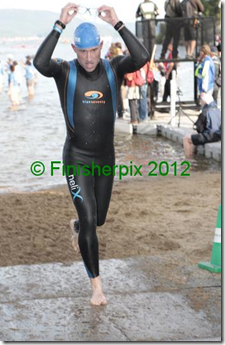 Swim time was 1:00:45…Goal 59min – 1:05:00.  So close to going under 1 hour!
T1 was longish.  I would say it was a good 600yds to the changing tent.  The amazing crowds along the way more than made up for the longish transition. It was about 5 people deep on both sides of the barricades the entire way to the changing tent.  Really great crowds. So 6:34 later, I was on my bike and ready to take on 112 miles.
Bike:  Be Patient, Don't Be Greedy
This course was fun!  Yes, the rumors are true.  About 99% of the course was on freshly paved asphalt, or already perfectly smooth asphalt.  This is a 2 loop course and can be broken down into 4 sections.
Montee Ryan – The main road that heads south from the Tremblant resort.  Just ups and downs, and very few flat sections.  The hills are not too steep, so I just stuck to my plan and kept spinning easy up all the hills at a manageable heart rate and opened up the gears on the downhill's to maintain the same effort. There were also 3-4 roundabouts in this section to zip through, which was fun. 
Hwy 117 – This is the brand new section of paved highway.  This is the section where you can't be greedy, especially on the first lap. Somewhere in this section I saw Ann on her bike.  My heart leapt! If you've ever seen an Ironman swim, you really appreciate seeing your loved ones safely(relative term)on the bike.  There's a fairly long climb; probably about 1 mile long(6-8%).  Since it's a major highway(but closed to vehicle traffic on one side), the road is straight and the views are wide open.  So it's easy to just want to push through it.   Since I was only about 15-20 miles in at this point, I just kept spinning.  Coming down that same hill on the first loop was awesome and nerve-wracking at the same time.  I topped out at almost 50mph while still in the aero-bars.  Then the wind would gust pushing me over to one side and back.  I'm not going to lie, cheeks were clenched.  The second lap was even windier.
St.Jovite – Once I was back from Hwy 117, I headed toward the quick out-and back section through the town of Saint-Jovite. I loved this part.  The main street through town was lined with spectators as I sped through.  Lots of people cheering as they hung outside at the restaurants, bars, cafes, etc.  Incredible support from the locals.
Chemin-Duplessis – Next it was time for the most anticipated part of the course.  This is the backside of the course that heads up to Lake Superieur.    There was lots of talk about 12% climbs and such.  Well….to be sure, 12% is plenty steep, but the climbs are not that long or constant.  It was more like death by a thousand cuts.  So it was 6-8 miles of steep short climbs with equally steep short recovery descents.  I tried my best to push the descents as hard as possible to give me momentum through the next climb.  This was the most scenic part of the course for me.  I loved the smooth winding mountain roads, sloping descents, and the occasional river view on the way back into Tremblant.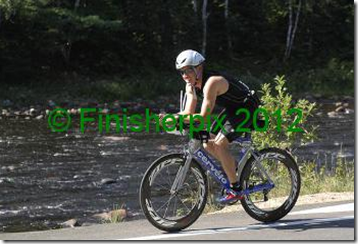 Woohoo 56 miles, Rinse and repeat for lap # 2.  This entire time I just stuck to my nutrition plan, taking in calories and fluid about every 10 minutes.  I never saw Ann on the second lap.  I wasn't worried.  With 2200 athletes, she's hard to spot sometimes. 
Bike time was 5:57:05…Goal 6 hours, or anything +/- 15 minutes
T2 was 2:22.  I don't even remember this part, though somehow I changed into a pair of running shoes and socks.  Next thing I know, I am running down the streets of Tremblant.
Run: You Have To Take It
They always say to be patient in an Ironman and just let the day unfold and come to you.  I think that is true, but only on the swim and the bike.  On the run, it's just different.  Things won't just come to you.  You have to make them happen or they'll slip away.  My stretch goal for this race was to break 11:00:00(Personal Best was11:17:47). Coming off of T2, I was looking down at my watch at about 7:06:xx hours.  I've never run faster than a 4:15:00 marathon to finish off an Ironman.  Today I would need to run a 3:55:00.  On this course this is going to hurt…really bad.  I had to block out everything and everyone for the duration of the marathon.  I focused on three things; cadence, heart rate, and pace. I knew that I would have to hold 8:58/mile pace to run a 3:55:xx.  The reason I say "You have to take it" is because it is very unlikely to start off easy on the marathon and negative split the second half(go faster the 2nd 13.1 miles).  It's also very unlikely knowing you need to run 8:58 pace for 26.2 miles, that you can just maintain that same pace from start to finish.  EVERYONE falls off towards the end.  So, "You have to take it."  So I broke it down into 4 x 6.5 mile chunks and started running as fast as was comfortable trying to knock off as many quick miles as possible before my pace would inevitably falter.  So, I ran my first 6.55 miles at 8:30pace/143bpm, and a cadence of 89…perfect!  Big confidence boost.  Then my heart leapt again.  I saw Ann on the run.  She had made it off the bike under some significant winds on the 2nd lap.  I was so happy, and I knew she would finish.  She's so tough.  The next 6.55 miles started to hurt pretty bad (8:57pace/145 bpm, and a cadence of 88).  I still have a chance at this thing, I thought.  The 3rd 6.55 miles(miles 13.1 – 19.65), things got really dark for me.  All the 100+ miles of hills were catching up with me now in a big way.  The pain is so traumatic during the marathon segment that I think I actually block it out after the race ends(This is the only rational reason I can come up with that I am doing this for the 4th time).  I started to get really nauseous around mile 16 and my numbers started to slide.  I had to walk several aid stations to get some chicken broth(warmth, and salt), and coke(sugar and caffeine).  I even took a Tums to calm things down.  The 3rd 6.55 miles was at 9:50pace/137bpm, and a cadence of 84)….not good.  At this point through 19.65 miles, my overall pace was back up to 9:06/mile.  So I knew I would need to run under 8:40/mile pace for the last 6.55 miles to have a chance of still breaking 11:00:00.  I pushed on hard, but knew deep down I just didn't have that kind of speed in me today and would not be the day to go under 11:00:00.  But it's still a good day for a PR, so I pushed on with everything I had for the last 6.55 miles.  The crowds during this last stretch were amazing, breathing knew life into my bruised, tired, bonking everything.  The sounds were deafening, running through the pedestrian village of Mont-Tremblant.  I could reach out to spectators on both sides and catch every hand and fist bump.  It was very moving and even better than crossing the actual finish line. 
Run time was 3:56:50…Goal 4 hours or under.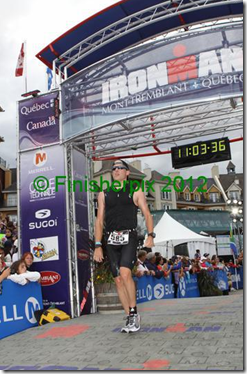 Total Finish time was 11:03:36.  I could not have been happier.  It's very strange. I wanted to break 11hrs, but it's really just an arbitrary number that is 3 minutes different from what I actually accomplished(and still a PR by 14 minutes).  It's both an eternity, and a ridiculously small moment in time.  You really can't worry about time too much.  All you can do is race as best you can with no regrets and leave nothing in the tank at the end.  This is Ironman.
I am hoping to get Ann to write a post as she had a CRAZY Ironman experience.  She fought through EVERYTHING Ironman can throw at you and came through to the finish.  I am so proud of her.
Thanks for Reading!