Early Saturday morning, Ann and I drove out towards Pilot Mountain, NC for the 3 Mountain Madness 75 miler.  We had scoped out the area last year after we had initially signed up for IMMT in hopes that it would be a good training ride.  Having been the second "Mountain" event we've done in the last month, I'm starting to realize that anything that has the words "Mountain Madness" in the name is not going to be an easy event. I've also noticed that these events draw a larger percentage of top cyclists and ink wearing m-dotters.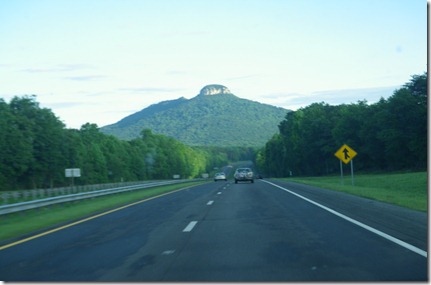 Once we arrived, we quickly got the bikes set up for the ride starting at 8a.m.  The starting location was at the Armfield Civic & Rec Center, located in town.  This was a really nice facility for such a remote area.  There was an 8 lane indoor pool, weight room, and plenty of showers.  How many charity rides have you been to that have hot showers available afterwards?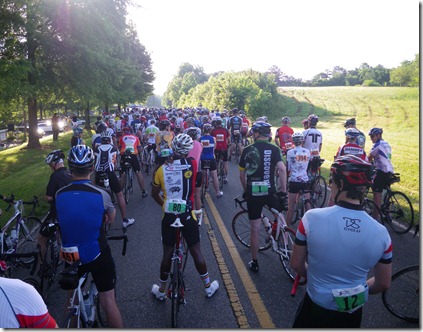 About 5 minutes prior to 8a.m. we rolled over to the start where there were 500 other cyclists corralled. We got in line near the back 1/3 of the group.  The plan was to go nice and easy, as we had just run 17 miles, 36 hours prior.  About 6 minutes into the ride, I heard a girl behind me say "wow, my legs are really trashed".  I couldn't help but burst out laughing, because it was like she was reading my mind.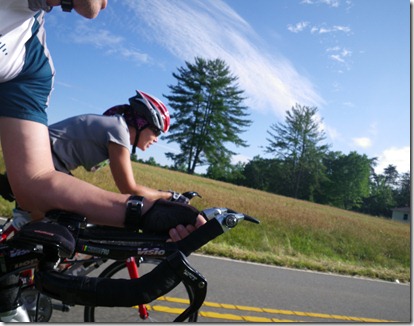 After getting settled, we rolled on, just taking in 1 roller after another.  I started thinking about the name 3 mountain madness.  I knew about the last 2 mountains, but I wasn't sure about the 1st mountain climb. Had we already been through the 1st climb?  That last hill seemed kind of long, maybe that was it.  Hmmm, I wish I looked more closely at the route, I thought.  No more than 30 seconds later, I see a hard right hand turn with arrows pointed up a side road.  All I hear is CLICK, CLICK, CLICK, CLICK as I hear folks hastily trying to get out of their big gear and into there smallest climbing gear.  This first section of the 1st mountain was a 'climb out of the saddle' sort of grade.  Ok, so that cleared up any confusion about where the 1st Mountain begins.  It's at about mile 18.5 on Sauratown Mountain Rd!  The climb itself was about 2.5 miles long, though prior to the climb is a steady 1-2 mile ascent(but not severe).  With the 11-28 cassette, this 1st climb was not too bad until you get to the halfway point.  There's a section about halfway, that was pretty tough for me.  I had no more gears, so I was just standing up and mashing through it.  Finally, after reaching the top, the fun begins.  I love the downhill's.  These really are exhilarating.  You can wind through the turns much faster than a car can as you lean in through the curves.  Today, I topped out at 42mph.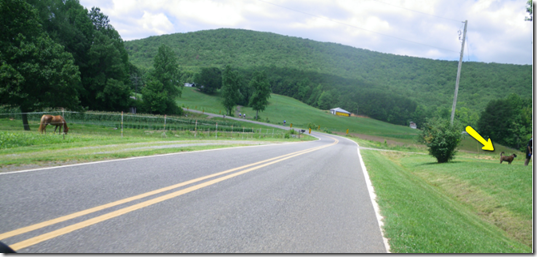 Between mountains, the ride is a gorgeous route through the rolling valley floor.  There is an occasional dog, though I think they had been run ragged by the time I rolled through.  One dog was so tired, he just laid on the side of the road.  The roads out here are incredibly well paved for the most part, with very little vehicle traffic.  Definitely a good bike route to come back to for training.
Eventually the ride takes you to Hanging Rock State Park for the 2nd mountain climb.  This climb is just shy of 2 miles up, and is probably the 2nd hardest of the 3 climbs. The first climb is the easiest, though also the longest, so pick your poison.  Once you get to the top of Hanging Rock, there was a nice little Aid Station, stocked with all kinds of treats.  I grabbed 2 chocolate chip cookies and a water bottle full of Gatorade as the 2nd climb just nearly tanked me.  Here's the nice Lake in the sky from atop Hanging Rock.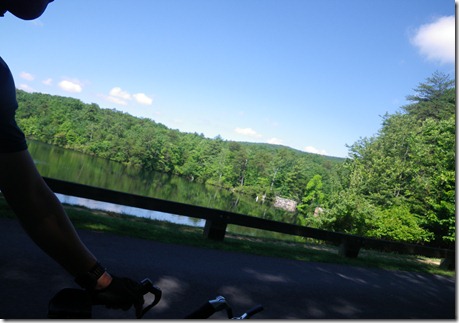 I should point out here that the volunteers for this event are top notch. All the Aid stations were well staffed with folks wanting to help you in any way possible.  The motorcycle support crew on the Goldwing motorcycles were awesome.  They held up traffic at all the intersections, so you never had to stop and put a foot down.  The route was clearly marked in all locations, so there was never any uncertainty about directions.  There was even a "Dog Ahead" sign on the road letting you know to be ready, and then an arrow pointing to the dog's house as you approached….Classic!
The next 20 miles over to Pilot Mountain were great.  Lots of rolling pastures and wide open farmland, with Pilot Mountain looming in the distance.  I would add that we really lucked out this year with the weather.  The temps only reached about 80 degrees with very low humidity as a recent tropical depression had sucked all the moisture out the day before.  It felt perfect and cool.  80F in June, in NC is a gift!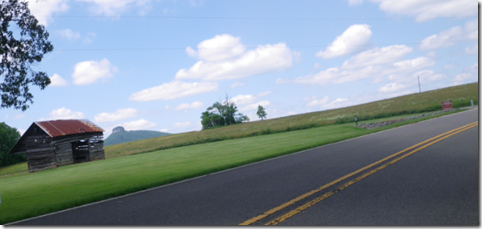 Eventually, you reach the entrance of Pilot Mountain State Park.  As I entered the park, the ranger wished me luck as I passed by and said "It's all downhill from here".  HaHa! Except for the uphill part, I shouted back.  This climb was different.  The volunteers at the bottom of this climb were clapping for anyone showing up to try.  This climb was no joke.  It was a very steep, nearly 2.5 mile climb. I was standing out of the saddle for most of the duration.  About 1/2 way up, I actually wasn't sure if I could make it all the way.  I saw folks stopping on the side and even walking their bikes up.  I was climbing at about 4-6mph at about 15% grade.  That's 12-13 min pace for all you runners.  Slow, real slow.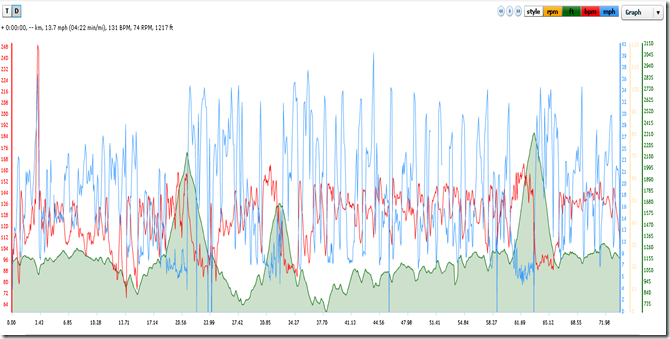 Eventually, Blue took me all the way to the top and back to the bottom again without any issues.  After all was said and done, the ride was nearly 9000ft of climbing over 75miles of foothills. My legs were sufficiently trashed, but in a good way, hoping we can make it back again.  This is a really nice part of the state to ride, and I am glad we were able to make it this year.  Thanks again to all of those that helped put on this event.  Without volunteers, none of this would be possible!