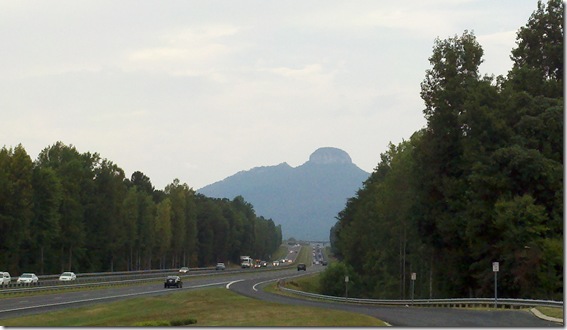 It has been nearly 2 months since we signed up for Ironman Mont-Tremblant(IMMT) for August 2012.  With just over 3 months to go before Ironman Arizona(IMAZ), we have to start thinking seriously about how to at least become adequate at climbing hills…and descending them, just as importantly.  In my immediate area, there simply aren't any good hills to climb that would be close to the ones we'll see at IMMT. 
We have a few steep hills, but only of the half mile variety.  For training, we need to find moderately steep, but longer duration hills…Something where we can just spin in a smaller gear for upwards of 30 minutes.  This will allow us to get the HR elevated for longer durations, all while getting used to spinning in a smaller gear.
So after our short brick workout on Saturday we set out to do some recon on a place that is only 1:45:00 from Raleigh.  I met a guy named Craig at the gym earlier in the week and he suggested we check out Pilot Mountain, NC.  This is a much more doable day trip as opposed to heading 5-6 hours towards Ashville.  I really had no idea what to expect.  I've lived in NC pretty much my entire life and have never even heard of Pilot Mtn.
A short time later we arrived.  The entire mountain is a State Park.  Huge bonus because the roads are just used by folks in the park.  So, no big dump trucks, tractor trailers, etc.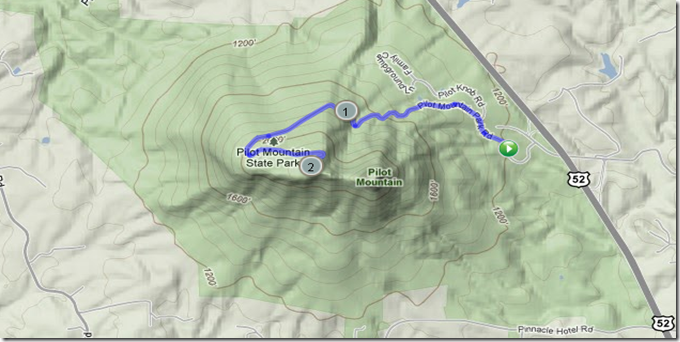 This place was perfect.  The roads were among the smoothest I have seen, and the scenery was really quiet and peaceful.  You could just see for miles.  I mapped out the climb to be exactly 2 miles to the top if you start at the Park office parking lot. 
I really wish I had brought my bike with me(and a better camera).  This place really looked like a fun place to ride.  Over next year, hopefully we can make it out here quite a few times.  I figure it will take about 30 minutes to climb, and about 5-8 minutes to come back down. Rinse and repeat 2-4 times, for a shorter but tough workout.  Or we could get out on some of the surface roads for some longer mileage and then just finish up at the top of Pilot Mountain.

We also went over to Hanging Rock State Park(~20 miles east).  This also had a climb of about 2 miles though the grade did not seem to be as steep(but still plenty steep). 

While checking into the area in a little bit more detail I found the 3 Mountain Madness race that takes place in June.  This is perfect timing for an August race next year!  Has anyone else biked out here before?  Drop me a note if you have.  I'm really looking forward to coming back to this place!