This weekend was all about pushing well past 112 miles, so the bike portion of IMFL won't seem like a big deal.  I have been looking forward to this weekend for quite some time.  As soon as I heard about this ride from TrySports and that it was about 1 month out from IMFL, we decided this was a no-brainer.  I never know what to expect at some of these group rides.  I mean who pays money to bike for 150 miles?  As it turns out, there were quite a few folks on the email list.  There were about 25 folks that showed up at the store on Saturday morning to do the ride.  This was the first year that TrySports has organized this ride as far as I know, though I know it's a fairly popular thing to do for folks training for an Ironman that live in NC.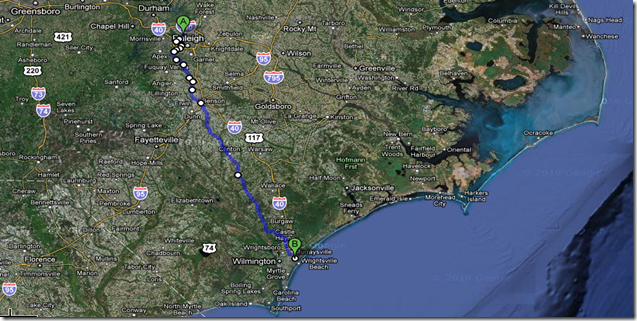 Prior to leaving, I met several folks.  I would say half the cyclist were training for either Beach to Battleship, or Ironman Florida.  The other half were cycling enthusiasts looking to get in a good long ride. I've added the route to my Bike Routes page for anyone to download

So we rolled out of Crabtree Valley Mall at around 7:15 as soon as the sun was coming up.  It was a little chilly, probably low 50's, though I didn't bother wearing extra layers.  I didn't want to be stuck carrying long sleeves all day.  Oh yeah, and the weather was perfect!  It had rained all week, especially in Wilmington (destination), with over 20 inches this past week.  We were lucky and had perfectly clear skies, cool temps in the 70's, and best of all, no humidity.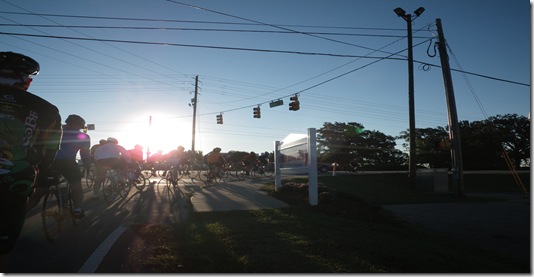 So, after winding our way out of Raleigh for about 20 miles and past all of the stoplights, it was time to get rolling.  We split up into 3 groups.  "A group" were those pacing at about 21+ mph.  "B group" were those in the 18-20mph.  The "C group" were those pacing under 18mph.  No sooner than we got going into 3 separate groups did we have our first accident.  Luckily nobody was seriously hurt, and both riders were able to continue on strong.  Some quick help from Jimmy/SAG support, and everyone was off and rolling again.
20 minutes later, we (B group) got passed by the A group, which was odd because I thought they were way ahead of us at that point.  They had just missed a sneaky turn a few miles back, and had to do a few extra miles.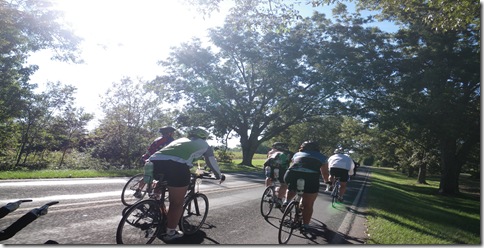 Soon enough we were past the first 50 miles and things began to flatten out.  It took about 40 miles or so I think for everyone to get comfortable with everyone's riding ability.  It's all about trust and getting comfortable.  Some folks just ride differently.  Once that got nailed down, we formed a pretty solid pace line of about 9-12 folks.  It was kind of crazy that everyone in the "B group" new one of the other riders through past rides, work, training etc.  It was like some kind of Kevin Bacon thing.
We seemed to be making pretty good time as a group(somewhere in the 19-21mph).  At mile 100, we pulled into the OK Corral on the side of the road.  I have no idea where I was as is usually the case if I'm between Raleigh and Wilmington.  Once you get past Clinton, there's just not much in the way of landmarks.  The view of all the farmland is pretty spectacular in October though. When we arrived at the rest stop, we met back up with the "A group" again, which was good to see everyone was still making it ok.
A few minutes later we shoved off again and headed for the final 50 miles into Wilmington.  I didn't get any pics here as this was more of a dicey highway section.  With about 20-30 miles to go, we dropped the hammer a bit and were making good mileage in the pace line.  Everyone was doing 5 minute pulls at a time before rotating to the back.  At the end of the day, we rolled into TrySports in Wilmington with a ride time of around 7:50.  Overall, we averaged about 19 mph, 20mph for the last 100, which for me is pretty good.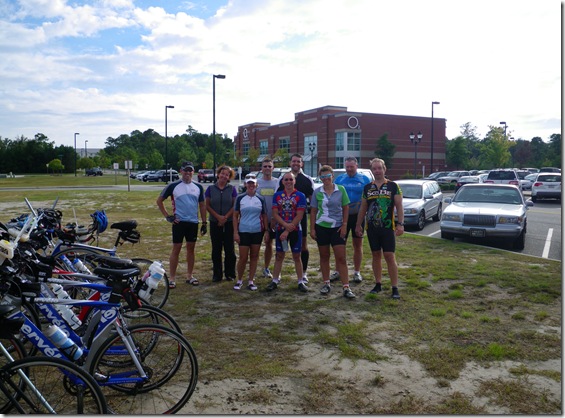 Anyway, just wanted to say thanks to everyone that participated.  I had a good time and enjoyed meeting everyone.  JP/TrySports did a great job setting this up.  I'm sure this was a lot harder than it looked.  Kudos to you, man.
Miscellaneous:
One of you was asking about downloading courses like this group ride to your Garmin unit.  Here's how: Garmin Bike Routing
I also had an email last week about nutrition on the bike.  I recently switched over from Perpetuem to EFS Liquid Shots during a long ride a couple weeks ago just to test different things. I used EFS again this weekend and it worked out great.  Each 5oz flask gives you 400 calories and all the electrolytes you need.  So, I pace myself and go through 1 5oz flask every hour.  For 150 miles I went through almost 7 flasks, which adds up to 2800 calories, which is really hard to do in any other form.  So, all I did was was drink water and sip 1oz of EFS every 15 minutes like clock work.
Sunday:
Sunday called for a 19 mile run at Umstead Park.  Oddly, my legs did not feel terrible when I woke up at 10a.m.  I wasn't really sore, but I was just very fatigued.  But that's the whole point of the training process right?  So out the door we went.  It's officially Fall now, so heat does not seem to be a factor for me anymore.  This is a lifesaver, so I can sleep in a bit longer and recover.
One more build week to go and then we start the taper period.  Woohoo….150 is the new 100, and 100 is the new 50.  Have a great week everyone.
–Jeff