For the past 6 months or so I've been using Perpetuem and Endurolytes (Hammer Nutrition) on pretty much all of my long rides and long runs.  Don't get me wrong, both of these products work great and have kept me out of the gutter on quite a few hot days.  However, as my rides have gotten longer, I've been looking for something a little more, um palatable.  After about 3 hours on the bike, the Perpeteuem gets lukewarm/hot and starts to taste more and more like the plastic bottle, and less and less like, well Perpetuem.
Earlier in the week I ordered 2 bottles of EFS Shots.  If I'm adding all the calories and electrolytes up correctly, I can just take EFS shots and water for both the long rides and long runs.  Each 5 oz serving gives you 400 calories with 1500mg of electrolytes.  Not bad when a bottle of Perpetuem gives you 270 calories.  The trade-off is the Perpetuem gives you a few grams of fat and protein, which is still going to be important.
Friday:
Friday rolled around, and the UPS came through in the nick of time.  This stuff comes in any flavor you like, as long as it's Vanilla!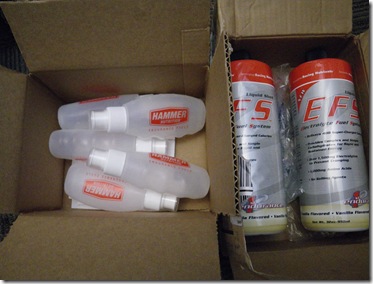 I picked up 5 hammer flasks because they seem a little flatter and easier to manage while on the bike.
After work, I headed to the pool to get in a good 3000yd workout which consisted of some drills followed by 12 x 250yds.  The pool was great! Since Labor Day has come and gone, the pool is only open to 18yrs and older during the week.  So the pool was wide open with only a couple of us swimming.  I love the sunlight this time of year.  The heat breaks, the humidity retreats, the air is dry, and the sunsets are pretty cool.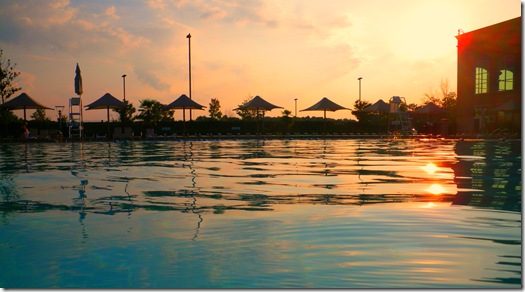 Saturday:
Saturday we had a 17 mile run at Umstead Park.  This gave me a real good opportunity to field test the EFS shots during race like conditions.  So I filled up 2 5oz flasks(previously chilled) and basically took a 1oz sip every 15 minutes.  I washed it down with a mouth full of water.  My initial thought was, wow this tastes pretty sweet, but then there was no aftertaste at all.  So the run actually worked like clockwork.  I had no issues whatsoever other than the 17 mile run part.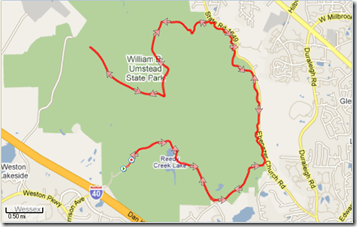 Sunday:
Sunday, we got up early, packed up the bikes and gear and headed out for a 100 mile ride! My first thought as I stepped out the front door was, "Thank God, it's cool out today." My second thought was, "I hope it doesn't rain.  As we started out, the fog was really pretty thick.  This was actually a lifesaver, as we got through the first 60 miles or so with some solid cloud cover.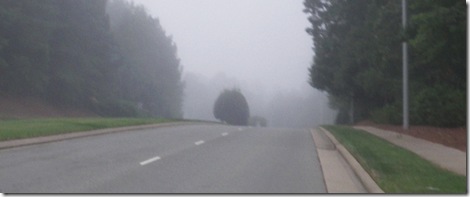 Then the sun started to poke through and eventually burned off all of the cloud cover.  The temperature was back up to around 90 degrees, but at that point who cares, with 60 miles in the bag.  And, with awesome views of Jordan Lake, everything is better with the sun and blue skies.  Our route was a simple out and back 50 miles, with Miles 45-50 straight up Lystra if you recall from earlier this summer.  I found that these out and back routes are much much better than dong multiple loops of say 30 miles.  It's just too easy for the monkey to get on your back after doing 2 of 3 loops, and calling it a day.  If you're doing a 50 mile out and back, and you get tired at mile 50, well tough luck….you can rest when you get home.  Just got to find a way to get through it.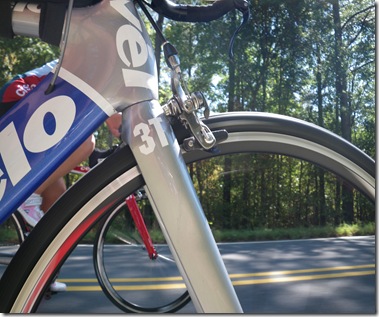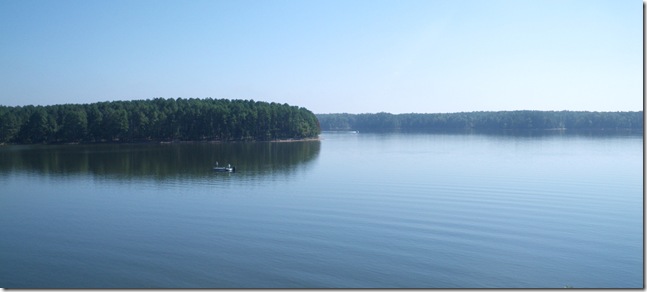 —
I took 3 bottles of water, and 5 5oz flasks of EFS shots.  This was the perfect amount for my 100 mile ride.  I had no issues to speak of in terms of nutrition.  I'm not sure if the flasks are the best way to carry this stuff on the bike.  I had 1 in my Bento Box, and the other 4 in my jersey pockets.  I'll have to figure out something for race day, since I only have 1 small pocket in that jersey.
This week ended up being about 17 hours of workouts.  I feel SO much better than last week.  Sometimes, if you get run down like I did last week, you just know it's not something that will go away unless you get a lot of rest.  Sure, you'll lose a little bit of fitness from the lost days.  But I would rather lose a couple days along the way than not even make it to the Starting Line.
Thanks Reading Everyone!  If you use EFS shots on the bike, drop me a line and let me know how you manage all the flasks on Race Day.