We are now about 5 months away from IMFL and things are looking good.  The month of May started with a Half Ironman in Charleston. This was my first Half in quite some time, but things went exactly according to plan except for about 3 miles on the run.  I sorted this out after the race will have to get acclimated to racing/training in the heat.
Since the Half IM on May 1st, I have been training in a new plateau range as you can see in the graph below.  Prior to May 1st, there was a fairly significant build phase as I was building with cycles of 3 build weeks and 1 recovery week.  For the past month, the intensity has still been there and some days higher, but my distances have been steady. The really cool part about this is that prior to the 70.3, you can see that my fatigue level was always higher than my fitness level.  As time goes on my fitness and my fatigue are starting to become more in sync. As I go through each additional build phase, I should see the fatigue level increase over fitness, and then fitness will 'catch up' during recovery phases.  Pretty cool, eh?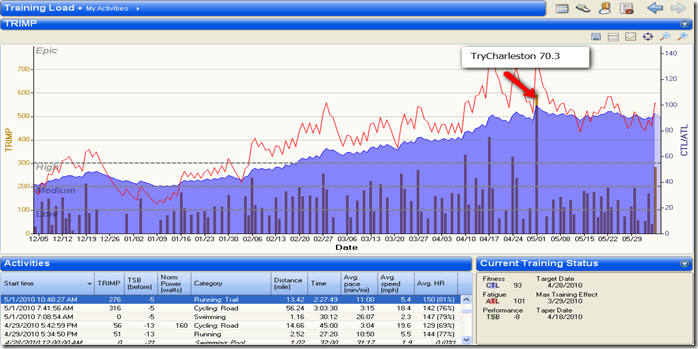 Time Trial Gains
Time Trialing on a Computrainer for me seems to be a good way to measure progress.  Since starting out on the CT a little over 6 months ago, I've been doing a TT about every other month.  The goal is to increase your Power to weight ratio over time.
My earlier post on the Computrainer Time Trial is here.
Power to Weight Ratio is Power in Watts divided by Weight (Weight is typically in Kilograms)
My 1st Time Trial:
Dec17th, 30 min Time Trial
Avg HR 153
Power 163 Watts
Cadence 91.3
Weight 173

173 Pounds = 78.47 Kilograms
163 Watts/78.56 = 2.07 (Power to Weight at 30 Min)
My 2nd Time Trial:
March 2nd, 30 min Time Trial
Avg HR 144
Power 177 Watts
Cadence 93.4
Weight 171

171 Pounds = 77.56 Kilograms
177 Watts/77.56 = 2.28 (Power to Weight at 30 Min)
My 3rd Time Trial:
May 27th, 30 min Time Trial
Avg HR 151
Power 188 Watts
Cadence 96
Weight 163

163 Pounds = 73.94 Kilograms
188 Watts/73.94 = 2.54 (Power to Weight at 30 Min)
So, I've gone from a ratio of 2.07 to 2.54.  There are several different "learning curve" type elements going on here as well.  You'll note that during my most recent attempt I went harder earlier, increased my cadence and my AVG HR.  As time goes on I expect there will be smaller and smaller gains as I reach the limits of my HR and Cadence abilities.  I will only really be focusing on my wattage gains.
I am really looking forward to the next 5 month phase of my training to IMFL.  It's just great to get out on the weekends for some long rides and see places that I would never have gone before. Stay tuned….
Drop me a comment a let me know what you would like to hear more about.  Thanks for reading.