Today marks the start of another new journey.  My wife and I are both registered for Ironman Florida, November 6th, 2010 !! Online registration opened at noon, the day after the race(Sunday). I hit the General Entry right at noon to make sure I got a slot as they have sold out quickly in the past. Unless you are at the race site to register in person, online registration can be a nerve-racking.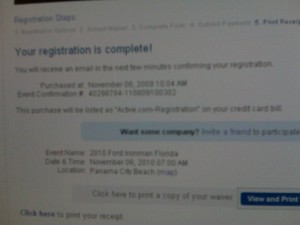 Whew!!…I went back to the site maybe 2 hrs later and saw that the "2010 Ford Ironman Florida General Entry is SOLD OUT."
So, if you missed out on IMFL, check for another IM event.
Mark the sign up date on your calendar
Create an Active.com username/password as the race website redirects you to Active.com for sign-up.
Know the "exact time" that the online registration process is supposed to start(usually noon the day after the race).
Be online at the website for the race, i.e.,  http://www.ironmanflorida.com/
Hit the Entry button and go through the process of filling out your info.
Just make sure you don't wait and say, Ok I'll just sign up sometime this afternoon…It will be too late.
Good Luck
That gives us only 363 more days to train and prepare. This will be my 2nd Ironman, and my first since 2000.  I hope to pass along helpful training information in the weeks, months ahead. Hope to see you in Panama City 2010 !