We woke up on race morning at 4 a.m. to get in some calories and get headed over to the starting area.  One thing we did not anticipate well was that it was freezing outside.  It was 40 degrees outside with a good breeze blowing.  It was cold to the point where it hurt your feet to stand on the sand.  It was actually warmer to get wet and stand in the water in the middle of November.  How crazy is that!
It's about this time that you realize why people freak out during a mass swim start.  It's just massive.  All of your technique and lap pool training goes out the window.  It's all about moving forward from one spot to the next and hoping that eventually things will thin out.  And it does…eventually.  Here's the calm just before the start.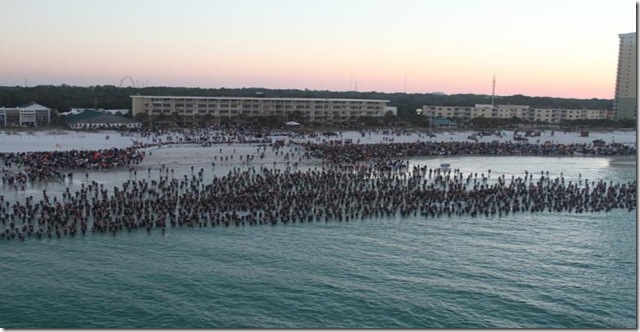 The Swim
The course is 2 loops, so you actually get out of the water and go across a timing mat and then do it all again.  During the swim the waves and the current really seemed to pick up a bit.  It's funny how everyone tried to spread out a bit down the shore, so they won't get sandwiched together on the turns.  This time it just didn't matter.  Everyone was spread out and the current just kept wrapping up swimmers like a giant tortilla of arms and legs.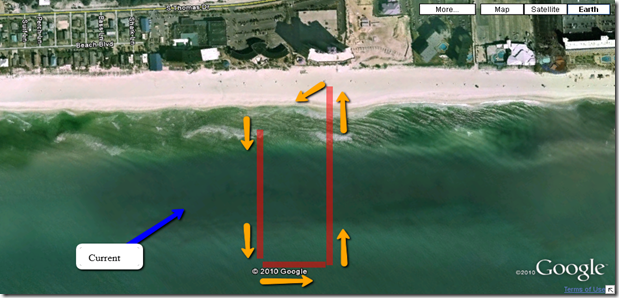 It really is like being tossed into a blender of arms and legs.  You just have to stay calm, suck it up, and move forward.  It's only water.
So I finished the swim in 1:05:36.  This was about what I expected.  Any time an open water swim goes as expected, I count it as a blessing.  Now off to the first transition…
This is where things were more unexpected.  I passed through to the wetsuit strippers and they had me out of my wetsuit in probably 3 seconds.  Then I immediately noticed it was still 40 degrees outside, and I was soaking wet.  My transition ended up taking ~13 min.  After being tossed around on the swim, I was a little disoriented and numb.  I wasn't rushing through like I normally would on a shorter race, but I definitely could have shaved some time here.  Things like the order of things in the change bag etc. 
The Bike
After being 448th out of the water, I hopped on the bike and headed out of town with about 2000 people fast on my heals.  I had 2 semi-mistakes or what others call 'teachable moments' during the race.  I was not prepared for the cold temps on the bike.  Riding a bike when it's 40 degrees in a wet swimsuit before the sun is even close to clearing above the trees was really tough early on.  We had grabbed some tube socks the night before to use as arm warmers, but that was pretty much our only option at the last minute.  Ann was in the same situation, and I was thinking about her all day hoping things were ok.  My hands/fingers were so numb that I was having trouble shifting and getting to my food. 
Around 40 miles into the ride, I warmed up enough to take a couple of pictures.  With the exception of about 10 miles of road, the road surfaces were incredibly smooth.  I loved it.  This is a really flat course, so it is likely that you could spend 108 of the 112 miles in the areobars.  Every 30 minutes or so I would just shift up 3-4 gears and climb out of the saddle to give my back muscles a rest.  There were definitely some headwind/crosswind issues to contend with, but I didn't think it was gusty, so I just tried to stay small and low on the bike and plow through it while keeping my HR low.  I read an article a while back that said to just do the opposite of what you see most people doing during an Ironman.  Most people go out way too hard on the bike and just try to crush it because it is so tempting to go fast.  I did the opposite and just cruised.  I tried to keep my HR in the 125-135 range(a range that I can maintain all day).  I never felt fatigued during the ride, because after all, there's still 26 miles to run.
The Bike route looked something like this.  The wind was in the 10-20mph range from the NNW.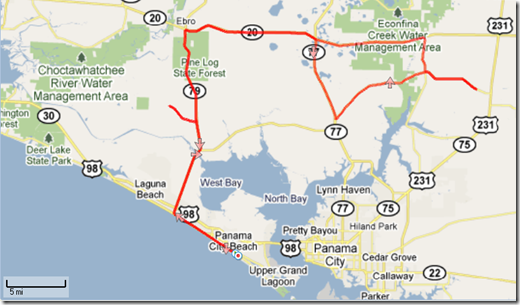 The Run
6:09:26 later I was off the bike and headed back to put on my running shoes!  I was so relieved to be out of the water safely and off the bike without any mechanical issues that I could not take care of.  I knew at this point, one way or the other I would get to the finish line no matter what it took.  This is always the main goal.  Improving my time is always a goal too, but the day is so long that you can't really fixate on it.
My Bike to Run transition was 7:20, much better than my first.  I was warmed up, feeling great, and ready to roll.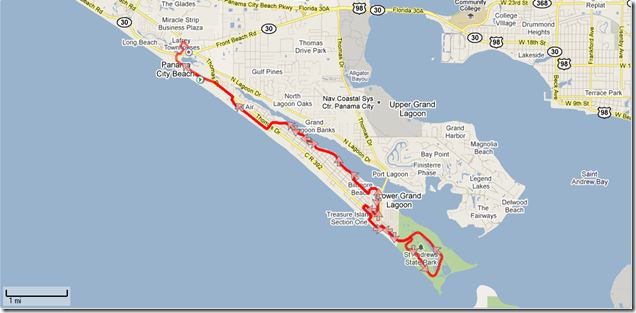 It wasn't until about 5 miles into the run that I realized my 2nd mistake, or 'teachable moment'.  For the past several months I have been training with EFS shots exclusively for my calories.  And this served me well when the temperatures are hot and you need lots of fluid type calories.  But at this point I had pretty much been cold for most of the past 8-9 hours.  So I really did not sweat much.  So around mile 5, I had ingested 6 x 6oz flasks of EFS Gel, along with lots and lots of water along the way, just like I did during my training.  So I had 0 solid foods in my stomach and all liquid calories.  I could audibly hear the sloshing in my stomach.  So at mile 5, I had my 1st of 5 emergency port-o-potty stops along the way.  I also mixed in 5-7 stops on the side of the road to puke.  It was very odd though…I wasn't sick or nauseas in any way.  I just had too much fluid in my stomach.  After each episode I would run at about 9:50 pace until the next episode…repeat and carry on.  I ended up splitting a 4:49:39 marathon, with a finishing time of 12:25:18, which is about 15 minutes faster than my only other Ironman, here 10 years ago.  So I was really happy about that.  A lot has happened in the past 10 years.
I've got to say that the crowd on the run course was just simply awesome!  There were folks out partying/dancing in the street.  The women in the 'girl zone' were hilarious still wearing their Halloween costumes(no more details…what happens in the girl zone stays in the girl zone)….loud music everywhere, just a big party.  It's just great to have all of that support from the family/friends/strangers and locals.
After the finish, I got a chance to see some of the finishers come in to the roar of the crowd. It was just great, raw emotion to see the family and friends just hoping to see their loved one cross the line.  
A few minutes later I got to see my loved one cruise down the finisher's shoot and cross the finish line to the roar of the crowd.  It was just really amazing.  Everyone just goes nuts when a first time finisher comes by.  I never had any doubts, but I worried anyway because you never know about a mechanical breakdown or accident.  But I saw Ann earlier on the run course looking strong so I knew she was good to go.  I'm going to go ahead and shamelessly brag about my wife for a second because I don't think many people take the path to Ironman that Ann took.  With lots of training over the last year, she has now completed 4(and only 4) triathlons, with the first being in 2003.  She has done 1 Sprint Triathlon, 1 Olympic Distance Triathlon, 1 Half Ironman, and now she is an Ironman!  She is fearless.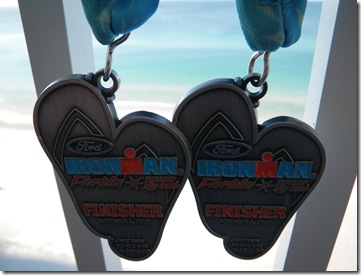 So that's Ironman Florida in a nutshell.  It was awesome and I will never forget it.  If you're on the fence about doing an ironman, just jump in and do it.  You can find lots of help along the way from the online community like I do.  If you were lucky enough to get signed up for IMFL in 2011, good luck to you and have a blast.  If you want to see how I started my journey, start HERE.