"If you really want to do something, you'll find a way. If you don't, you'll find an excuse." – Jim Rohn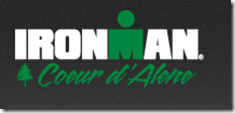 Ironman Coeur D'Alene! We are just a couple of days from doing this, and I can't wait. We are both 100% healthy. We are both fit. We've managed to keep the bike tires on the pavement, despite all the rain, hail, wind(oh the wind), and sleet this year. No running injuries, no swimming mishaps, and no dog bites. Just lots of solid, intense training.
For those newcomers that don't know what an Ironman is, here is the deal:
Swim 2.4 miles(about 60-90 minutes of swimming hard)
Bike 112 miles(6-7 hours of biking hard – no drafting)
Run 26.2 miles(A full marathon, this can take anywhere from 3-5 hours depending out how hard you ride the 112 miles)
The vast majority of the participants fall somewhere in the 11:00:00 – 14:00:00 hour time.  The cut-off is 17:00 hours(midnight), and not everyone finishes.  The last 30 minutes before midnight is the highlight of the race, as EVERYONE cheers on those trying to beat the cutoff.  This is where you see the amazing human spirit. 
Outside of these distances that must be covered, there are numerous things(See !@#$ happens) that can go wrong.
For example:
Someone could get tangled up in your zip-chord on your wetsuit during the 2.4 mile swim, unzipping your wetsuit and filling up with water…not good.
Someone could fall off their bike onto your bike, knocking your wheel off in the process before you even start the 112mile ride.
You could get stung by a bee that is stuck in your sleeve while descending at 40 miles an hour on the bike. That same bee could be so pissed off for being stuck in your sleeve, that it stings you 3 more times just for spite.
You could be forced to take 2 Benadryl because of said bee incident.  Have you ever tried to bike 112 miles after taking 2 Benadryl?
It could also monsoon rain on you for 18+ miles of the 26.2 mile marathon.
All of this actually happened to Ann last year, during Ironman Mont-Tremblant.  At some point, the obstacle becomes the path.  She's the toughest person I know.
Sunday:
The race is this Sunday 6/23 at 6:30a.m. Pacific.  We'll hopefully finish anywhere between 5pm-10pm_PAC.  We will be joined by 2800 athletes from over 50 countries.  If you would like to see how we are doing, you can go to the following site throughout the day:
Ironmanlive.com (click "Ironman Coeur D'Alene" link or "Live Race Coverage")
Jeff's Bib# 1532
Ann's Bib# 732
Race Goals:
Just finishing one of these things is an unforgettable experience.  As long as Ann and I can safely finish the swim and bike without incident, nothing else matters.  We can both walk 26.2 miles if needed to finish.
It's tricky to throw out numbers for something 140.6 miles long.  But, I feel if you don't state goals out loud, they're not likely to happen.  Last year my stretch goal was to break 11:00:00 hours.  I came oh so close at 11:03:00. I was happy with my time but still really wanted to break 11:00:00.  This season, I still want to break 11:00:00 hours.  THIS IS GOING TO HAPPEN.  But I don't want to just barely squeak by.  I've trained way too hard this year to simply shave off 3 minutes.  So here are my real goals that I haven't told anyone out loud:
Swim: 0:59:00.  Break 1 hour on the 2.4 mile swim.  I've never done this before, but I've been really, really close.
     T1 – 5 min(Not sure how far away the transition area is)
Bike:  5:36:00.  I've been trying to hold 20mph for a hundred miles for 12 years.  I might as well shoot for 20mph for 112 miles.
     T1 – 5 min(Not sure how far away the transition area is)
Run: 3:42:00.  This puts me at 8:30 pace for the marathon if I can hang on long enough.
So, here we go 10:30:00!
Thanks for reading!