Sunday morning I woke up 10 minutes before the alarm clock at 4:50 a.m. to a huge crash of thunder.  You've got to be kidding me, I thought, as the start time was in 2 hours.  I had already signed up for the full 26.2 and I was thinking the last thing I wanted to do was spend 3.5 hours running in the cold rain.  I knew I had to run either way or Ann would definitely give me a hard time after she ran about 16 of 26 miles in the cold rain recently in Mont-Tremblant.  Suck it up buttercup, I thought…So I got out of bed anyway and looked outside and noticed it wasn't even raining. Sweet!!!  It's on!  Weird how your outlook can change in an instant.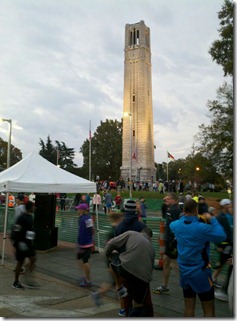 I drove a over to NC State a short 4 miles away and had plenty of time to relax before the start.  I haven't run an open 26.2 since 2009, so I was a little unsure of how this was all going to pan out.  At the end of an Ironman I'm usually battling muscle fatigue in my legs.  Running a marathon open is a bit different, as the pace is a bit faster without the fatigue. But then it still hurts just the same from miles 18 on until 26.2 when the poo hits the fan.
So, I had several goals
Finish (no matter what)
Finish in under 3:56:00 (most recent run split during an ironman)
Finish in under 3:42:00 (reasonable to think I can run a bit faster without biking prior).
Negative split the marathon (Just because).
I decided to take a different approach, and split the course up into 4 x 6.55 mile sections.  Mentally this allows me to focus on my average pace better and help my pace to not drift slower as the miles wear on.  Every time I hit 6.55 miles, I hit lap/reset on my Garmin, so that my average pacing would start over.  Overall, I wanted to pace somewhere in the 8:20's per mile, but if I ran better during the first 6.55 miles, I didn't want to let myself off the hook by running a slower 2nd or 3rd 6.55 section.  My second split included a brief  port-o-john stop for a minutes or so.  It took me nearly 13 miles to find a port-o-john not already in use.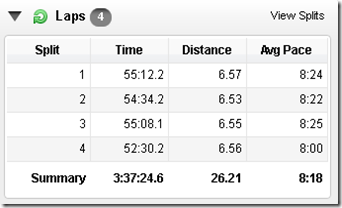 My pacing plan worked like a charm, and the volunteers at the aid stations were great.  Every two-ish miles there was a fully loaded aid station with everything you need during a marathon.  Some were still wearing their Halloween costumes from earlier in the week.  Randy was even manning a beer table out in the middle of the woods on the greenway.  I don't believe this was an official aid station, though at mile 20, hey whatever works.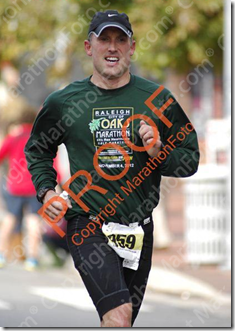 I actually felt pretty good after working through miles 16-19.  I don't know why, but those are always the hardest, and then I get my second wind for the final 6+ miles.  My final 3 miles, I was able to average just under 7:30 pace, so I feel like I may have been too conservative, and could have gone faster.  Oh well, the only way to know for sure is to run more marathons, more often.  Either way, I am really happy I was able to do the City of Oaks this year to stay in shape over the Fall.
For those interested, I used Hal Higdon's Marathon Training Program as template for my training(Free).  I used the Novice 2 program, simply because it gives you 2 rest days and 1 Cross-train day each week.  Coming off an Ironman in August I already had a really good fitness base.  So, after resting for about 2 weeks, I jumped into week 9 on the plan.  I really only wanted to run a couple times a week so I could still focus on biking.  By doing a harder "tempo Pace" run on Wednesdays and a long run on Saturdays, I could fill in all the other days with some hard bike days doing intervals, hill repeats, and recovery spins, all while building aerobic capacity.  I could have used the more advanced templates, but it really just adds more running days per week and doing more running intervals and speed work.  So it just depends on what your big picture goal is.
Thanks for Reading!