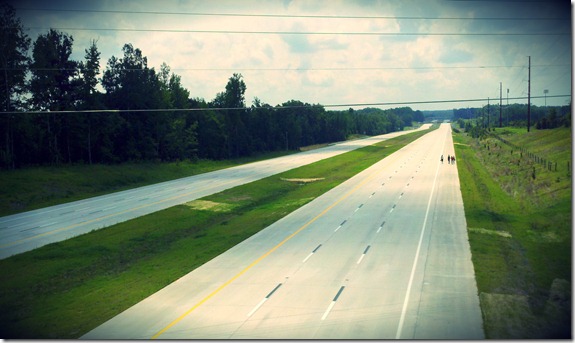 Photo taken recently of the new I-540 just days prior to opening.  I snuck on to the 6 traffic-free lanes of cycling goodness on part of an 85 mile ride.
"It's not the will to win that matters – everyone has that.  It's the will to prepare to win that matters."  – Coach Bear Bryant
Life is a grindstone as they say.  Training for Mont-Tremblant this year has been tough.  I am beat up mentally, and physically.  I feel weary most days, like I am just hanging on. One would think that as you get better and better, it hurts less and less.  Well, it doesn't. It hurts the same, and quite often it hurts more.  This year all of the high volume workouts have taken place in June, July, and the first week of August.  We've had 3 weeks in a row, where the temps were between 95F-105F(35-40.5 Celsius), with the humidity adding 5F-10F to the heat index every day.  Other than those 3 really hot weeks, it has still been 93F-99F(the cool part of the summer).  It's literally maddening, like I just can't escape it.  I've gone through more Band-Aids, Body Glide, Chamois Butter, Endurolytes, EFS, Nuun, and water, than I thought possible.  I put on Band-Aids now just in anticipation of the chaffing to come. Even the outdoor pool is too hot to swim in most days.
I could go on and on about how hard the last several months have been.  But what is the point?  Nobody wants to read that, and it really isn't productive to dwell on the past.  So, I'm going to put all of the negative thoughts in a box and never bring it out again.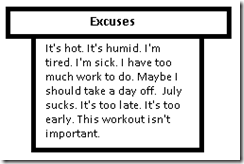 Having a short forgetful memory about the negative and holding onto the positives is key. I can't worry about the 18 mile run that went horribly wrong as I was getting sick.  But I can be confident in that 2 weeks later I had one of my best runs of the year on a 17 mile run.  The fitness is there. I can't worry that my average speed on the bike is just a tick slower than last year.  I'm training through the Summer months instead of the Fall months.  I am stronger on the bike and the run and confident that I can ride/run up any hill.
There are now less than 3 weeks(18 days) to go before Mont-Tremblant.  With the exception of a pretty tough long run coming up this weekend, the toughest part of the training is over.  I'll be tapering over the next 3 weeks letting both my mind and body recover from the recent hammering.  The workouts will be noticeably shorter, with some added higher intensity thrown in to sharpen things up for race day.  The grindstone can either wear you down or make you sharp.  And who doesn't like to play with knives!
Thanks for Reading!