During the offseason, I made a couple of badly needed upgrades to the trainer set-up in the garage.
Ideally, the folks at Computrainer want you to mount the controller on your handlebar.  However, this becomes one more thing to mess with when taking the bike outside.  Further, as you can see below, there's really no room unless you mount it sideways on the aerobars.  So most folks end up making their own stand for the controller.  Our Computrainer stand badly needed replacing.  When we put this together I was so excited to just have the Computrainer, that we just kind of threw together a stand so it would be functional.  So we got two bricks from under the house…some duct tape…some scraps of wood…some more duct tape…you get the idea, until we had a wobbly mess with wires everywhere…though still functional.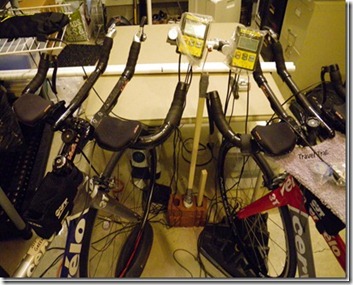 Ah, but we can do better than that.  So, off to Lowe's I went in search of all things PVC.  Really simple to use, easy to cut, plenty sturdy for our purposes.  You can also easily hide any cables inside the tubing.  Below, I present the Dually!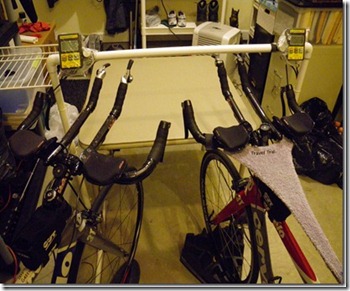 Next, I had to do something about the HR sensor on the Computrainer.  This was one of those wired HR old timey relic sensors from Polar that you just lay across the top of the bike to pick up your HR during workouts being transmitted from your Polar HR chest strap.  This was good for about one year, then we both had constantly frustrating issues.  The problem was dropouts.  This worked like a bad AT&T commercial.  You're in the middle of the workout and your HR is reading something like 240 bpm or 53 bpm(or nothing), all of which are seriously unlikely at any time on the bike.  Further, I would rather keep my Garmin HR Monitor on instead of having to switch back and forth every time I ride inside on the trainer.
I did some digging around(actually about 6 months ago, but just getting around to testing it now).  Well apparently, somebody else was as frustrated as I was, so they just wrote their own software program to get around the whole problem.  Brilliant!  So, now you can toss your Polar dongle and instead use the ANT+ stick that came with your Garmin device. Download some nifty software from ctANT+ and you are set.  But, but, but…it gets better.  You can also "pair" your ANT+ enabled Cadence sensor and Power meter if you like. No more wires!  And no more cadence sensor set up every time you go from outside to inside.
The result, is accurate HR data from your Garmin, along with RPM and Watts still being fed to the Computrainer.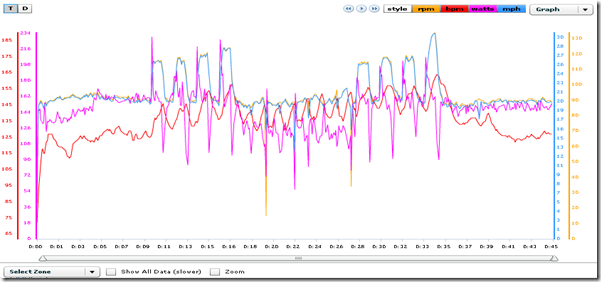 Lastly….and finally, the new Garmin 910xt arrived!  I ordered this several months ago to replace the Garmin 310xt.  Don't get me wrong, I LOVE the 310xt, but I also love messing around with new gadgets:)  The main new feature that the 910xt provides that the 310xt doesn't is the ability to count laps and swim strokes per lap while indoors/outdoors.  Awesome!  This may not seem like a big deal if you're not a swimmer, but if you do lots of complicated swim workouts, this is a godsend in making sure exactly where you are in the workout.  Was that lap 78 or 74….Or was that my 5th or 6th 400?  After the workout, you can go back and look at the captured data to analyze.  By tracking your time per lap, along with the number of strokes per lap, you can determine your efficiency score(SWOLF) per interval throughout the workout.  So, the slower(more fatigued) you get, the more strokes it takes to get from one end to the other, thus a less efficient(higher SWOLF score) stroke.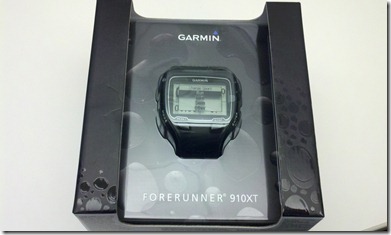 Thanks for reading!