This weekend can only be described as a Blur.  The tough thing about training for an Ironman isn't necessarily the training, it's fitting the training in with the rest of the commitments that you have in your life.  Try as I might, I can only be in one place at a time.  I'm supposed to be tapering for the next 2 weeks, but I also have other things that I just need to get done before #IMAZ because the weather starts to get too cold in December.
Friday:
I Left work about 5:30PM and raced over to the gym to get in a 3000yd swim workout and 30min FMS Core body workout.  It was supposed to be 4000yd swim, but I had to skim a little here and there throughout the weekend.
Saturday:
Today, we're going to need to start with a cup of coffee of good intentions.  Add some great weather to the mix and lets get it on!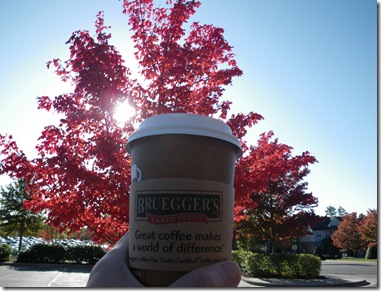 Today called for 2hours on the bike followed by a 1hour run.  I headed off to the gyim to knock out a 2hr trainer ride, followed by a 1hr run on the treadmill.  It was a bummer for sure, since the weather was just perfect.  I would have loved to have been able to do the entire workout outside, but this was not the weekend. On the way into the gym I passed the outdoor pool….So sad! It's closed for the year and seems to be saying "nobody wants to play with me".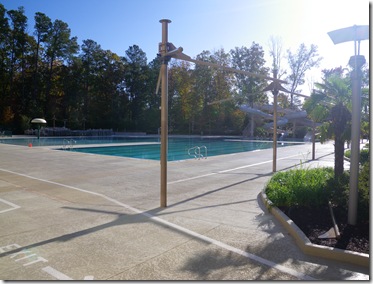 After, I left the gym I drove home, grabbed a duffle bag, and got back on the road and head towards the coast, 2.5 hours away.  I met Ann down there, who came down 3-4 hours earlier to get started with the tractor, filling in dirt from Hurricane Irene's mess.  By the time I got down there, Ann had already unloaded about 15-20 loads of dirt/rocks with the tractor.  She is like the energizer bunny.  I was there to spread it all out with a rake/shovel/hoe.
So we did this routine until the sun went down.  It was pretty cold and the wind was blowing off the water at about 20-30 miles an hour.  Like I said, better to take care of this now, than in December or January.  It's only going to get colder. 
Sunday:
Sunday, we started with the same routine for about 3 hours.  Just spreading dirt and rocks with a rake/shovel/hoe.  This stuff really just kicks your butt.  Raking heavy wet dirt and rocks, was like one long 3 hour ab workout….I needed to leave by 10am so I could get back to Raleigh(2.5 hr drive) so I could get in another longinsh workout.  I left around a 11a.m., but took a 2nd to admire the new coat of paint we put on the porch about 1 month ago.
This is the before/after:
So around 11am, I left the coast and headed back to Raleigh.  2.5 hours later, I was back at home, to pack up the bike and all my gear.  Today was also the day I was supposed to drop off my bike at Inside Out Sports, since they are driving the big truck out to #IMAZ.  I thought the drop off time was 6pm, but called ahead and found out it was actually 5pm….Crap, there goes my last outdoor ride before #IMAZ.  I was hoping to get in a good 60 mile ride and 1 hour run and then drop it off and IOS.  "Plan B" was to drop off the bike and then just head to the gym to do the whole thing on the trainer/treadmill. 
So, it was kind of sad actually dropping off "Blue" at IOS.  Blue has been rock solid for the last 2 years and has never let me down or left me stranded.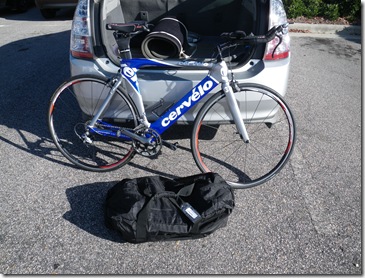 You're my boy Blue!! The next time I see Blue will be in 2 weeks!  That seems like an eternity.  That's ok, we're going to spiff things up and get some new dancin' shoes for the race.  2 weeks and counting!
Thanks for Reading!