Nine days ago as I prepared for hurricane Irene's arrival I was thinking I'm either going to be in Raleigh with no power and eating out of an ice cooler, or down at the Pamlico River with no power and eating out of an ice cooler.  I just had that feeling.  Most of the media seem to always focus on the Outer banks of NC or on the beaches at the coast.  Well, I've now been in 3 major hurricanes in my lifetime, and all have been well inland.  I can tell you that the damage that folks see inland is no picnic. I was in Charlotte in 1989 for Hugo, Raleigh in 1996 for Fran, and now Irene in 2011.  The reports always say how these are 100 year type phenomena, where they just don't come that far inland.  I really don't care what the reports say.
I woke up on Saturday morning and this was the image that I saw on the weather channel.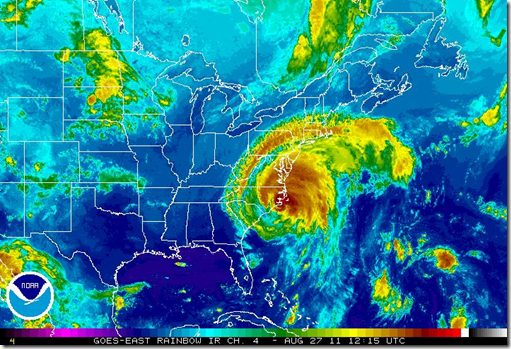 My wife's side of the family has an old farm that we take care of right where you see the eye of the storm above in Red.  The closest town is Aurora, NC.  Aurora received 19 inches of rain, a storm surge of 13+ feet, and hurricane force winds.  And the storm just sat there all day long.  It was nearly midnight before the hurricane had crossed the VA border.  All we could do was wait in Raleigh and hope for the best.
Sunday we drove down to check out the property and start making a list of all the equipment we would need for repairs, cleanup, etc.  A 2.5 hour drive took about 3.5 after a number detours road blockages, etc.  If anything were damaged, we hoped we could just cover it with a tarp until we could come back in a couple days.
Luckily, everything was relatively ok.  There would be a lot of clean up in the coming days, but we could handle that.  Here are some of the photo's of what we saw: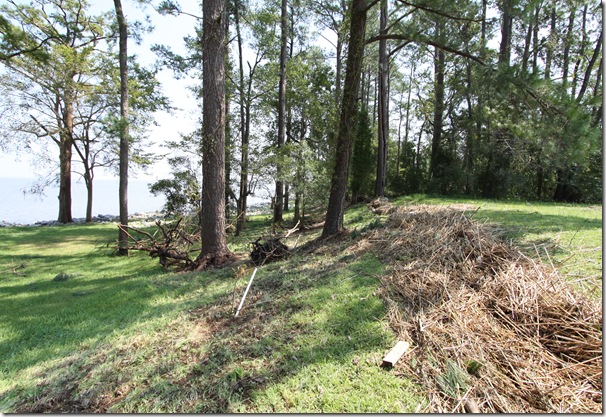 You can see above that the storm surge made it all the way to the top of the hill.  From the waters edge to the top of the hill is about 12 ft in elevation.  The house is at the top of this hill at about 12.5 feet elevation.  Very, very close!
All kinds of interesting things washed up from the surge.  A garden rake even washed up, which was good, because we didn't have one.  Numerous gas cans washed up, along with a bike helmet.  So if you need a gas can or bike helmet, I can make that happen.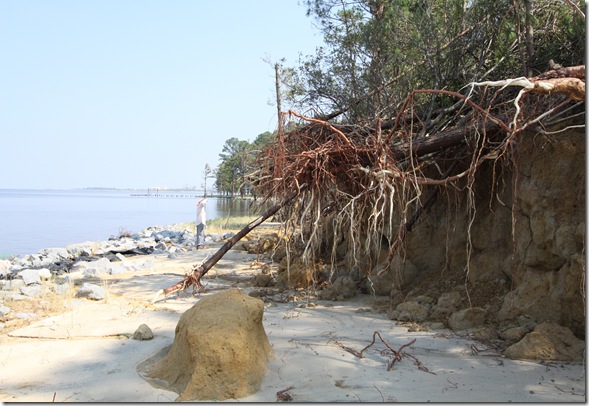 If you've never seen erosion up close from a hurricane, you wouldn't believe it.  You can see Ann in the middle of the picture in the distance(she's 5'2).  The water just comes in and scoops it away and carries it back out.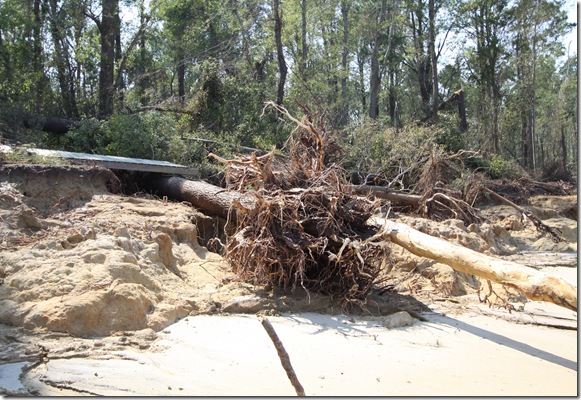 Here, someone lost about a 30 foot section of their dock.  The surge carries debris like this like it's pine straw.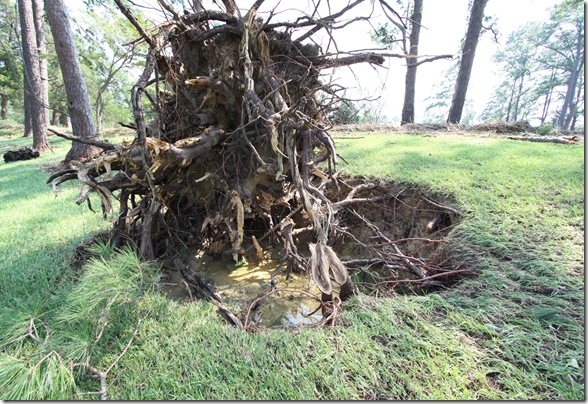 When you see trees like this toppled over it's not from the wind, but rather from the water.  The ground is so saturated that the roots just have nothing left to hold onto.  It's too bad, because these are really tall, mature pine trees.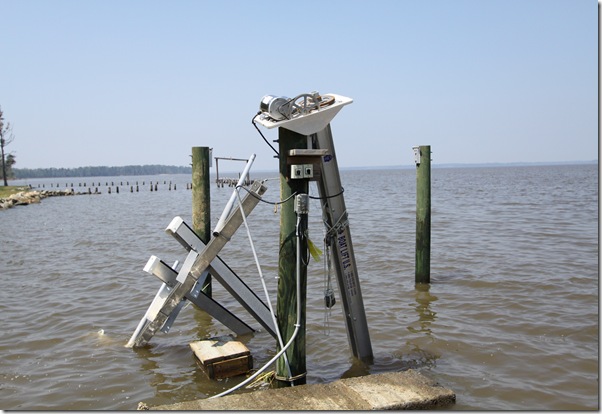 What the heck am I supposed to do about that?  This will require some creativity.  The water here is about 4.5 – 5 ft deep. We'll be back in a couple of days, so IMAZ training will have to take a back seat for a while.  Like they say, life comes at you fast.
Thanks for reading!