The alarm went off at 4:00a.m.  My first thought was, "I feel rested…I wonder how fast I can race today?" My second thought was, "I should eat a bagel with peanut butter".  All of our bags were packed so we pretty much just loaded up the car and checked out of the PI. This was only 3-4 miles away from race site, but I would still recommend just staying downtown at the host hotel if you do this race next year. 

Anyway, 5:00 AM now…the car is parked and we are on the first athlete bus to take us to the transition area(1.2 miles away) to set up gear in T1. This is a point to point swim, so the logistics are a bit different. We arrived in transition a couple of minutes later, quickly got body marked, and just took some time setting up.  It was at this point that I realized that I only had my bike shoes and my running shoes(on my feet).  Normally this is fine, but I had to leave my running shoes in the transition area, and then get back to the swim start 1.2 miles away. Not a huge deal, but I noted that I did have to get back on a crowded bus(potential to get toes stepped on), cross some parking lots and railroad tracks, and visit the port-o-potties…all barefoot and in the dark.  Lesson learned – Bring flip flops next time.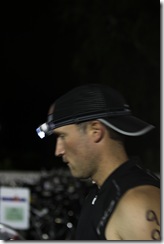 Finally, it was 7:30 and time for the Pro's to start.  It was about this time that I ran into Hassan from my hometown of Matthews, NC, whom I met earlier this year at the White Lake Half. Hassan told me about this race and suggested it, and here we were.  So if you're reading this Hassan, you were right.  This race was great!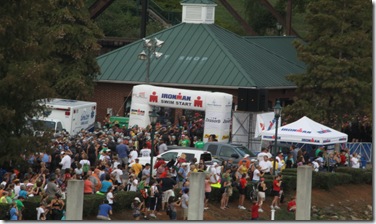 I was in wave 9, starting at 8:04.  The only downside about the entire race for me was that you could not warm up in the water.  You have a narrow catwalk down to the docks, where everyone starts.  So the wave in front of you starts, and then you start 4 min later.  At 8:01 I jumped in and tried to warm up as best as I could for a couple of minutes. My plan was to stay wide and out into the middle of the river away from other swimmers.  Most folks seem to want to draft as much as possible by chasing bubbles from the kicking feet. I would rather stay in my own bubble of things that I can control, and swim a straight line, with a long, even, relaxed stroke.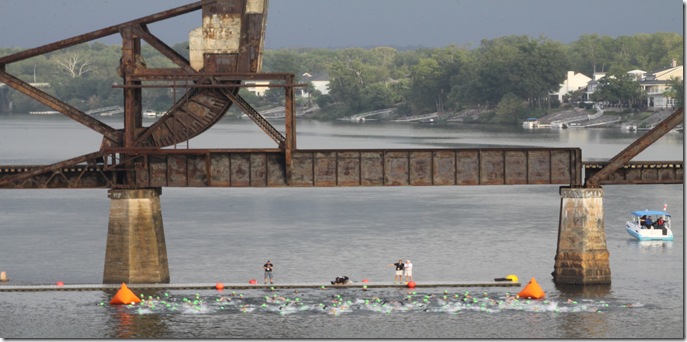 * Note: All references to Time, Speed, Pace, are totally relative.  A fast pace for me is likely slow for other athletes. And a slow pace for me is likely to be fast for other athletes.  It doesn't matter.  It's improvement and progress that matters.
Swim:
This was my fastest swim ever! I swam 23:13. As soon as the horn went off, I sprinted for about 200yds, and never looked back.  I only had a couple people off my right side, and only the buoys on my left.  I felt great.  Before long I started to catch the wave in front of me that went off 4 minutes earlier.  Then at the very end I caught a couple of folks from 2 waves ahead.  I never made contact with a soul the entire swim. Sighting was dead on straight.  As I exited the water, I smiled as I saw my time.  13th in my AG.  This was a couple of minutes faster because of the current. 26-27min would have been more likely without the current. My fastest 1.2 mile swim.
T1:Swim-To-Bike was a longish run, though the wetsuit strippers flipped me out of my wetsuit in about 1 second.  T1: 4:04.
Bike:
The bad thing about a fast swim is that you have a torrent of 3000+ cyclists about to unleash hell on you.  But today I felt good.  My HR was way high because my heart was still pumping blood to the open capillaries in my arms, and not to the closed capillaries in my legs.  I really had to ease back on my bike effort for the first 15-20 minutes, to let my HR come back down and get my legs pumping.  It seemed really humid so I started drinking lots of water, and started my EFS liquid shots, and Endurolytes every 15 minutes.  For longer IM training I've been trying to keep my HR at 135 bpm. Today, for 56 miles, I decided(about 2 miles into the race) to race at 145bpm, and just see what happens.  The road surface was mostly average to above average.  The course itself was awesome though.  There were quite a number of good rolling hills and winding turns.  I decided to just take it easy on anything that required the small chain ring (only of couple of these), but on the downhill's, I wanted to bomb down them as fast as possible.  I had so much fun on the bike course.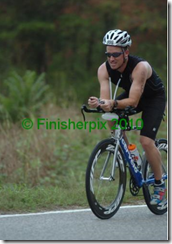 At mile 20, I was just over 1hr, and at mile 40, I was just over 2hours.  I don't typically track my average speed during a race because it will make me try to hit a number despite what the weather and terrain are like.  Usually I average about 18-19mph on my long rides.  At 40 miles into the bike, I felt good and started thinking today could be a PR day.  So for the last 16 miles I kicked it up a notch to finish strong with a 2:46:01 (20.24 mph pace). At the time, I was having trouble doing the math in my head, but I was sure I had just PR'd on the bike. 2 for 2, so far so good. 122 in my AG.
T2:Bike-To-Run was a fairly quick transition. I just racked my bike, put on some running shoes, and grabbed my hat and EFS shots. T2: 1:45.
Run:
The entire run course is in a historic district in the downtown area along the river.  The course is extremely spectator friendly, and I was happy to see all of the support.  As soon as I started running I thought, just go hard, it's only 13.1 miles.  It's crazy how your perception of things change.  I was thinking how I just ran 18 miles after work one night, 2 weeks ago.  So I tried to keep my HR at 149 or slightly lower, which put me at about 9:15 pace for a while.  About 15 minutes into the run the temperatures really heated up into the low 90's with some pretty good humidity.  At this point I started to see folks having issues with cramping and trying to cool down.  So I played it cool and just maintained my same pace until somewhere between mile 8 and 9.  At this point I made conscious decision to enjoy the pain and go all out for the last 4.5 miles.  What is there to lose?…I may just finish the whole thing strong and PR. It was going to be close.  My overall pace was coming down, and my HR was going up.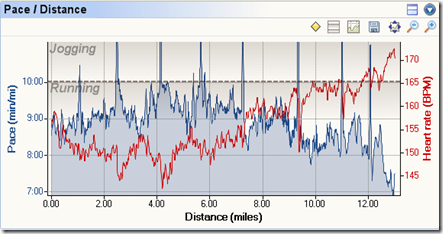 Overall I felt good, so I just kept pushing a harder and harder pace, and before I knew it, I was coming around the corner to the finish line chute.  Run 1:57:06. 75 in my AG.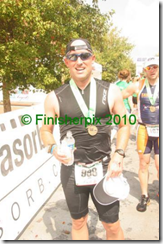 My overall time was 5:12:09, and I was so happy to have set a new PR. It has been nearly 10 years since I went 5:20:00 at a 70.3 distance. Overall Rank 383 out of some 3000+ athletes…I'll take it!  Today was a big confidence boost with just less than 2 months to go before IMAZ.  I'm on track and looking forward to the days ahead.
Thanks for reading!