The last several weeks have been quiet.  The 2010 season was over and the 2011 season has yet to begin.  There hasn't been much in the way of exciting entertainment. That all changed this past weekend….Roadtrip!!!  I try to write about things that other people would like to read, places to go, or things that I just find interesting.
Early Friday morning we packed up the Prius (this would be important later), and headed to the far northeastern part of NC. Eastern NC is pretty rural until you get to the coast, but the northeastern part of the state is desolate and wide open….Big farm country, very flat, and home to more wildlife than you can imagine.  In NC in the winter, there is one thing in particular that there is an abundance of….birds…lots and lots of large amazing birds.
I'm talking about the very bottom of the "red" area in the map below.  Tundra Swan, Snow Geese, and many others migrate from as far away as Alaska and northern Canada to winter in NC.  This all happens around November and December.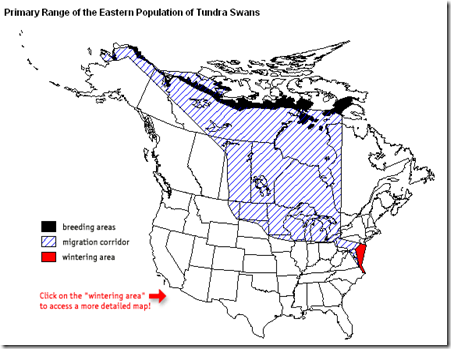 I've never considered myself much of the birding sort…that is until I got a new camera recently.  I love my new camera. After doing some initial digging, I decided on 3 locations that were likely to have the best probability of finding these awesome birds.  These were Pungo Lake (Pocosin Lakes Refuge), Pea Island (part of the Outer banks), and Lake Mattamuskeet.  All 3 locations have large bodies of shallow water with ample food sources.
Pocosin Lakes Refuge (Printable Map of Pungo Lake)
First up was Pungo Lake.  I should point out that this is a "hit or miss" type thing.  There are no signs that say "See birds to your left", so you just kind of drive around(but you won't be disappointed).  This area received an enormous amount of rain the previous day.  There is a farm access road (not paved, and no gravel) that basically circles around the entire lake.  This road serves as a levee between Pungo Lake and the surrounding farmland.  So on each side of the road are icy cold canals.  The road is flat, but the mud was much to thick to be driving a Prius through.  But we did anyway.  The further we went, the dumber I felt.  I pretty much assumed I would be hiking out to go find someone with a tractor to pull us out.  The last person we saw was about 30 minutes prior.  About the time we reached the halfway point around the lake, the gate was closed for access around to the other side of the lake.  I should point out here that the road was a narrow one lane road and that sliding off either side would suck big time.  So my 3 point turn was more like a 7 point turn. We had to go through all of the same muck again.  It was awesome!  Finally, we made it back to the south side of the gate and back onto pavement.  We headed in the other direction and were not disappointed.  We came up on the most spectacular field of Snow geese.  There must have been several thousand in this one field.  The sound was amazing!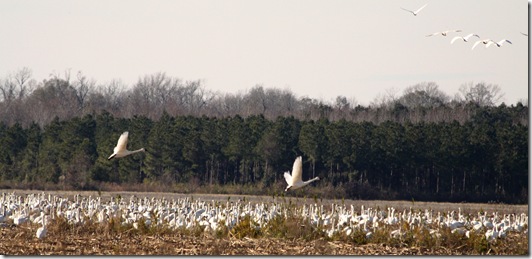 It sounded like a bunch of old men just muttering in the distance.

If you tried to get closer, they would get nervous and start to fly, so we kept our distance at the road.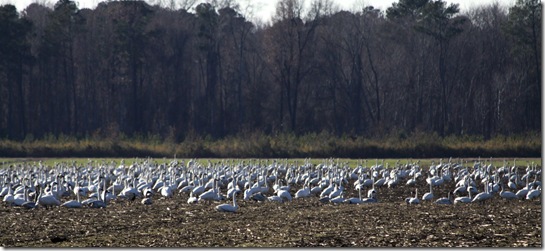 Pea Island (Printable Map of Pea Island)
After taking about a 200 photos, we packed up the gear and headed to Kill Devil Hills to spend the night.  The next morning, we drove south (about 30 min) onto Pea Island National Wildlife Refuge.  There are 3 almost rectangular ponds that you will see.  There are walking trails around them as well.  You can also see this area from the car if you don't want to walk all the way around them.  You can pretty much just stop on the side of the road once you see where the birds are congregating.  There's a small welcome center on the right hand side(you'll see a parking lot and flagpole). Since it has been so cold, the water was starting to freeze here(and so was I), so many of the birds were starting to push towards the center of the ponds as you can see in the pictures.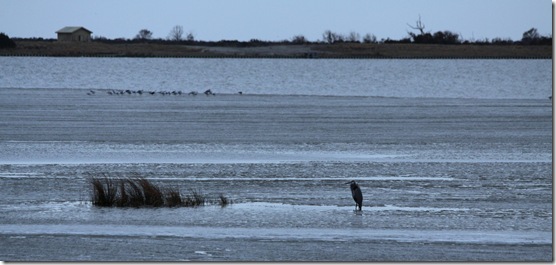 Off in the distance you can see quite a few Tundra Swan just resting behind this tiny island out of the wind.  On this day there was a winter storm on the way, so the bird activity seemed to be a little less than you would have expected.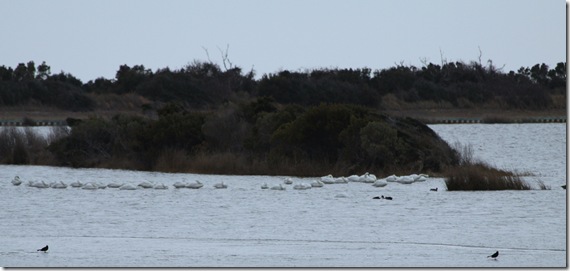 I'm not sure what kind of bird this is, but I thought the colors were really amazing if you look closely.  If you know what kind of bird this is, please drop me a comment.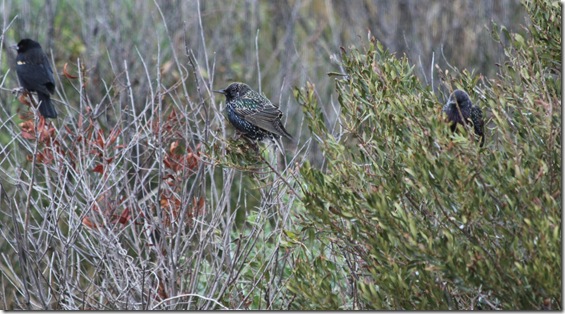 While I was taking pictures of the White Pelicans, this large Brown Pelican just popped out from just below the brush to show off his water takeoff skills.  This was a very large bird with a wingspan of 4-5 feet!
Lake Mattamuskeet (Printable Map of Lake Mattamuskeet)
After hanging out in the windy cold conditions on the Outer banks, we packed up the gear once more to head back to the mainland and stop by Lake Mattamuskeet.  This place was amazing.  Over 100,000 Tundra swan, Canada geese, Snow geese, and 18 species of ducks winter in this area.  The lake is about 14 miles wide and 5 miles across.  There is a road right across the middle of the lake with plenty of viewing areas on each side. The depth is only 0.5 to 4 feet deep, so there's plenty of underwater vegetation and food and quite a few bald cypress trees for the occasional owl or bald eagle.
The little River Otter Nutria above thought we were most entertaining.  She stopped her digging and burrowing to check us out while we checked her out.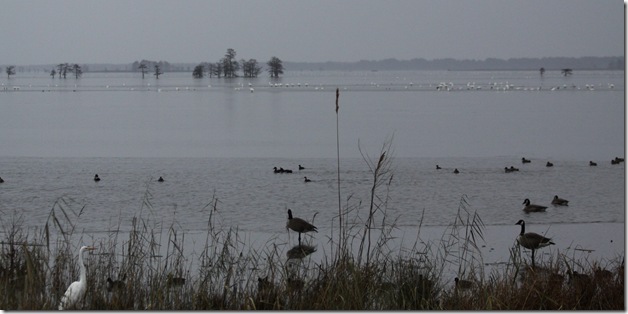 It's really neat to see these bald cypress trees growing out in the middle of the lake.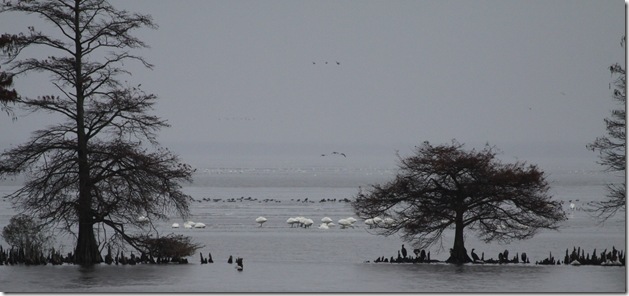 You can see different sections where the water is frozen in the foreground and background with the Tundra swan and Snow geese just walking around. Some are huddled up under the cypress trees.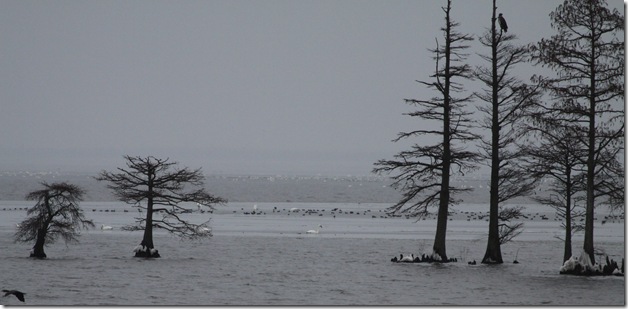 Even though the weather wasn't exactly perfect, the scenery was spectacular.  They say that November and December are the best times for wildlife viewing in these areas.  I'm guessing the best time is the entire month of November and the first 2 weeks of December.  I plan to come back maybe 2 weeks earlier next time, on a warmer sunny day when the activity is higher, to see what else we can find.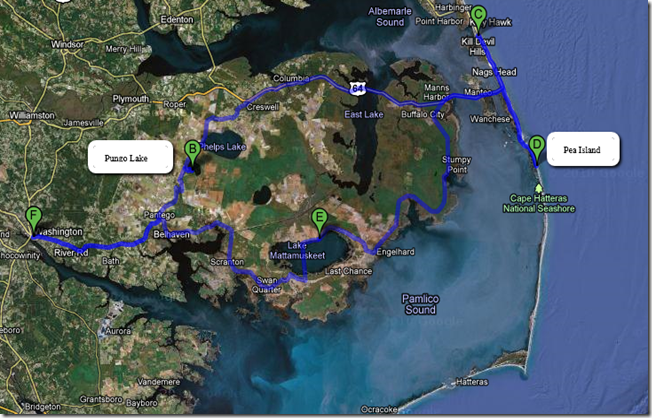 Again, if you know the names of any of these birds, leave a comment.  I would like to find out.  Thanks for reading!
–Jeff