Labor Day weekend finished off with the Tour de Moore Century Ride in Southern Pines, NC.  Southern Pines is beautiful.  It's pretty much horse farm country, and right next door to Pinehurst, NC, also beautiful for all of the golf courses.  This would be my first time participating in the Tour de Moore and my first century in 10 years (IMFL 2000).  My goal today was to work on my nutrition and continue getting comfortable taking in lots of fluid, Fig Newtons, and Endurolytes.  I wanted to do the group ride to offload some of the work that we've been doing on solo long rides in previous weeks.  So I was looking to stay in the top 1/3 of riders and then fall back to slower groups as the day wore on. 
So the ride started right at 8:30 am, and off we went.  Immediately I noticed this was a different crowd than the previous group rides.  The Peloton went like a rocket out of town.  Looking at the data afterwards, the lead group averaged ~23-25mph for the first 10 miles.  This was not sustainable for me, so I dropped back after 10 miles to a more manageable pace.
I dropped in with several other groups over the course of the day and took turns pulling for 3-5 minutes at time.  The downside of group rides for me is that I'm not real comfortable in the aerobars while in close quarters, and most rodies probably aren't either.  So I sit up while in the group unless I'm on the very back.  This has a tendency of putting pressure on a different part of my sit bones than I'm used to. 
Onto the course!  I've never been mistaken for being an expert hill climber or anything, but this was one seriously challenging course.  I had no idea the Southern Pines area was so hilly. It was very rare to have a flat section….Just constant rollers all day long.  See the elevation profile below.

I've added the entire route to my Bike Routes page.  This was a really great place to ride.  The roads were decent for the most part, and there was virtually no vehicle traffic.  After I climbed up E. Connecticut for the last 5 miles or so, I had a quick 3 mile run to cool down.  If you're looking for a challenging century next year, you've got to check this out.  The SAG stops were all well supported and the volunteers were awesome.  Plenty off food and beer afterwards as well.
One of the volunteer ladies at the SAG stop seemed a bit perplexed when she was looking at my chubby Aerobottle, so I just told her that's where I hold the Margarita.  Sure, I've got Salt tablets and everything, I said:)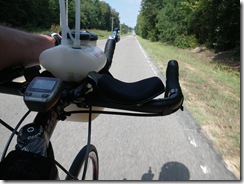 I wasn't able to take too many pictures of this ride during the event since I was either climbing or barreling downhill most of the time, but here are a couple of the surrounding area from during/afterwards.
Sunday:
Sunday was a rest day this week.  Good call.
Saturday:
16 mile run over at Umstead.  This was our long run for the week and I could really tell a difference for some reason between 14 last week, and 16 this week.  The best part was that the heat had finally broken on Saturday…Wooho!!  As soon as I walked out the door on Saturday morning I could tell the difference.  It was like having twice the lung capacity.  I got through that without any real issues, but really needed to spend the afternoon recovering so I could do the Tour De Moore 2 days later on Monday.
Friday:
Nice easy swim!  Just and easy 400 yard warm up followed by a solid 1500 continuous swim at race pace, then a 300 yd cool down.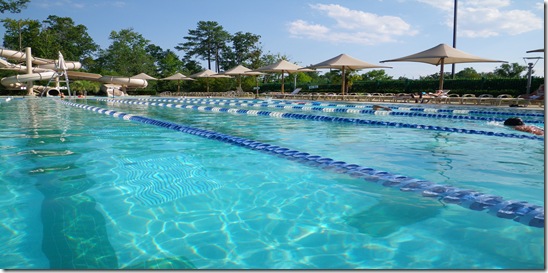 Thanks for reading.  Have a nice week everyone!