Have you ever walked through a field of corn?  It's pretty amazing how tall the stalks can get.  Now imagine that same field was full of water and you had to swim through it.   Well, it's kind of shocking at first, but then once you realize it's just corn, it's not that big of a deal.  I'll come back to that in a bit…
Typically I do the weekend review in chronological  order.  This weekend I decided to review everything in reverse order, so I'll start with Sunday.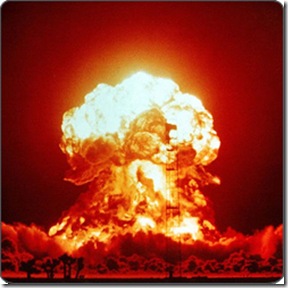 Photo by: BlatantNews.com
Sunday:
We woke up and packed the gear for the day and hightailed it out to Harris Lake for the Nuclear Swim.  This was a 1 mile open water swim that was organized by FSSERIES.  Harris Lake is a 680-acre park situated on a peninsula near the Shearon Harris Reservoir in New Hill, N.C. Shearon Harris is a nuclear power plant operated by Progress Energy in case you are wondering why the race is called the "Nuclear Swim".
Check-in was a snap.  We were in and out in about 2 minutes.  As a bonus we got this cool T-shirt.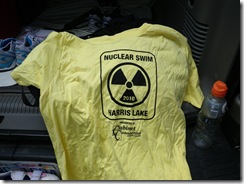 Next, we strolled on down to the waterfront where they were just finishing up a short instructional on Open Water swimming.  There were quite a few participants out there already warming up, but we got there a little late, so with about 10 min to go we headed down to the water.  I snapped a couple of quick picks just prior the the start.
After going through the corral, I head out to the water to the starting area.  I would have liked to have warmed up a bit to get a feel for the water and sight some land marks, but no big deal; this was just an open water practice opportunity.  Just as I was walking into the water, I remembered some guy passing us in the parking lot earlier talking to his girlfriend about "remember all the grass last year".  At this point I thought I knew what he meant.  To get out to the starting line, it was like wading through a Kelp forest.  We treaded water for about 5 minutes and then the race began just like that.
The cool part was that the starting line was very wide, and it didn't really matter if you were on the inside or the outside.  So with no warm up, it pretty much felt like a "grip it and rip it" kind of swim for the first 5 minutes to stay ahead of the fray.  Somewhere between 5-10 minutes into the race, I felt a tugging around my left ankle.  What was that, I thought.  Then my right ankle…Woa!!, there is something in this water.  Then I was just swimming through a sea of octopus like arms from the deep.  There were just huge amounts of grass type plants that were just growing in the water.  I'm guessing these plants were over 6 feet tall because they just barely reach the surface of the water, and I could not see or touch the bottom. I could not help but smile thinking that my wife was getting ready to start the swim in the second wave.  Later, she would officially name the area the "Underwater Pasture" as you can see below.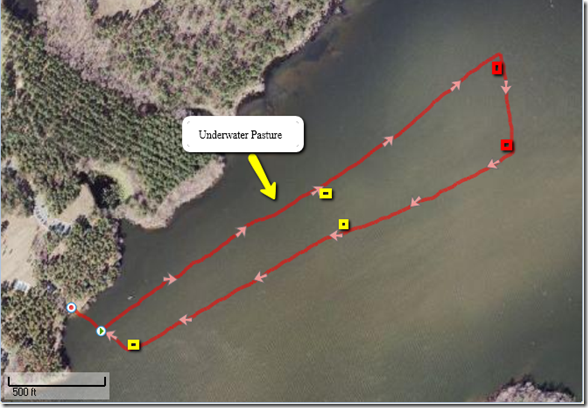 Here's what some of this stuff looks like up close.  Perfectly harmless, though a bit alarming at first.
I was pretty pleased with the swim.  As you can see, I swam a fairly straight line, so my sighting was not a problem.  I ended up officially swimming a time of 30:56, 35th out of 111. 
Here are a couple more pictures of folks just finishing up their swim.  It's difficult to tell one elbow from another:)  I had a great time at this race and would highly recommend it for anyone looking for a well organized open water swim.
Anyway, after we were both done, it was time to saddle up and head out for a long ride.  Usually, our base camp for long rides is Lifetime Fitness in Cary, but since the race was out by Harris Lake, we just road from there.  We always ride out in this direction anyways, so we essentially just skipped all of the city/suburbs, to the land of nice open roads.  I was really looking forward to this ride.  Our plan was to do 90 miles today.  I set up a nice little 30 mile route that we could just repeat 3 times and be good to go (I added the route to my Bike Routes page for future reference).  The only problem? Our legs were dead.  I had a quick bout of Montezuma's Revenge prior to the race, but other than that, I wasn't sure why I felt so bad.  Anyway, we pedaled along as best we could.  Along the way we about literally ran into this deer.  I think we surprised her more than anything.  We rolled past and were probably 15 – 20 feet away before she bolted into the woods.
After it was all said and done we only did about 53 miles.  Kind of a downer when you're planning to do 90 miles.  But if your legs are not there, they're just not there.  No need to be pushing through it at 15 miles an hour.  Crazy, last week we ran 14 miles on Saturday, and biked 85 on Sunday.  Some weeks are better than others. 
Saturday:
Saturday kind of sucked because I had to work again.  Usually I do my long runs in the morning to avoid the heat as best as possible.  I finished up work around 2pm, met my wife and headed out to the Tobacco Trail for a 10 mile run.  Nothing special here, just 5 miles out and 5 miles back.  Perfectly flat. The only thing I can think of is maybe my long ride suffered on Sunday because my long run on Saturday was too late and I didn't have enough time to recover. 

Friday:
This was a quick swim workout at Lifetime Fitness in Cary.  The workout consisted of the following: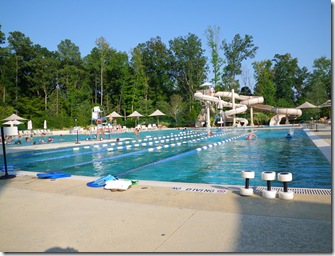 300 yd warm up
14 x 50 yd w/ :10 rest
1 x 100 yd kick
14 x 50 yd w/ :10 rest
100 yd cool down
This added up to be about 1900 yards. 
Next up…..The 2010 Tour de Moore Century Ride in Southern Pines, NC.
Have a great Week Everyone!