So, I'm really starting to get used to these periodization cycles that coach has planned for me.  They seem to come in 1 month cycles…1st week starts out as a recovery week, and then you build for 3 consecutive weeks.  Rest days are always on a Monday(after the long workouts on the weekends).  This will only be my 2nd Ironman(first was IMFL 2000), so I'm trying to be much smarter the 2nd time around and learn from previous mistakes. 10 years ago I had no plan….only the slight inclination that you should do brick workouts from time to time.  This is ok when you're 25.  Looking back, I think I had done only 3 century rides with a run of about 1 hr afterwards.  Lots of other training, but I had no concept of periodization and not sure if I even wore a HR monitor.  If I did have a HR monitor, it was only so I could look down once in a while and make sure it was still beating.
So how did things go, way back when…..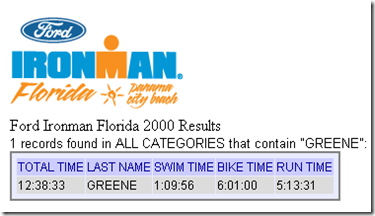 As you can see above, I came perilously close to what you NEVER want to happen; and that is having a 'RUN TIME' that is close or longer than your ''BIKE TIME'.  Having never done this before, my goal was just to finish, but really, I wanted to come in around the 11:30:00.  I figured, I should be able to finish the swim in 1:15, finish the bike in 6hrs(18.5mph pace), and then do a 4 hour marathon.  Ok, so I had no idea what to expect about the marathon.  I had run 3:15 before, so I figured being tired would be worth an extra 45 min.  That was an understatement!
So what happened?  We'll I guessed wrong. I never gave it much thought after the fact since I started concentrating on Olympic distance Tri's.  Now that I've got the '"bug" again and a plan I can say that I didn't have my nutrition squared away.  By the time I got off the bike, I was pretty much in a run/walk situation to each aid station.  Also, I did not understand the importance of "Brick Workouts".
Fast forward to my March Workouts: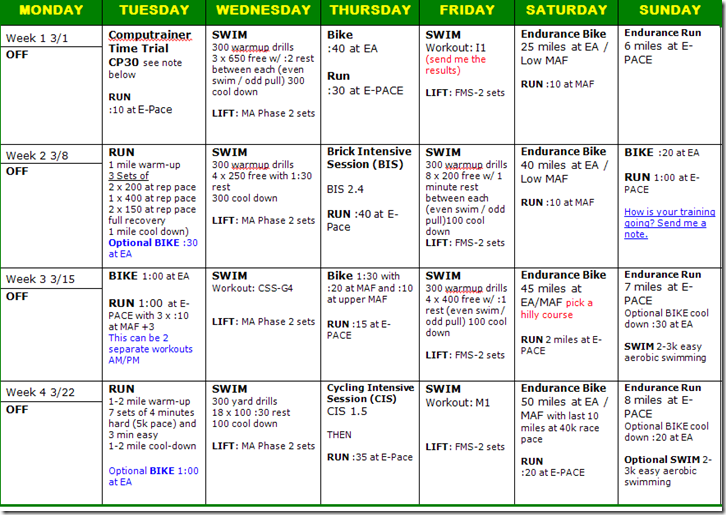 There's only 1 day up there where I'm doing only one discipline.  At this point, running after the bike has become second nature.  I run after EVERY bike, even if it is for only 10 min.  As for nutrition, I'm still in the experimental stages.  Things change in your GI after 3-4 hours.  It's one thing to get by with water/gatorade/GU for a marathon, but your body(or at least mine does)has a tolerance limit for this.  I tried Perpetuem the other day on a long ride/run and felt great.
Anyway, it's spring time in my neck of the woods, so get out there and enjoy the weather.  Here's a couple of pix from my area:
So after a solid recovery week and 3 solid "build" weeks, I'm ready for a day off.  This last week ended up being about 13.5 hours of workouts b/c we had to make up for last weekends fiasco:)
Best way to finish the week!!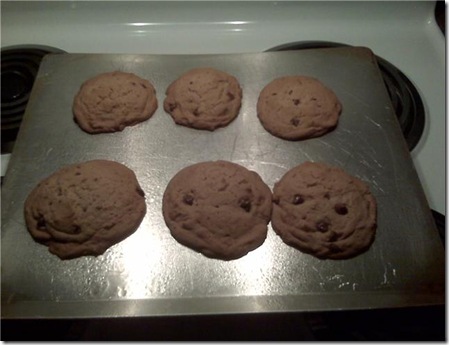 Have a good week!