I recently took the plunge and bought the Kindle DX (Global Wireless) from Amazon.  Most of the books I read are typically 1000 pg technical reference type books that just take up too much room and are cumbersome to haul back and forth from work to home.  For me, the benefit is having pretty much all of my reading material on a device that is no larger than a National Geographic magazine.  I can search a keyword or phrase in 1 book or all of my books at the same time.  This technology could be a huge benefit for college students, business travelers, or just anyone with too many books and not enough space(like me).
The hardware
About 1 month after pre-ordering the Kindle DX (Global Wireless), a small little box arrived in the mail.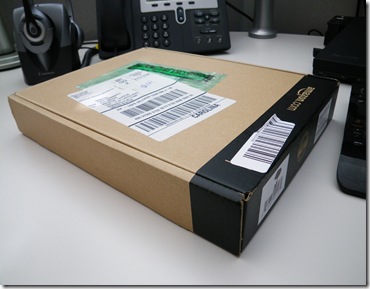 Inside the little box are only 3 things (Kindle DX, USB/Power cord, User Manual)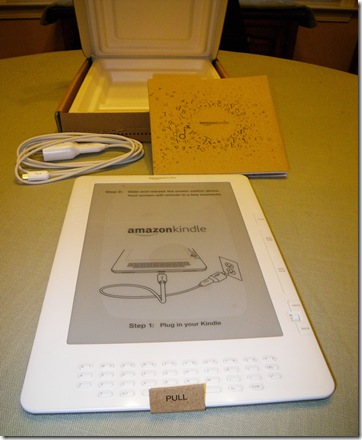 Here are some different views that you may find helpful.
Now that I've had the Kindle DX for a couple weeks I thought I would share some of my own findings:
Download time for the local newspaper (The News & Observer)….about 1 min. Noticed that the daily and the Sunday paper are both $.50….Bonus!
Download timer for a larger 1000+ page book with diagrams, etc….(Cisco Press) ….about 10 min.  I should note that I purchased the Cisco Press as I was leaving for work.  The Kindle DX was on the passenger car seat downloading while commuting to work.  About 10 min into my commute I looked down and saw the new book.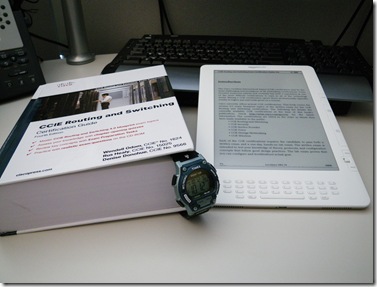 Download time for a small 400+ page book was only 30 seconds…..The Art of War, by Sun Tzu.
Reading PDF files is a snap.  Just drag the PDF file via USB from your PC to Kindle. Or you can email a PDF file to your Kindle for a fee….$.15 per megabyte while inside the U.S. wireless coverage, $.99 per megabyte outside the U.S. Password protected PDF files are not supported.  You can rotate the Kindle to view the PDF file or any page horizontally if you like. This seems especially helpful if you are reading diagrams, flowcharts, etc…
Text-to-Speech function: I would give this an OK, though I probably won't use it much.  The voice is not like the narrated voice of an audio book.  The voice is similar to that of the turn-by-turn directions you may have on your GPS unit in your car. It's kind of a choppy,mechanical sound, that will sometimes mispronounce words from time to time….but it's just fine if you're just wanting to get the gist of a newspaper article.
Dictionary: Awesome!  Just put the cursor in front of the word, and the Kindle displays the definition instantly at the bottom of the page.
Weight: Some people say the Kindle DX is heavy.  It's not heavy…certainly not heavier than a book.  18.9 ounces.
Bookmarks/Notes:  Very easy to add and search on for later reference.
Kindle DX automatically bookmarks your last page.  You can power off, power on, and pick up right where you left off.
Search function: Locally, Kindle Store, Google, Wiki, Dictionary, Notes.  Simply start typing a word or phrase and a box pops up at the bottom of the screen.  Click search within any of the above sections and a list of results appears.
Samples: You can get a sample download of a book/newspaper, etc for free to make sure it is what you want before buying.
Accessing the Web:  This function is still in experimental stages, and really only useful on websites with mostly text based content.  Flash animations, etc are not supported and do not show up.  This will work ok in a pinch, but your browsing will be better on your laptop or Smartphone.
Overall, I would give the Kindle DX 4 out of 5 stars.  The price at $489 from Amazon is pretty steep.  The browser needs some work.  Hopefully in the future, the browser will include flash animation, so most websites will not be so cumbersome.  I can't really say anything negative.  The screen resolution has amazing clarity.  All of the search functions, menu changes, and page turns are very responsive.
The technical details according to Amazon below:
Technical Details
Display: 9.7″ diagonal E Ink® electronic paper display, 1200 x 824 pixel resolution at 150 ppi, 16-level gray scale.
Size (in inches): 10.4″ x 7.2″ x 0.38″.
Weight: 18.9 ounces.
System requirements: None, because it doesn't require a computer.
Storage: 4GB internal (approximately 3.3GB available for user content).
Battery Life: Read on a single charge for up to 4 days with wireless on. Turn wireless off and read for up to two weeks. Battery life will vary based on wireless usage, such as shopping the Kindle Store and downloading content. In low coverage areas or in 1xRTT only coverage, wireless usage will consume battery power more quickly.
Charge Time: Fully charges in approximately 4 hours and supports charging from your computer via the included USB 2.0 cable.
Connectivity: EVDO modem with fallback to 1xRTT; utilizes Amazon Whispernet to provide U.S wireless coverage via Sprint's 3G high-speed data network (check wireless coverage). See Wireless Terms and Conditions.
USB Port: USB 2.0 (micro-USB connector) for connection to the Kindle DX power adapter or optionally to connect to a PC or Macintosh computer.
Audio: 3.5mm stereo audio jack, built-in stereo speakers.
Content Formats Supported: Kindle (AZW), PDF, TXT, Audible (formats 4, Audible Enhanced (AAX)), MP3, unprotected MOBI, PRC natively; HTML, DOC, RTF, JPEG, GIF, PNG, BMP through conversion.
Included Accessories: Power adapter, USB 2.0 cable, battery. Leather book cover sold separately.
Documentation: Quick Start Guide (included in box) [PDF]; Kindle DX User's Guide (pre-installed on device) [PDF].
Warranty and Service: 1 year limited warranty and service included. Optional 2 year Extended Warranty sold separately.