Race Day finally arrived1  There's only a couple things we do before a race.  Eat breakfast, and get our mindset right. I found this video a couple of years ago, and for some reason it does the trick for me.  I know it's over the top, but it makes me think of all the great coaches that I've had in my lifetime(I've been lucky).  The best coaches are those that really know how to motivate you above and beyond your potential.  Thank you to any coach who has ever been tasked with coaching me. 
We headed down to the swim start area with 2700+ other athletes to attempt to warm up in the chilly Lake Coeur d'Alene waters.  After a couple out and backs it was time to make our way to the starting corral around 6:25a.m.  I kissed Ann and gave her a big hug and made my way to the front line.  I was thinking 6:30a.m. was the start time, so the next 5 minutes was agonizing….
Swim: "If I see an opportunity, I am going try and break 1 hour."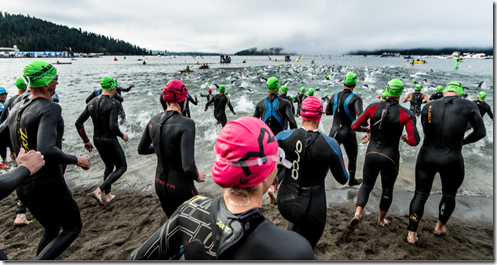 Photo by: IRONMAN photographer Nils Nilsen
Suddenly the race started and we all just started sprinting through the race chute to the water.  I went wide right from the onset on this counterclockwise course.  I wanted to be far outside of the pack for the first 900 yds. to the first turn buoy so I could get into a rhythm and avoid the blender of arms and legs.  I kept only the farthest buoy in my sight and kept heading directly towards that from the outside.  I took the first turn about 5-10yds wide on purpose, then proceeded to the second buoy.  As I approached the second buoy, I saw a gap between swimmers, and cut through to pass the 2nd buoy touching my left hand as I passed by. Then it was a straight shot back to the shore for the end of the first of 2 laps.  I eventually exited the water, passed the timing matt, and looked down at my watch.  29 mins!  Ok, "just chill', I thought.  Same thing second lap….stay a bit wide(but not as wide as the first lap), and just get back into a rhythm.  First turn buoy, no problem.  Second turn buoy, "go hard", I thought.  There was plenty of open water in front and a direct line back to the swim finish.  I increased my effort a little but not so much that I was going to regret it later.  I exited the water, crossed the timing mat for the 2nd time, looked down and saw 58: something.  Sweet!! This was my first time going under 1 hour. 
Swim:  58:52 1st PR of the day!
Transition 1:
I was a little disoriented from the up and down motion in the water and the chilly temperature of the water.  I made it through the wetsuit strippers in about 3 seconds, grabbed my gear bag for the bike, ran into the change tent, put on bike shoes, helmet, all very fast.  I think my total transition time from water to bike was about 3 minutes, definitely my fastest yet.
Bike:  "Just focus on wattage and nutrition.  Go hard if I still have the legs after 80 miles."
Well Crap… As I turned onto Sherman Ave to head out of town, I looked down and saw that I had somehow lost 2 bottles of nutrition during the first quarter mile.  I only had one bottle of nutrition on board, and 2 more waiting at mile 60ish…..I needed 5 bottles total.
Note to Self: If you ever do one of these races, just realize that the day is long and everything will not go exactly as planned.  It's not a crisis, and your day is not over.  You just have to problem solve and find the best solution to the current situation.
I don't remember too much about the bike.  I was so focused on having a solid bike split that I just tuned out everything.  My only focus was my wattage and nutrition.  I was feeling like it was a real effort to keep things in the 190w-200w range instead of the 200w-220w range.  I was light on the pedals going up the hills and passing plenty of folks, but they just seemed to drag on, and I was starting get a stitch in my side.  I figured this was from the new untested food onboard at this point.  I just wasn't hitting the the 20, 40 mile markers where I thought I should dreamed I could.  Somewhere near the end of the first 56 miles I realized mentally that I was just slowly working my way into a funk.  I had to let all of that negative thought just go. 
New outlook:  I am racing an Ironman! I am biking in one of the most beautiful areas of the country.  I have an endless buffet of food and pretty much a closed bike course.  It's sunny and 70F with no humidity.  So I just put on a smile and kept spinning.  Slowly all the negative worries about wattage and stomach cramps disappeared.  Instead I noticed the Indians from the local tribe beating their drums to help you climb the hills.  I noticed the awesome bagpipes(loved this) playing on the next steep climb.  I noticed the incredible farmland country in the mountains that I was biking through.  I noticed the totally awesome 2.5 mile down hill that I was getting ready to fly down like it was the worlds largest roller coaster.  Woop Woop!  I used every gear I had, until I spun out.  It was exhilarating.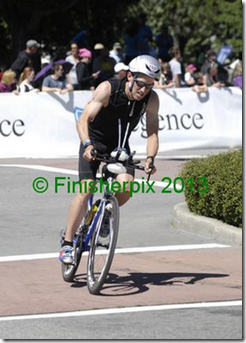 Coming back into town on the bike was the best crowd reception that I have ever seen during an Ironman.  The local news station was expecting huge crowds(nearly 30k), and they certainly didn't disappoint.  Going down the main street to start the second lap was standing room only behind the barricades.  We were zipping through town on our bikes so fast, I was actually a little worried of a wayward kid or a dog stepping out onto the street.  Traffic control was awesome! Crowd was awesome!  Lets do this!  More bagpipes please.  I kept up this outlook for the 2nd lap even though I knew nutrition was starting to be a problem. 
Bike 5:50:33 2nd PR of the day.
Transition 2:
I don't remember this.  I've become pretty fast at transitions by keeping every item I need in a big Ziploc baggie.  So all I do is put on my running shoes and run out of the change tent with my Ziploc.  I've got my hat, race belt, nutrition, and emergency stuff all in smaller snack size bags.  So I just grab and go and sort it all out while I'm running.  About 2 minutes.
Run: "Run fast early, because you sure won't run fast later."
As I looked down at my watch I saw that I was under 7 hours by about 5-10 minutes.  My first thought was, "I've got this…Today I'm going under 11 hours."  My second thought was, "Don't be a jackass..You have 26.2 miles to run with some serious hills….Anything can happen."  I started out feeling pretty good.  I was actually running at about 7:40 pace for the first 2.5 miles.  I knew I would eventually slow down significantly, but I wanted to get  as many quick miles in as possible before the suffering set in too much.  Sooner than expected(probably about mile 5) the suffering showed up and started to camp out in my head.  I usually hit this point at mile 16-19.  I was starting to feel really nauseous, like I was going to vomit.
Repeat Note to Self: If you ever do one of these races, just realize that the day is long and everything will not go exactly as planned. It's not a crisis, and your day is not over. You just have to problem solve and find the best solution to the current situation.
     Sub Note to self: Pack an "Oh No" baggie with Anti-Vomit(Tums), Anti-Crap(Imodium), Anti-Pain(Advil), and Anti-etc(sh*t happens)…and whatever else you can think of.   
So I hit mile 5 feeling like I was just going to hurl.  I chewed one of the six Tums that I had with me, and a sip of Coke(yep, not good, started Coke at mile 5).  This calmed things down after about 5 minutes as I tried to keep my pace up.  After another mile or two I was so nauseous again that I just could not take in any more EFS Liquid Shots or I would surely lose it.  I switched over to Ann's routine, which is 1 pretzel and 1 sip of fluid every mile.  This seemed to be palatable until it wasn't, so I would then chew another Tums to calm things down.  This whole time my mind is waging absolute war with myself.  On the one hand, I'm telling myself to just walk, because that's the only way for the nausea to pass.  On the other hand my mind is yelling HOLD!!!!  DO NOT WALK.  YOU CAN ONLY WALK FOR 10 SECONDS AT THE AID STATIONS.  WE ALREADY DISCUSSED THIS.  THERE ARE NO EXCEPTIONS.  EXPECT THE PAIN AND USE IT…HOLD ONTO IT!!….Back and forth, with the mind games…I run and do not walk.  My stake in the ground is to concentrate on keeping my cadence at 92 and my pace as close to 9 min miles(under the 11 hour mark) as possible.
At the end of the first lap you go through downtown Coeur D'Alene again.  The feeling is so intense through here.  You can see and taste the finish.  The crowds are really pushing you on.  Their loved ones are out on the course as well and they're hoping everything is ok.  The music is loud, intense, rib thumping…You can't possibly quit in this section or the shame would overwhelm you for the rest of your life.
For the second lap I made sure that I gave out high fives and fist bumps to anyone that was offering.  I went through 6 chewable Tums throughout the marathon portion, but it actually was enough to keep everything down(until 1 hour after the race).  Around mile 23, I saw Ann, or rather Ann saw me and yelled.  I was so delirious at this point, but so relieved to see her.  I hadn't seen Ann in several hours since the middle of the bike course.  She was smiling, which made me smile.  We will both finish today, no matter what, and I knew it. 
Mile 24, huge seizing cramps in my adductor muscles in the front of my hips.  "Don't blow it now", I thought.  I took every salt tablet I had left at that moment(4), and a sip of water and Coke.  Go, Go, Go…Have to keep running to be under 11 hours.  Eventually, I rounded the last corner to see the finish line straight down Sherman Ave about a 1/2 mile away.  I looked down at my watch and read about 10:49:00.  I was good to go.  I slowed down to take in the moment.  I was going to be under 11 hours and I didn't care in the slightest by how much. 
Run:  3:56:34 3rd PR of the Day(barely)
Finish:  10:51:17 new PR by 12 minutes.
Finally, I broke the elusive 11 hours(for me) barrier.  So happy I was able to PR on the hardest course I've ever done.  Ann was able to finish her 3rd Ironman after some severe motion sickness for 2 hours in the cool, choppy Coeur D'Alene waters.  I honestly don't know how she overcame that to even start the bike course.  One of these days, she'll have a race that goes like clockwork, and she'll knock 3 hours off her time.  I can't wait to see what the next year has in store.
Tomorrow we're heading on an incredible Road-Trip to Grizzly Country!
Thanks for reading!