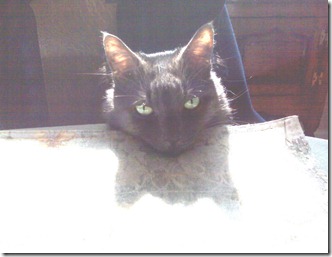 13 years is a long time.  Chui "the Alpha Cat" was rescued from the animal shelter by Ann a long time before we even met.  Nearly a decade later, I think of Chui as a dear family member.  Really, just another person trapped in a furry cat's body.  He was my constant companion and referred to me as "Large Male Creature".  I enjoyed our long walks down the hallway, and up and down the stairs to sit by the window to look at birds and squirrels.  Chui would frequently sit at the table with me in the morning as I studied numerous Cisco books and PMP material over the past years soaking up all of the knowledge.  Prior to that, he would sit at the table as Ann studied her MBA courses.  Chui was highly evolved and developed into quite the linguist and soloist with the addition of two more cats several years ago.  He would converse about many things on many levels…most of which would come out as "Me'ah'", though changing the tone, duration, inflection, depending on what was being said, and to whom it was being said.  Chui also took to singing in his later years.  I'm not sure what he was singing about, but it was very similar to Mongolian Throat Singing. Like I said, he was very talented.  Chui liked to sing most Tuesdays and Thursdays at around 2a.m. to 4a.m.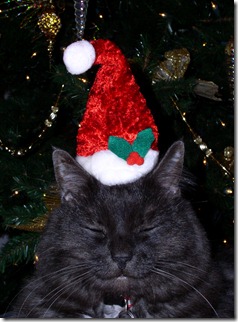 Chui was always quite photogenic.  He was always a natural in holding a good pose and not blinking, like any good model knows.  I mean honestly, have you ever seen any cat sit still in front of a Christmas tree with a Santa hat on, while there is a tree full of lights, tinsel, and dangling ornaments in the background….What poise!  Chui was well loved indeed.
"Tis better to have loved and lost than never to have loved at all"  – Alfred Lord Tennyson
Rest in peace little man.