Sometimes, it's good to just let the dogs run.  We had a really big training week last week, so this week was somewhat of a rest week.  Rest weeks are awesome because they're mostly short, low volume workouts, with just a bit of intensity thrown in.  Midway through the week, I decided to sign up for the Jordan Lake Open Water Challenge(1 mile OWS).  I figured, what the heck…what's the worst that could happen.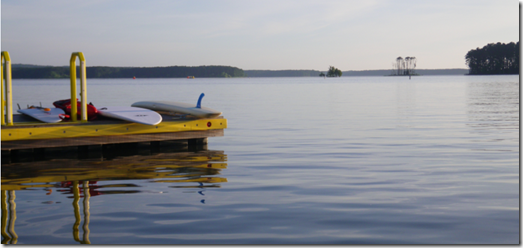 So, come Sunday morning at 7:30a.m, I was pretty much fully rested from a nice recovery week.  I had a short swim workout earlier in the week with some speed work, but nothing too taxing.  So, I figured, today seems like a good day for a PR.  I'm not sure what my previous PR was, but my last 1 mile OWS race was the Nuclear Swim at Harris Lake(2010, where I swam 00:30:56).  I've since sought out some swim advice and got schooled on a couple of occasions, to improve my technique and speed. 
The water was perfectly calm, and with uncharacteristically cool water temps(76F), wetsuits were legal.  Throw in some nice dry, low humidity, and conditions were perfect.  10 min before the start, I decided to see how fast I could swim 1 mile.  Just go all out.
The course was a simple rectangle, where you only need to worry about the placement of the red turn buoy's.  All the yellow buoys were for general sighting purposes.  The course was pretty much 800yds out, then left for 200yds, then left and back in for 800yds.  As soon as the race started, I sprinted for about 200yds out in a direct line toward the red buoy.  I was trying to get my forearm vertical in the water and pull as much possible, almost like reaching forward to put a stake in the ground, and then pull.  About 500yds out I realized there was nobody near me.  What the heck?  I was on a direct line to the red buoy 300yds away.  I second guessed myself and sat up in the water for about 5 seconds.  Was this a clockwise loop(I was swimming counterclockwise)?  No, I'm right, go, go…the directions said keep the turn buoy on your left shoulder.  I dug back into the water and hammered toward the turn buoy.  100yds later, I remembered being here in a race 10yrs ago and seeing swimmers stand up in the middle of the swim to jog across a sandbar during a drought.  Maybe that's why everyone was so far to my left.  You can see the tree in the water and the surrounding sandbar in the picture.  I was close enough that I was looking out for stumps and branches underwater.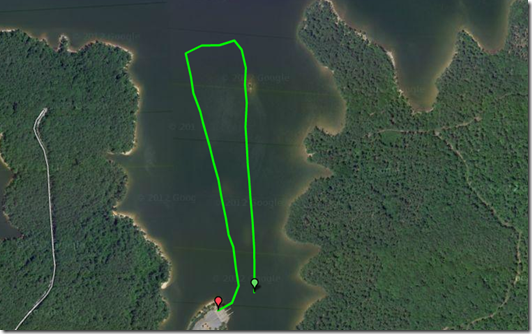 Bam, I rolled over and through the first turn.  The next 200yds I tried to just stay in a rhythm, so that I could push the pace once I got through the next turn.  I rolled through the 2nd left turn buoy, and then tried to gradually pick it up for the last 800yds or so.  I could see 2 swimmers ahead of me(apparently there were also 2 more).  The closest swimmer was 10yds ahead of my inside left shoulder.  I kept pushing and pushing, and so did he.  I would kick harder, and he would kick harder.  I could not bridge the gap.  We both swam up to the end of the boat ramp where the timing mat was some 5-10yds away.  I ended up being 2 seconds behind him.  I finished with a new PR of 00:22:53, good enough for 1st in my AG, and 8th overall(I got chicked by 3 in the women's race). 
Thanks to the folks at FS Series for organizing a great race.  Looking forward to next time!