This weekend was a learning experience. I learned that there is a difference between hills and mountains…And that Raleigh has neither hills nor mountains.  Ann and I traveled from Raleigh, NC to Ellijay, GA for the Mountain Madness 70.3.  We signed up for this this race because we thought it would be a good training race, before Mont-Tremblant in August.
This race was TOUGH! There was only one finisher that was under 5hrs. Most 70.3 races I've competed in in the past have had a handful of finishers that go sub 4:30:00.  This race was all about course maintenance and not running out of matches.
Swim:
The swim started with a dolphin jump over a yellow floating boom.  My plan was to get out fast for the first 200yds and then settle down.  I started on the inside.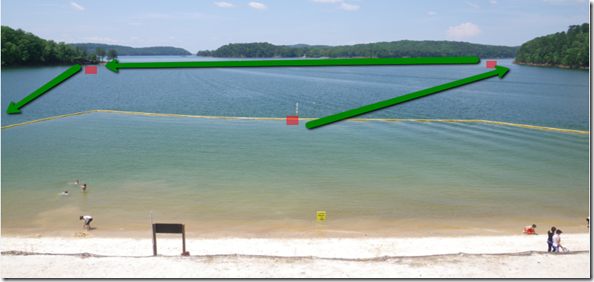 After my first 200yds, I looked off to my right and didn't seen anybody.  I looked forward and could only see 2 other swimmers! But they were gone about 20yds ahead.  I couldn't bridge the gap.  I felt #4 drafting on my toes.  So, #4 and myself were in no man's land between the first two swimmers and the rest of the field. The first turn buoy was 850yds out. We hit the first buoy where it was about a 130 degree turn.  For some reason I could not find the next turn buoy.  I looked and found swimmer #2 and could see that he had swam off course a bit. I couldn't see #1, with the glare from the sun.  Finally #4 found the buoy and pointed it out so we could proceed.  Next, we hit the 2nd buoy and headed back to the swim finish. We were swimming directly into the glare of the sun rising over the tree line onto the water. #4 kicked it in the last 300yds to pass by me, so I ended up being 4th out of the water at 29:49, 2nd AG.
Bike:
After a quick transition, I hopped on the bike and heard someone announce there are now 4 bikes on the course.  I was on the pointy end of the race field.  This has never happened to me before…And it would not last either.  My HR was pegged at 170 as I left the transition area.  Immediately there is a ridiculous 12-15% grade for a 1/4 mile before it levels off to a manageable 5-8% grade for another 3/4 mile.  So, needless to say, it was about 20 min into the ride before my HR could start to come down. 
Eventually I got into my rhythm and just focused on keeping my HR steady between 135-140bpm, and taking in calories/fluid/electrolytes every 20 minutes or so.  There were quite a few rolling hills between the big climbs.  One after another they just keep coming, followed by short flat stretches.  Eventually, I reached the base of Fort Mountain and crossed the (KOM)timing mat, marking the start of a 6.5 mile climb. This climb was about 5.5 miles longer than the biggest hill I've ever ridden. I bought an 11-28 cassette for my wife and I about a month earlier(thanks to some good advice from the guys on Trifuel), and it proved to be a lifesaver.  I pretty much was in the 34-28 and 34-24 for the duration of the climb, to keep my HR under 150bpm. Higher than I wanted to be, but I was down to my last gear. Eventually, 45 minutes later I reached the top(yep, Avg 8mph). 
Ah, but the reward was so sweet!  The reward was 6.5 miles downhill, through winding mountain turns, carving through turns like I was on ice skates.  Having topped out at 43.5mph, I was back down the mountain in just under 10 minutes wishing I could do it all over again.  This was most fun I've had on a bike in a long time.
Once I got off the mountain, it was back to the business of keeping HR in check and taking in calories, electrolytes, and fluid.  Speaking of business and fluid, I had a nature call at mile 46 while on the bike without stopping(what, this is a race). 
Eventually, I reached the last big climb.  Actually it was the climb before the last big climb. Crap!!! Finally, the last climb, 3 more miles uphill(miles 51-54)…then another 3/4mile hill.  Just chill, I thought. Big tough run coming up.

Bike 03:25:53 17th AG. Elevation Gain: 3682ft!
Run:
Like the bike, the run starts with 1.4 mile straight up! Oddly, and I mean really oddly, I felt good to start off the run.  My legs didn't feel toasted from the bike.  Which I could not say for most of the folks on the run. I saw lots of 1/2 ironman shuffles going on out there.  The course took part in state park recreation area that was also a neighborhood.  So the roads were narrow and the grade was steeper.  Steep enough to make you wonder if you're better off walking up and steep enough that you can't just let go on the downhill's( or you'll roll away). About half way through the first loop on the run I saw Ann(3rd wave), flying through a winding curve into the park towards the transition area less than a mile away.  Sweet! She had made it through the swim and bike, and was headed for the 13.1 and looking strong.
I pressed on, pushing through one hill after another(I counted 9), taking in EFS or Edurolytes, and water/cold sponges every mile like my life depended on it.  The heat, started to takes its toll on folks, as well as the fatigue from all of the hills.  Around mile 8, I switched over to Pepsi, water and cold sponges.  5 miles to go!  I tried to push harder and pick up the pace.  I picked it up from 9 min pace, down to 8:34 pace for the last 5 miles. It was all I could do today.  I saw Ann once again with her game face on, and I knew she was good to go! Finally, I reached the last 100yds downhill to the finish. 

My run was 1:57:10 7th AG. Elevation Gain: 1109ft!
My overall time was 05:54:41. Not a PR by a longshot, but this was not a PR kind of course.  I feel like this was a well executed race. I didn't blow up on the bike, and I actually ran exactly the same time for the 13.1 that I ran at Augusta 70.3 last year(which is a perfectly flat course).  So, I'm feeling much better about my current fitness level.
Ann threw down and finished 5th in her Age Group after only getting back into serious training for the past 3 months.  She has come a LONG WAY and I am proud of her for sticking with it through a really tough race.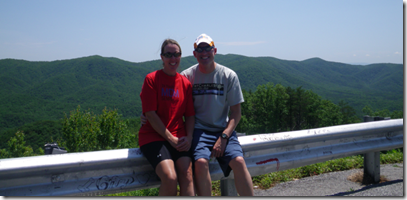 Thanks for Reading!