At last!!! Finally the pool is open.  I've been waiting for the pool to finish being filled up, cleaned, and inspected for a couple weeks.  Finally, I saw a little tiny sign that said the outdoor pool is now open.  The first couple of weeks are great.  The water is crystal clear.  You can see all the way from one end to the other under water.  Fast forward a month or so, add in ridiculous amounts of sunblock, hair-gel, pee, people sweating, and  and you can hardly see the person in the lane beside you.  The more "stuff" you have in the pool, the more chlorine is required to negate said "stuff".
I got to the pool Friday evening at about 5:30pm, peaked through the fence and saw the pool totally quiet…but open.
Saturday called for a 14 mile hilly run at Umstead Park.  Ann and I headed out at about 2pm to knock it out.  There's something mentally different about 14 miles than 12 or 13.  I just have to think about it for a minute before I start.  The same holds true for 18miles and 22 miles….Weird.  This run called for a nice easy pace, but then push the last 2 miles.  The last mile at Umstead is always uphill, so it's a good way to finish off a long run.

The horse flies and deer flies are HORRIBLE this year at Umstead.  They are relentless and can fly as fast as I can run.  If I slow down or stop, I will be fly bait.  It's no use swatting at them, there's just too many.  You'll spend too much energy swatting and not have enough to get back to the parking lot.  They're attracted to movement(like swatting and flailing) and carbon dioxide, both of which I am producing in large quantities while running at Umstead.  I guess that is one of the downsides of global warming.
Fast forward to Sunday, and the plan was to ride a hilly 65 miles, followed by a 30 minute run.  So, the trick with training for this year's races is finding good hills.  We live about 300ft above sea level, and most hills top off at about 400ft above sea level.  So the training is not as simple as just riding your bike for several hours and calling it good.  We need to do hills on the bike, and lots of them.  And for now, that means a lot of time on the Computrainer.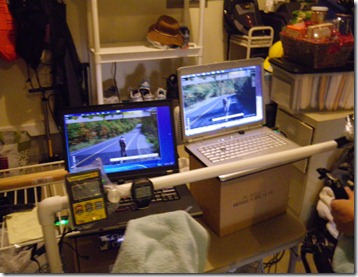 With the help of ERG video, we can ride the Ironman Mont-Tremblant course over and over to our hearts content.  Doing these courses on the trainer is really tough.  After a moderate first 45 minutes of light rollers, the real hills just keep coming at you one after another.  Some are long, some are short.  Some are gradual, and some are pretty steep, requiring you to stand up out of the saddle just to keep the pedals moving.  Today temps in the garage started out at a nice 69F and 69% humidity.  By the time we finished 3hrs 15min later, the garage was 77F and a sweltering 87% humidity.
So, with just 4 months to go until IMMT, things are looking pretty good. My fitness is steadily climbing(blue line), and I should be in Ironman shape in a month or 2, hopefully with some extra time to improve from last year.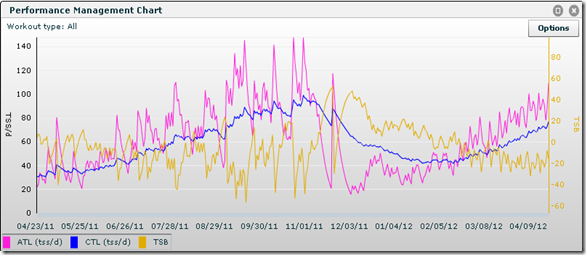 Our first challenge is in 2 weeks, and I'm excited to race a 70.3 again.  And also, watch out female AG'ers 40-44.  Ann is back in the game and ready to roll!!!