It's been a while since I've been back to my hometown of Matthews, NC.  This past Friday I went back for a funeral of a family relative.  I'm not usually one to stop and reminisce about the past, but Friday was one of those days.  I found myself in a suburb on the outskirts of Charlotte, hoping to find everything just as it always has been. 
Driving to the funeral home felt like I was totally in a different city.  I even had the GPS turned on to make sure I went to the correct location.  Where did all the green places go, I thought?  There's so much traffic, so many stop lights, so many new shopping centers and apartments everywhere.  In reality, it's not any busier than Raleigh, it just seems that way because it's not as I remember it growing up as a teenager. 
I've been a runner pretty much all of my life.  I remember being able to run pretty much as far as I wanted…as long as I could make it back home by dark.  So after the funeral, I was kind of at a loss.  I needed to get back to Raleigh, but I also needed something that felt familiar. 
Two things popped into my mind that I knew would be the same.  McAlpine Park and Ted's Restaurant.  I drove over to McAlpine Park for a nice long run.  I have run hundreds, if not a 1000 or more miles at McAlpine Park.  I know every inch of every trail, every curve, and every hill.  I have nothing but great memories of training and racing this special place.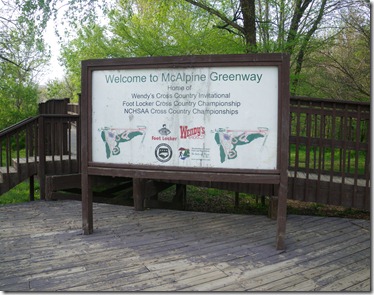 This is where the Wendy's Invitational and Foot Locker Cross Country championships have been held since the beginning of time.  This called for a quick jaunt around the 5k course just for old times sake.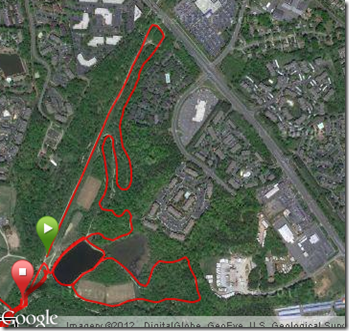 In my mind, this is quite possibly the greatest 5k course ever.  During a race everyone shoots straight off the starting line flat and fast for about 3/4 of a mile allowing the field to thin out.  Then it's into the woods, where there are a series of tight turns, allowing you to always know how far ahead/behind you are(great for spectating as well). 
About 1.5 miles into it, there's a short but steep hill that goes up and around, and back down the other side.  This is where the race can break apart.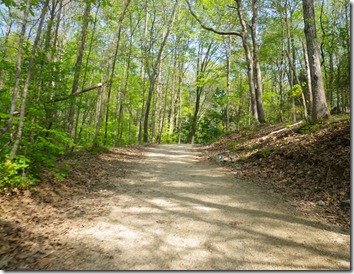 Some will surge the uphill, but forget the downhill on the backside.  If you can hang on to the top of the hill, just let go on the down hill. It's steep but not long.  Once you're through that and still where you want to be, then the rest is all in your head.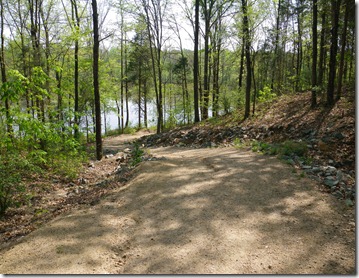 After clearing the woods, you can see those in front and behind you as you complete 1 lap around the lake.  Make note of how long it takes you to get to the spot where the person you're trying to beat is.  As you reach the other side of the lake, it's now back into the woods.  At this point, run like you stole something, because you've only got exactly 1 mile to go. 
Eventually, you'll exit the woods, pass some soccer fields and have 1 lap around the lake again to get to the finish line.  The lake is just slightly bigger that your typical high school track(but not by much).  So if you have some quarter mile speed, this is the time to use it.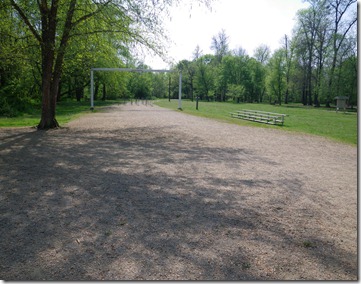 After finishing the 5k loop, I had another 10 miles to go.  No worries, plenty of trails here.  I kept on right through the permanent finishers chute….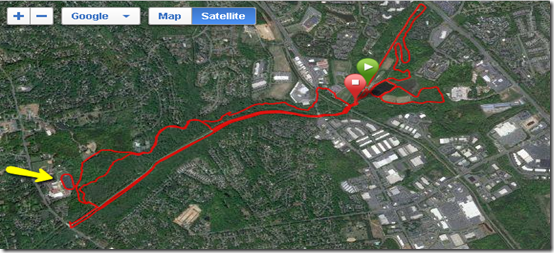 As I reached the far end of the trail on left side of the picture above, I could not resist going back to check on my old school to take a lap around the track.  As I hopped across the creek I came upon the following scene.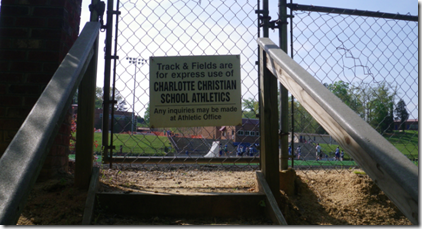 I walked up to the fence and couldn't believe my eyes.  Everything was exactly the same….well, except that the track was now rubber surface, the football field was now turf, the stadium was concrete, there were about 10 more buildings, and there was now a lacrosse team practicing…What the…? I have to tell you, the last time I was here, there were barely enough kids to fill a soccer and football team at the same time.  Good to see things are going well. 
I couldn't resist a quick jaunt around the track just to check things out.  What can I say? The gate was unlocked…
A short while later, I was done with a nice 13 mile run and ready to head back to Raleigh.  Lucky for me, Ted's is still right next door to the park.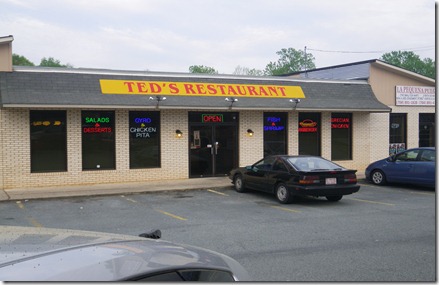 Ted's is still the same as it was 15-20 years ago too, which is nice.  It's a place where you can get a burger, fries and a drink.  They don't ask you if you want a frapplattewhat-the-heck-ever, or a biggie size.  It's a locally owned place(probably by Ted), where they make you feel right at home.
With that, it was time to quit looking in the rear-view mirror and hit the highway back to Raleigh.  Until next time…
Thanks for Reading!