After hiking around the Grand Canyon, we headed south to Sedona, AZ.  If you're ever making a trip to the Grand Canyon, definitely put Sedona on the "must visit list".  I honestly enjoyed Sedona just as much as the Grand Canyon.  My first thought when we were approaching Sedona, was "why do we live in Raleigh again".  The main road is Hwy 89A.  You can pretty much just drive up and down this road all day just looking at the amazing scenery.  Hwy 179 is just as spectacular, and intersects right into Hwy89A like a big tripod.  Once you get here it is just a matter of picking any one of probably 50 side roads to go down and explore. 
Interestingly, you could just drive down a neighborhood road until it dead ends. Then there's typically some kind of trail head that marks a hiking path to some of the best scenery around. 
Our first morning we got up bright and early because we wanted to check out Cathedral Rock.  You can get here by parking at the end of Verde Valley School Rd. The hiking trail is nice. It starts out flat, then starts to climb after about 30 minutes, but nothing too steep where you need to hold onto things.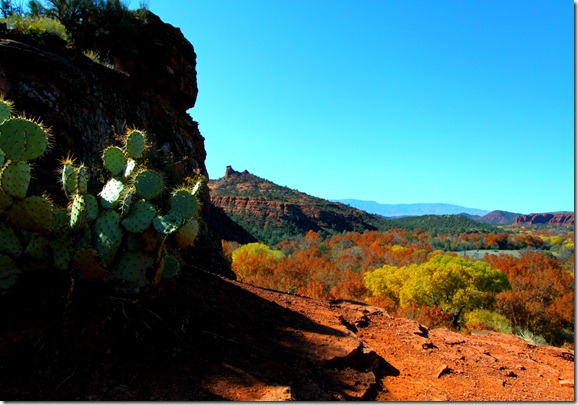 After a relatively short hike, we made it to the base of Cathedral Rock.  At this point the climbing is more of a challenge.  You can reach the half-way point without too much effort(20 minutes).  To go higher, this is where you need to grab onto things for leverage.  At this point, my smarter half said I'll wait here.  My dumber half(me) pressed on for a bit climbing up the rock.  I should point out here that the only things to grab onto are rocks. I got to this section where it's really narrow and steep for about 75 ft. This section started to get congested with people climbing above and below you.  It was at this point that I started thinking what if someone above fell…They would take out everyone below.  Not good. Have you ever read "Into Thin Air" where everyone is getting bunched up just below the summit on Everest? Anyway, eventually I got to a semi-clearing which was about 75% of the way to the top.  Good enough for me.  This is a picture from the bottom.  You can see the people walking around near the base. It's a kind-of-flat section and a not-so-flat section. Well worth the visit.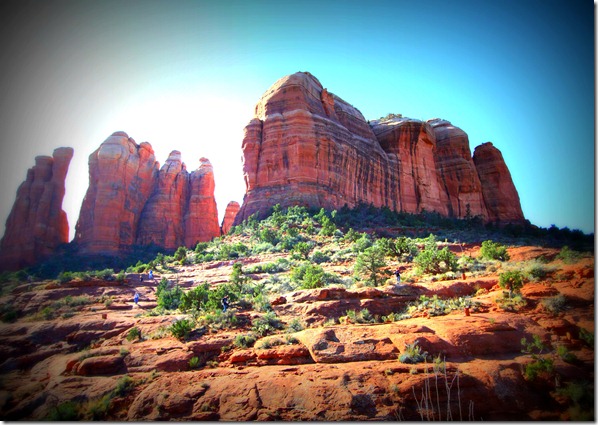 Later in the day, we headed over to check out Bell Rock and Courthouse Rock. This was right off the side of the road on Hwy 179.  We just parked the car, found another trail and started hiking.  This was much easier than the trail at Cathedral Rock trail.  Maybe a 45 minute loop.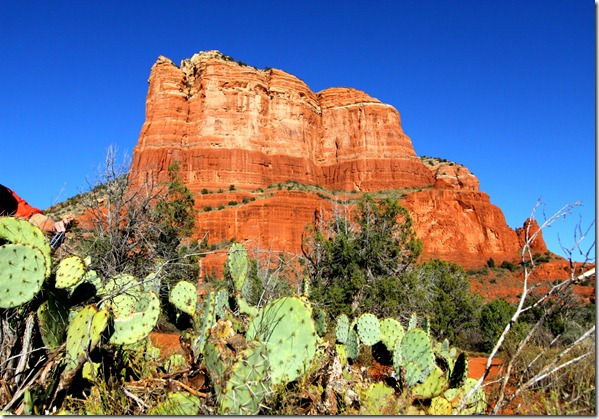 After a short time at Bell Rock, we tried to hurry back to our hotel.  The hotel(SkyRanch) was at the top of a plateau of sorts, where a little town airport is located(crop-dusters only).  We figured this would be the best place to catch a cool sunset over the town below.  Ok, so the sunset doesn't quite beat the Grand Canyon, but it's pretty cool.  And you can't live at the Grand Canyon.

The next day we headed out to find the Devil's Bridge.  For some reason, this one isn't marked on any of the maps around town.  I just stumbled on it while browsing online.  And I'm glad I did.  This was my favorite spot in Sedona.  This is off of 89A.  Take Dry Creek Rd until you see a sign for FR152, or a small cluster of cars.  This is the road that leads to the trail head.  You can drive farther back in here most of the way IF you have 4×4 drive(you will need it), or if you have really high ground clearance.  We had the Hyundai rental car, so we walked it in about 1 mile to the base of the trail head. The trail itself is less than a mile and not too strenuous. 
Check out the cool rock formation of the Devils' Bridge.  The Apex of the bridge is only a couple feet wide at best, so I'm not sure how sturdy it is.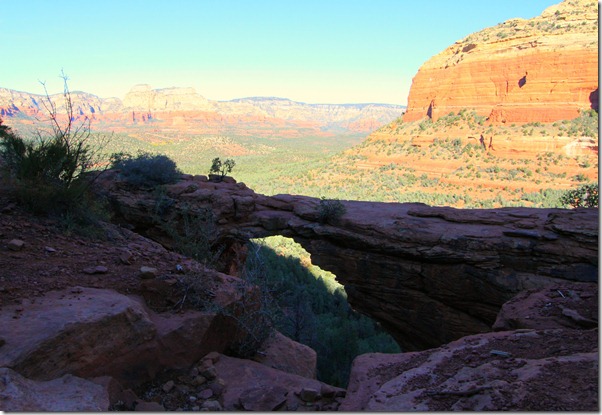 Here's a view from below and opposite angle.  Really cool to see.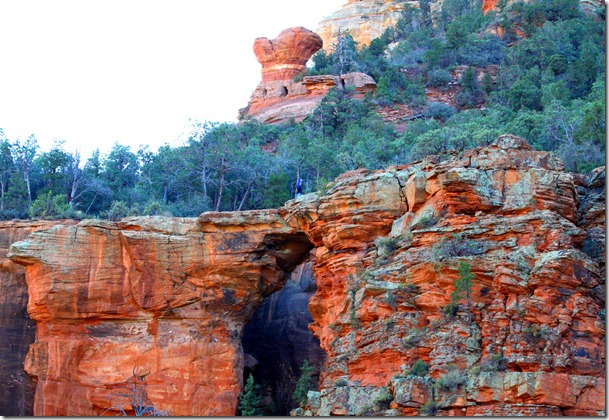 This next picture was also on the path to the Devil's Bridge.  I was so amazed to see it just perched up there.  This is a really big rock.  Not like kitchen table size big.  More like the size of a dozen minivans.  The bridge above and the rock below really make you wonder how things can form over millions of years.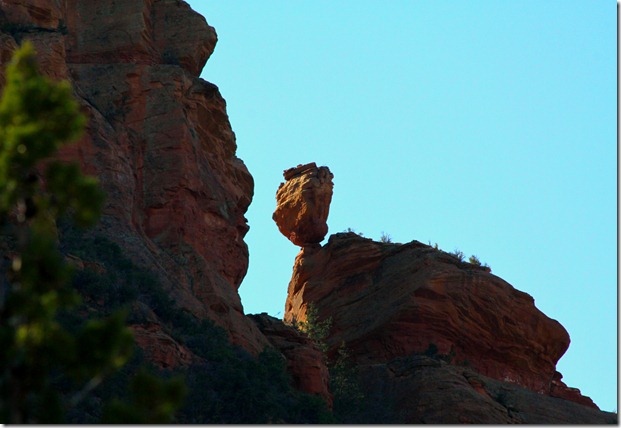 Later in the afternoon, we decided to check out the Broken Arrow Trail with Pink Jeep Tours.  For some reason, I was thinking this would just be a quicker way to get to the scenic areas. To me, the tour seemed to try to impress you with the capabilities of their 4×4 jeeps.  I don't have anything against jeeps, but I think they do an incredible amount of damage to the trails out here.  I'm not sure if any restoration plans are in place.  Nuff said…Next time I'll take the Broken Arrow Hiking trail.  This is located off of Morgan Rd(0.2 miles past the end of Morgan Road.), which is off Hwy 179, near town. 
This view was taken near Submarine Rock.  I looked everywhere and could not find anything that resembled a Submarine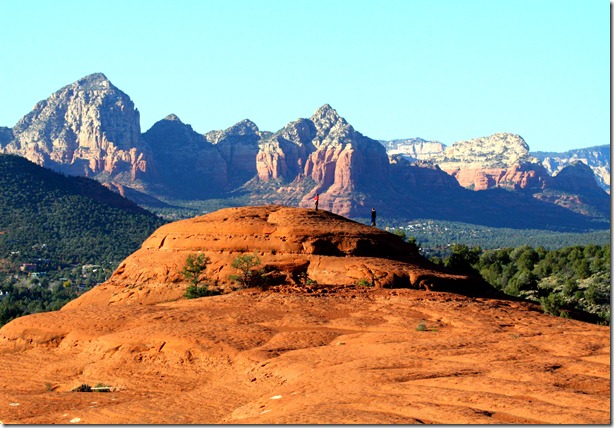 Next, we headed back just in time for sunset and to see Snoopy Rock.  You can see Snoopy on top of his doghouse every day right in the middle of town.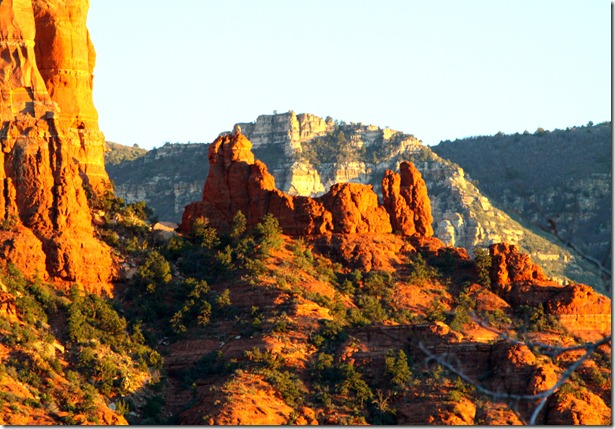 Our last day in Sedona, we spent late morning and early afternoon at Red Rock State Park, located just off of Hwy89A just a couple miles south of Sedona(5miles or less).  There are about a dozen trails here that are all linked together.  You can walk/hike for as long as you want and are really never too far from the visitors center.  This was a great spot, and there was much less foot traffic from other hikers.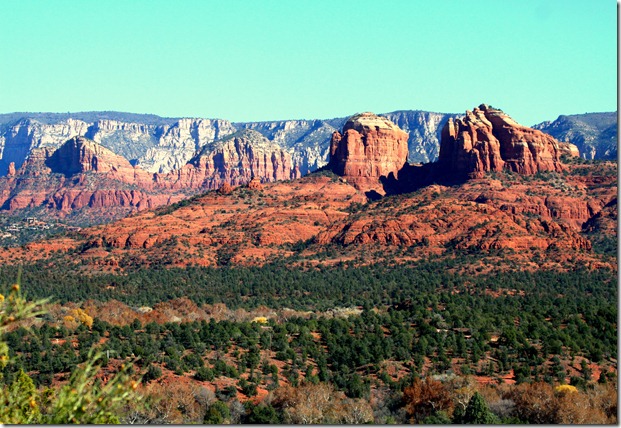 If you're running short on time, at least drive by Red Rock State Park.  The road loops back around to 89A.  Take the Lower Red Rock Loop Rd direction to the Upper Red Rock Loop Rd for the best views.  This view was literally a point and shoot from the car window. I love the fall colors below in the valley, with the Red Rocks in the background!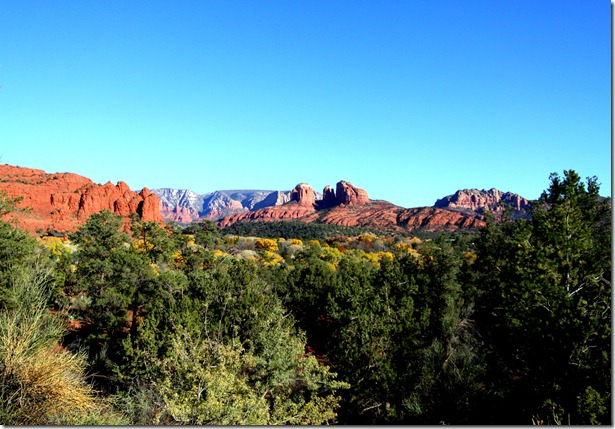 It took us nearly 3 days of hiking to check out Sedona, and there were still dozens of places that we didn't have time to see.  This was exactly what I needed after #IMAZ with all the build up and adrenaline surrounding it.  It's nice to be outside, away from all distractions, and see what has been there all along.  I love this place!
Thanks for Reading!