This week was my biggest week in terms of training volume before I start the taper process for Ironman Arizona.  I thought I would share my last week for those that are interested in what this looks like.  Keep in mind, I do not put in this kind of volume year-round, but rather go through a periodization process where I gradually build for a couple weeks, then ease back for a week, and then build further.
Monday:
Bike(Trainer) 30 miles at HR 130 bpm
Run 3.25 miles at Hr 149 bpm
Sauna(Dry) 10 min 160F
Tuesday:
Bike(Trainer) 20 miles at HR 130 bpm
Run 6.25 miles at HR 135 bpm
Sauna(Dry) 20 min 160F
Wednesday:
Swim 400 yd drills, 3800 yd at IM pace, 400 yd cool down
Bike(Trainer) 17 miles at HR 134 bpm
This was actually the last day that the pool would be open, though they turned the heat off the day before.  Brrrr….The water was about 60-65F.  Not too bad after you get used to it, but quite a surprise when you jump in expecting 80F !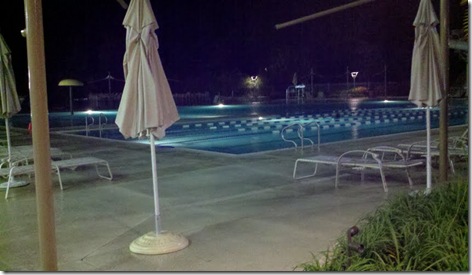 Thursday:
Swim 200 yd drills, 5 x 500yd all pull, 400 yd cool down
Bike(Trainer) 20 miles at HR 130
Friday:
Swim 1500 yd Time Trial
Run 4.5 miles at HR 130 bpm
Sauna(Dry) 30 min 160F
Saturday:
Run 21 miles at HR 137bpm.  3:21:43

This run was at Umstead State Park.  This really kicked my butt the last 5-6 miles.  I was happy that I was able to hold 9:32 pace. 30lbs of ice later to get the water down to 52F, and I was feeling much better.
Sunday:
Time to saddle up for a really long ride!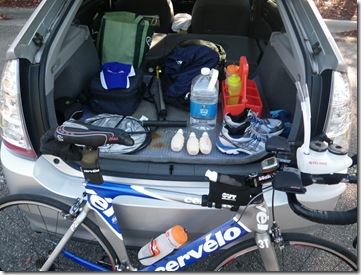 Bike 115 miles (I think my coach is trying to kill me). My average HR was only 130, but after the initial 40-50 miles, I tried to keep it at 135, which was really tough for me.  The fatigue from yesterday's 21 mile run was really rearing its ugly head.
The cool thing is that it is October here in NC, and that means it is fall, and the temperatures are really perfect for being outside all day.  The leaves are changing colors(the pic is not as good as real life). It's especially cool to see the colors in the morning when the sun is just coming up.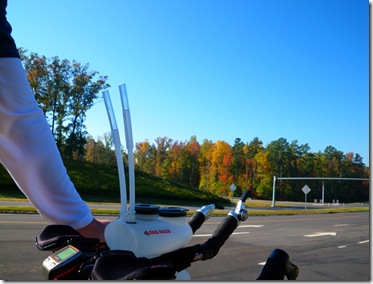 Run 45 min at HR 145 – 159.  Wow, after 6 hrs on the bike, this about broke me.  So for 45 min, to get my HR up over 149, I pushed a 7:54 pace.  Mentally I was spent, and thought I might even puke at this stage.  I kept having tell myself to pick it back up and focus to get get my HR back up over 149bpm.  Every couple of minutes, I would drift back and my mind was out in La-La land. 
Finally, I was done, and really glad I pushed through it. So, for the week this put me at 19hrs 53min of training.  Some of the workouts during the week were supposed to be a little bit longer, but I had to cut a couple short due to other commitments.  But that's just the way life is and you can worry about it.   There's really no need for me to train for longer than 20 hrs a week.  Its that fine line between too much training where injuries and burnout occur.  Today I got really close.
The next few weeks will be decreasingly long as I go through the taper process….Awesome!!  After a hard year of building and training for Ironman Arizona, it's time to put this Jumbo Jet down for an easy landing.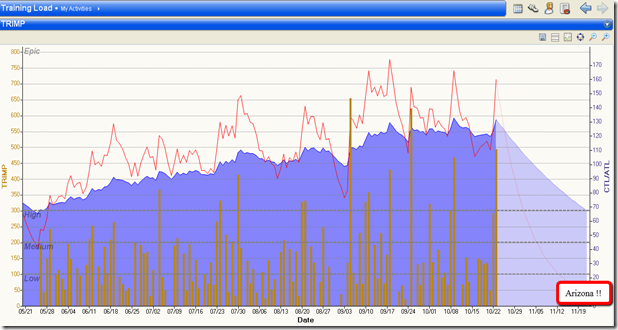 Thanks for Reading!