It's that time of the year where I am really starting to get into the high volume training days, especially on the weekends. With less than 90 days to Ironman Arizona(IMAZ), long runs of 15 miles and long rides of 80 miles are becoming the norm. It part of the process, and I do love the process.  My fitness level has really started to change here where I don't feel like I am just trying to make it to the end of a workout.  I feel more in control of the workouts and being able to complete them without problems.  The struggle becomes how to balance all of the other things in my life so that I can take care of other responsibilities.
This past Sunday, Work, Training, and Mother Nature would create the perfect mental and physical test. My plans for Sunday was work from 8a.m. until the work is done, then bike 80 miles before it got dark. Rain was in the forecast so I figured I would get wet on this ride.
Without boring you with all the details, work was just troubleshooting IT stuff as hard as I could troubleshoot for 8 hours. I finally headed out the door at 4pm.  This left exactly 4 hours of daylight to get in 80 miles on the bike…which is pretty tough for me.
I have a planned work-route-loop for situations like this.  In Raleigh, NC, sometimes things are done a little differently.  Most folks in Cary/Raleigh live in the city, but work out in the country/suburbs where RTP, NC is located.  So, when I have to work on the weekends, RTP is a ghost town.  This makes it a great place to ride.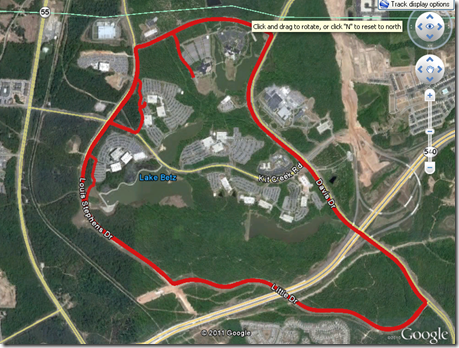 It's not perfect.  The loop is only about 5.25 miles.  It's not the epic, exciting route of your dreams. However, I can walk out the door from work, hop on my bike and get started immediately.  There's only a single stoplight, though no cars, so I never have to stop for traffic.  Just constant time in the aerobars, which is what I needed.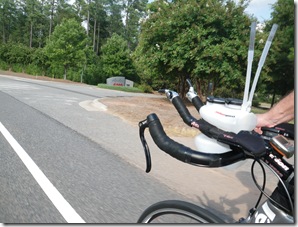 So I just kept on cruising, and before I knew it I was at 50 miles.  Only 30 more miles to go.   There was the faint possibility of making it through the entire 80 miles without getting caught in the rain.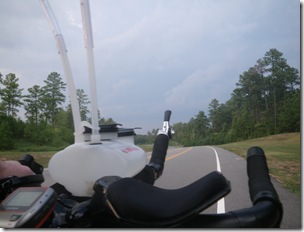 It would be really, really close.  At about 67, I snapped this picture. I can still get in 1 more loop before it gets too dark, I thought.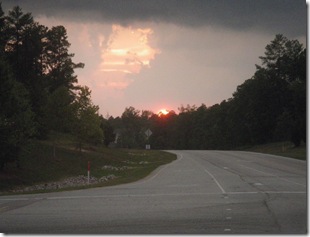 5 + miles later, this same intersection(from a different angle looked like this).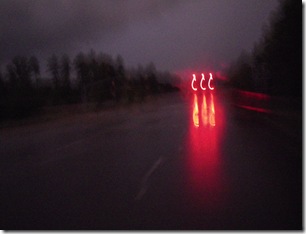 The weather turned nasty in about 2 minutes.  I saw a flash of lightning, then did a 20 Mississippi count and figured I was good.  Then another flash of lightning later, I had about a 1/2 Mississippi count.  Lightning was everywhere.  I got off my bike (still about 2.5 miles from the car), and ditched it in the grass.  I started running up the hill towards the woods for shelter, but then thought better of it(running to a higher elevation in the trees, with lightning)….Then running downhill in bike shoes like a bumbling duck.  There was absolutely nowhere to run for shelter. So I crouched in a rocky ditch kind of like the one you see above. Then the hail came, oh the hail.  I was never so glad to have my helmet on as that moment.  The heavy lighting/rain lasted for 30 minutes, but the hail was only a couple of minutes.  Once the lightning let up a bit, I biked the last 2.5 miles back to the car.  Needless to say I stopped at about 73 miles for the day.  So close to the full 80!
Just when you think you're just going to have a boring loop-repeating ride, a situation usually presents itself.  This weekend calls for another 15 mile run, and 85 miles on the bike….hopefully nothing too exciting.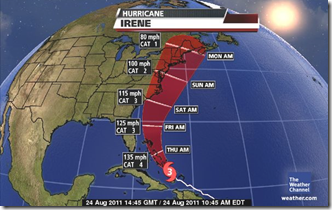 Thanks for reading!