Disclaimer: The bulk of my bike workouts(85%) are of the long slow variety where my HR rarely gets over 140bpm.  I have a good coach who basically sets these parameters for me.  I feel like I have a pretty good idea of what I'm doing with regards to training, though I'm also the sort, who if not following a specific training plan, will tend to push things too hard just to see what happens….you know like the kid who wants to see what happens when you push a button.
2 workouts that are fun to try if you are looking to mix things up and slap you in the face.
Spin-Ups

15 minute warm up
1 minute at 90 rpm
1 minute at 100 rpm
1 minute at 100+ rpm
30 seconds all out
recover for 2 min
Repeat 6,8,or 12 times
I did this workout several months back, and I loved it as soon as I read it.  How can you resist the "all out" part? I started wondering, "how fast can I really spin"?  To the Pain Cave we go: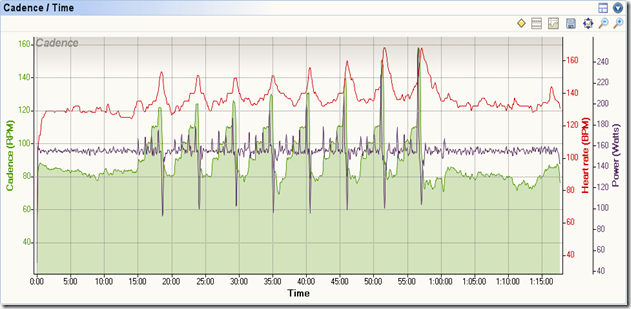 During the 2 minute rest after each consecutive set I kept thinking, hmm "Can I go faster".  I was also thinking, "man, if my back wheel comes off the trainer, I'm going straight through the garage wall".  Turns out, ~160rpm is about as fast as I can spin….for now.  Small doses though.  I did this workout back in January, over 4 months ago.  There's probably no need to go over 120rpms.
Bike Hill Repeats

Total Duration 1:15 min
10 min warm up
Find a hill .25 – .50 long.  Maintain cadence of 90rpm, and keep HR no higher than mid MAF(for me 145bpm). Coast back down, and repeat.
10 min cool down
Somewhere between reading through the workout and getting set up on the trainer, I forgot about the "keep HR no higher than 145bpm", and started thinking "how many watts can I push while still maintaining 90rpm"…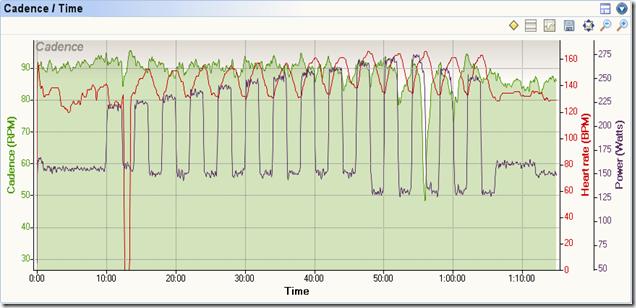 Since I was on the trainer, I decided my hill was 2 minutes in duration, followed by 2 minutes easy.  I started my first hill at 220 watts and just decided to add 5 watts on every hill repeat.  I was hoping to get to 300 watts and be able to hold it for 2 min, but I really had no idea where my limits were.  As it turns out, my limit on that day was 275 watts on the 3rd to last hill.  I tried to hit 275 watts again, and just couldn't maintain, so I dropped it back to about 260 watts and could barely hold that.  Mission accomplished…Legs were cooked and ready for a short 40 min run. 
Good times!
Here's a really good thread on Trifuel about improving your fitness on the bike.  Good stuff here:
http://www.trifuel.com/forum/25819/18mph-to-24mph-how-i-did-it
Thanks for Reading!
–Jeff