That is the question.
A couple of weeks ago I was faced with a question.  Which Ironman race should I do after Ironman Arizona this year?  You have to sign up pretty much the day after the event for the next year's race or it will sell out.  Many of them sell out in about an hour.  So I was thinking, which race could I do that was about mid season, so that I have  enough time to train on the bike outdoors, instead of having to do long rides on the trainer(do-able but not as much fun).
Then Ironman Mont-Tremblant(Quebec) and Ironman NYC were both announced pretty much about the same time.  Both would take place in August(2012), about 1 week apart.  The more I thought about the privilege of paying an extra $200+ to swim in the Hudson River, and have the bulk of the race actually in NJ, the more Mont-Tremblant seem like a no brainer.  Don't get me wrong, maybe I'll do IM NYC someday, but I'd rather see what  the feedback is first, after all the logistical kinks are worked out in a year or two.
Fast-forward to today at exactly 12:00:01_ET.  I clicked "REGISTER NOW"……and then….wait for it…
Please wait.
Due to the popularity of this event,
only a certain number of people can register at one time.
As soon as a spot becomes available, you will be allowed to register.
Our system will automatically retry in 15 seconds.
This little countdown timer would countdown from 15 seconds over and over again.  At about 8 minutes after, my wife got in.  Meanwhile I sat in purgatory just waiting and wondering If I somehow would have to pull Sherpa Duty for my wife if I was not able to get in.  Then 13 minutes after the hour, I was in, and proceeded to fill out the next 5 pages of waivers/liability papers etc…Type faster, Type faster!!!
"CLICK SUBMIT"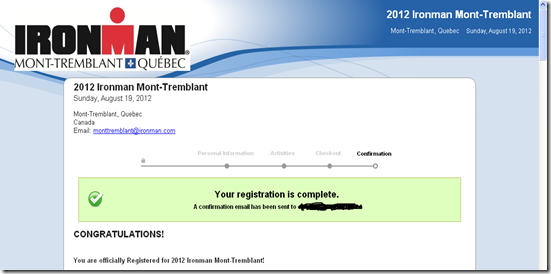 Only 14 months to go.  Totally excited about getting in and going to a new place I've never been before.