We are now just 2 days away from one of my favorite races.  White Lake 70.3 !!  It's been nearly 10yrs since I first raced White Lake.  This is a great location for a race.  The lake is clear and clean, and the venue is flat and rural.  In years past, the weather has been predictably unpredictable.  It is either 40 degrees and windy, or 95 degrees, humid, and windy.
This week is shaping up to be perfect!  Check out the forecast for Saturday.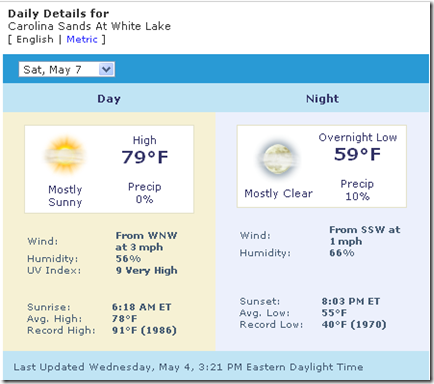 Are you kidding me? 79 for the high, 0% chance of Precip, and 3mph wind.  You couldn't ask for better conditions.
This will be our first race since IMFL in November. 
To track our progress, go to Live Timing and enter our bib numbers(438 and 439) to see how we are doing.

Sometimes I get ahead of myself with race week approaching.  I think of all the things that I could possibly need for the upcoming race, and then obsess over it in true OCD fashion.  Today I went to the pool to swim some laps and try on my wetsuit, to make sure it still fits…and that I can remember how to put it on correctly.  After struggling to put the wetsuit on for 10 min, the guy in the other lane(Brett) informed me that I had it on backwards.  Priceless….I looked like Elvis, with a big giant jumpsuit with the zipper in the front.  We all got a good laugh out of it.
Anyway, good luck to everyone out there competing on Saturday!