If you ever have one of those days where you need to blow off some steam, let me suggest a One-legged pedaling workout.  This is the kind of workout that I see coming up on the workout calendar and I fear it and am secretly drawn to it like a moth to a flame.  This is the 3rd week of training in the new season for IMAZ, yet today was the first workout where I thought to myself, 'ok now we're doing some work'.
So if you're cooped up indoors all winter, this is a really great workout where you can work on those dead spots in your pedal stroke.  I'm getting better.  My dead spot used to be pretty much from 6 o'clock to 12 o'clock.  Now my dead spot is more like 8 o'clock to 12 o'clock.  My first attempt at this last year was a wreck.  See FAIL here.
So here's the workout:
Warm up on the trainer for 10 minutes
Unclip the right leg and rest on a box or the trainer itself.  Pedal with the Left leg only for 2 minutes.
Switch to the Right leg and pedal for 2 minutes.
Now pedal with both legs at a high cadence of 120 rpm's.
Then easy pedal for 2 minutes.
Repeat this series 5 times
Cool down for 10 minutes.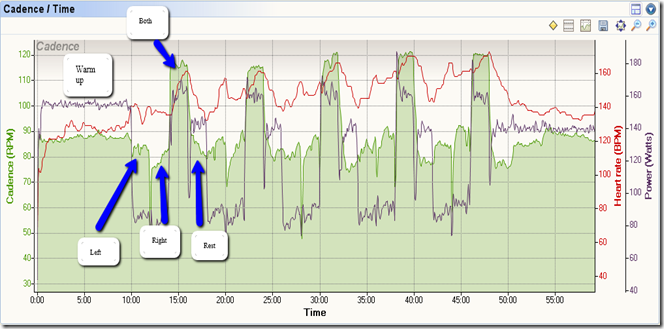 The whole workout takes you just 60 minutes, so it's a great change of pace than just doing an easy/moderate spin for an hour or so.  Your hip/adductor muscles will scream, but you'll be faster on race day. 
Oh yeah, and don't forget to do a quick cool down jog afterwards.
Next up are my resolutions for 2011 and how to keep them.  Just need to put pen to paper so to speak.
Thanks for reading!
–Jeff