It's now been 2 weeks since we completed IMFL.  It took 2-3 days for the soreness to go away, but not too bad.  I haven't done anything that I would call a workout (Coaches orders).  I've gone to the pool 3 times to work on drills for 30 minutes, and I've jogged 2.25 miles twice( but just goofing around really).  My mind is wanting to jump back in and keep going, but just about everything you read says to just chill for a while and not come back to training too soon. 
Last night I stayed up until 2 a.m. watching Ironman Arizona on Ironmanlive.  I love this stuff.  It's so cool to see the uncontainable happiness/relief when the participants take that final step to finish 140.6 miles.  I've been there before, but it's really cool to see participants Live and "in the moment".  Congrats to all the finishers of IMAZ 2010.  I found Ryan's blog "Ironmadman" a couple weeks ago while I was searching for information on IMAZ. Check it out. He should have a solid 2010 race report shortly.
Since yesterday was IMAZ 2010, that means today was Registration Day for IMAZ 2011. 
Registration Day has evolved into its own event, as this has become the first hurdle towards completing an Ironman.  I can't tell you how many times I checked the website to make sure I got my time zones straight, checked my wrist watch, PC clock, cell phone clock, etc.  So at exactly noon IMAZ time, my wife and I were both online at http://www.ironmanarizona.com/.  We clicked Entry and both immediately got one of those "website busy" error messages, "please wait a few minutes" or try later.  Later, so like half a second later…..We tried clicking Entry….again denied.  On the 4th try, we both got in.  It was now 12:03, so we started typing in our personal info like mad.  We each get to the payment section, enter our info, check the "sign your life away waiver" box, and hit submit !!!……Registration error !!!…@#$%!! Again, we go through…check everything, hit submit……CRAP!!! Several more attempts ensued.  Finally at 12:18 IMAZ time, I GOT IN.  But, but, but….Ann was still getting "Registration error".  So we tried 2 more times…1st on her laptop, then on my laptop….Finally at 12:27 IMAZ time, Ann GOT IN !! Whew.  I refreshed the website only TEN minutes later, and see: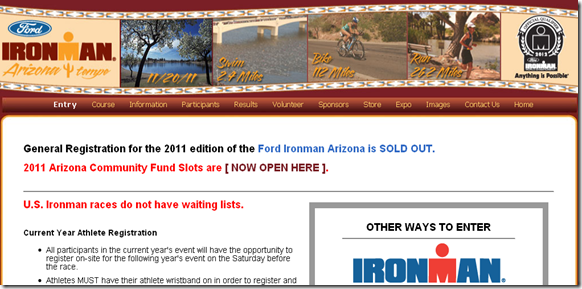 Are you kidding me?  This thing sold out in less than 40 minutes.  I had no idea this race would fill up so fast.  I thought this took several days to fill up in the past.  Today was the highest my HR has been in 2 weeks, just from registering.  We went to the pool to do some drills and relax a bit. 
This marks the start of another new journey towards completing an Ironman.  I can't wait.   Mostly, I'm looking forward to a new set of challenges over the next year.  You never know what the coming days/months will bring.  Over the next year, I'll pass along the good, and the bad.  Hopefully it will motivate you to try something 'just a little crazy' that may be just out of reach.  There's only one way to find out… And that is to make it to the Starting Line….and go all in.
Let's get to it, shall we?
Thanks for reading!