After not being caught in the rain all year on the bike, it has now been raining for about 5 days non-stop.  If you live anywhere near the East Coast of the U.S., you no doubt got wet this week.  Last time I checked, Raleigh had received about 8-10 inches of rain in the past couple of days, but that is nothing compared to the 21 inches of rain in Wilmington since Sunday.  21 inches!…Amazing.
It's been an interesting week so far. The rain has brought dramatically cooler temperatures.  Since it has been hot and humid all summer, I usually suffer through my outdoor runs in the heat at about 8-9 minute mile pace to keep my HR in the 149-159 zone.  Tuesday rocked!  I had a 2.5 mile run at 6:39 pace at HR of 155bpm after a 2 hour trainer ride.  I could hardly believe the difference.  It felt great to throw down a bit, and keep the same HR.  Still only 2.5 miles though.
Wednesday, I took the opportunity to debunk the myth that you will melt if you step out into the rain.  I had a long swim workout planned for about 3600yds.  I went to the gym and walked past the indoor lap pool, where there were 2 people in every lane, plus people waiting….I looked outside and saw the outdoor pool entirely empty.  So, I walked outside like a quiet little duck so nobody would notice that I had the entire pool to myself.  It was great! Eventually some others folks caught wind of the idea and came out too.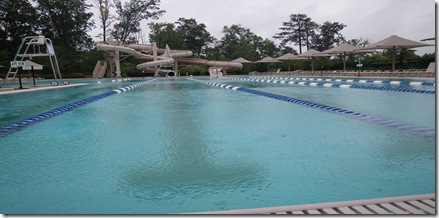 Speaking of getting wet, this little bugger showed up in the mail today. It's an underwater video camera from JVC.  We went to a Total Immersion class a while back and the instructor filmed us under water and it was really kind of eye opening.  The short story is that I'm not as good at swimming as I previously thought.  And the video doesn't lie.  I'm hoping we can do this a bit more over the winter and get some things ironed out.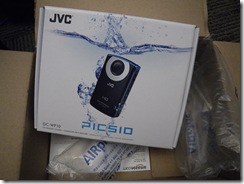 I'll let you know how the video camera works out.  I'm looking forward to a long, long, weekend!