After having a nice recovery week, this week was time to get back on the horse…so to speak.  We're getting to the point in the training volume where it is necessary to do 2-a-day workouts, because it's just not feasible to do 3+ hour workouts after work.  This would leave me finishing my workouts at 10pm.  This is supposed to be fun right?  And what's the fun in finishing a workout at 10pm?
After almost a solid week of getting back into the groove, our weekend build started early Friday morning with a swim workout followed by another evening swim workout.  I thought long and hard and I'm pretty sure this was my first ever 2-a-day swim workout.  6700 total yards is a long swim for me.
 Friday:
| | |
| --- | --- |
| Morning Workout | Evening Workout |
| 200 yd warm up | 300 yd warm up |
| 7 x 200 yd w/ :15 rest | 11 x 300 yd w/ :15 rest |
| 200 yd cool down | 100 yd cool down |
| 2000 yd continuous swim |   |
| Total | Total |
| 3400 yards | 3300 yards |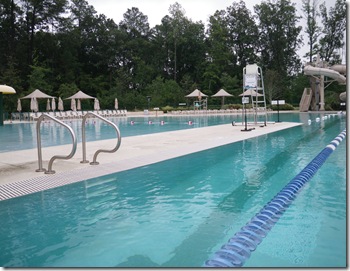 Saturday:
Saturday's workout was a manageable 14 mile run over at Umstead Park.  This is the best place to run in the Raleigh area for your long runs.  It's a huge state park with 5,579 acres and probably a hundred miles of trails or more.  I love it because you're away from any roads or traffic and the paths are typically soft crushed gravel.  The other cool thing is that Umstead Park is NOT flat.  As you can see below, you're either going up or down.  After we finished, it was time to eat and spend the rest of the afternoon recuperating for Sunday's long ride.
Sunday:
We headed over to Lifetime Fitness bright and early to get started on an 85 mile ride.  Yup, we're getting into serious weekly long ride increases now with less than 75 days until IMFL.  The bulk of our grocery bill goes to Inside Out Sports and consists of Perpetuem, Endurolytes and Fig Newtons.  I made a huge mistake on Saturdays long run, in that I forgot to apply Body Glide to the areas that frequently get chaffed, like the nether-regions.  This meant that…oh half mile into the 85 miler I was already uncomfortable on the saddle.  
So with an 85 mile bike ride, you're going to be on the saddle for upwards of 5 hours, unless you're in a group ride like you see below.  On race day you don't get that luxury, so my wife and I have been doing the bulk of our group rides solo.  Every 5-6 weeks, we'll try to find a charity ride, so we can have a change of pace, meet some cool folks and just relax and have some fun. 
The ride went well, despite my lack of Body Glide.  With about 20 miles to go the air temp dropped a good 10-15 degrees as this monster of a T-storm was approaching.  About a half mile down the road in the picture we turned left and pushed a bit harder for the final 20 miles.   We got back to the gym parking lot and did a quick 20 minute run to finish the workout.  Soon after, the bottom dropped out and the deluge of rain continued for about 40 minutes.  Perfect timing!!
Here's our route for Sunday. It's crazy the distance you can cover on a bike.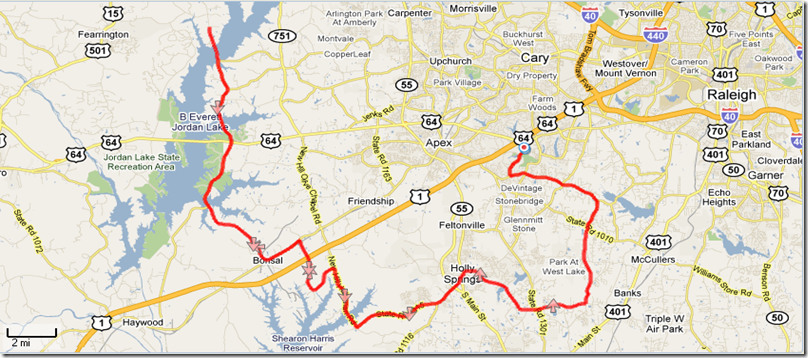 So with 17 hours of training completed, I feel pretty good today.  My fitness has improved dramatically over the past year.  I've been noticing this especially on the bike.  In the past I've simply just been weak on the hills, and now I just have tons more staying power.  I still feel the fatigue when climbing, but I never really feel like I'm just blowing up and have nothing left. 
Have a good week everyone!