On Sunday I sent an email to ironmanusa.com voicing my concerns about the IMFL race in November and how there has been a lack of information from ironmanusa and an abundance of information from the rumor mill.  My hope was to just get a response back with something more than the typical corporate "we are monitoring the situation" type response.  Judging from the number of folks that read my previous post, lots of you have the same concerns.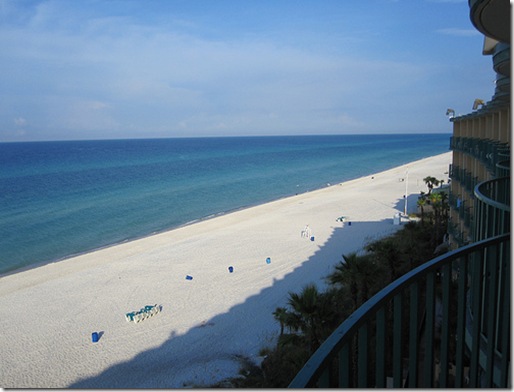 Photo by: dreamcious
Well, Just after midnight I got a pretty solid response back from Kristen(Athlete Services Coordinator) from Ironman.  I can't copy/paste the entire response b/c there is the usual legal jargon at the end of the email that would potentially make life less than ideal for me. But there are several quotes that I'll paste.
So in summary, here is what she had to say:
The Ironman Team is continuing to monitor the developing Oil Spill and what impact it could have for PCB and IMFL(This we know)
The Ironman Team is working with local gov't agencies and area partners to identify "possible" alternate swim locations.
"Contingency planning is part of our day-to-day operations," said Steve Meckfessel, WTC's Chief Operations Officer. "While we can't forecast swim and beach conditions in November, we are evaluating several course and venue options which will enable athletes to complete the entire event."
Richard Sanders, Vice President of Sports Marketing for the Panama City Beach Convention and Visitor's Bureau comments, "We understand the concerns our visiting athletes have and consider their health and safety to be a top priority. We are working with Ironman and local officials to provide alternative plans for the swim portion of the race if the Gulf Coast oil spill does affect the waters currently utilized. If the swim location has to be moved, it will not impact the caliber or integrity of this year's Ford Ironman Florida. We look forward to welcoming this world-class talent and the event back to Panama City Beach."
So, in summary I think it is important to note that nobody is talking about cancelling IMFL, or changing it to a duathlon, or changing it to something other than an official Ironman Triathlon.  The only discussion that I sense is that they are working furiously in the background to make sure the entire race goes off without a hitch….All 140.6 miles of it.
Happy Training everyone.  I'll see you in Florida.
As always, I love to hear your comments!