This past week my wife and  I took a short 4 day vacation to the NC coast to a little town called Beaufort.  We had a great time.  Beaufort is a wonderful place to vacation whether you want to just relax, do something active, or just eat great food.
Pecan Tree Inn Bed & Breakfast
Located in the heart of the Beaufort Historic District and just a few steps from the scenic yacht harbor, the Pecan Tree Inn is known throughout the Southeast as the place to stay when visiting the Carolina coast and southern Outer Banks.
We enjoyed our stay here and would definitely come back.  The Pecan Tree Inn sits on a lot deeded to the Franklin Masonic Lodge in 1866 by Rebecca Piggott.  The rooms were very spacious and adequate.  Breakfast was light continental style, muffins, hard-boiled eggs, fruit, etc..
Restuarants
There are quite a few restaurants in Beaufort worth visiting.  The seafood is always fresh and most are overlooking the harbor and the occasional wild horses on the beach on the other side of the harbor.
Our favorites:
Spouter Inn Restaurant and Bakery
The Spouter Inn had the best Crab Dip I have ever tasted.  We also had fresh broiled shrimp seasoned with the traditional Old Bay Seasoning.  Dinner on the deck overlooking the water at sunset is hard to beat.  Dinner was so good, we came back for lunch the next day.
A little pricier, but well worth it.  This was another place where we came back the next day for lunch.  Can't go wrong with shrimp, scallops, clams, over pasta.  The Pecan Pie was great.
Things to do:
Great place for all the history buffs.  The entire Fort has been restored over the years.  There are numerous displays and recreations of what life was like in the fort during war times.  Lots of interesting history here.  Many artifacts, and very interesting architecture as well.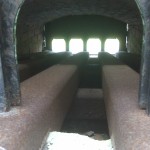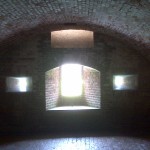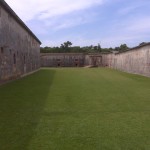 Take a hike on the Shackleford banks and see the oldest documented wild horses in country.
Indoors
If you need a place to cool off from the summer heat or if the weather turns for the worse, check out the NC Aquarium at Pine Knoll Shore, 20 minutes away or the NC Maritime Museum right on the waterfront in Beaufort.  Enjoy!